Jacobs captures first career Canada Cup with help from Kennedy
Brad Jacobs captured the first Canada Cup of his career by edging Kevin Koe 5-4 in Sunday's final at Affinity Place.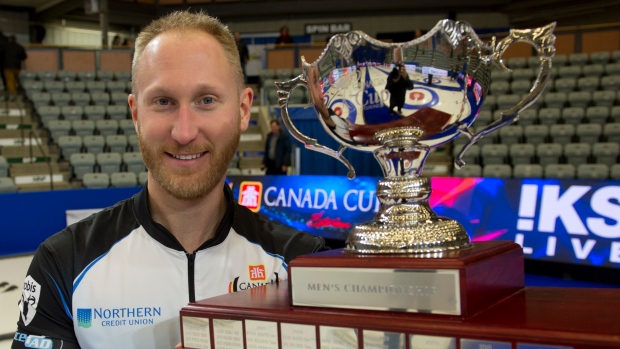 ESTEVAN, Sask. — Brad Jacobs stood at ice level Sunday night at Affinity Place with his arms around one of the few trophies that has eluded him over his impressive career.
Jacobs can now call himself a Canada Cup champion. The skip and his team from Sault Ste. Marie were the best team all week in Estevan, capping it off with a 5-4 victory over Calgary's Kevin Koe in the championship game.
"This is a great event, top Canadian teams, men and women, so anytime you can sneak out a win like this it means a lot," Jacobs said. "You only get so many opportunities to win events like this, to put this on our resumé feels great."
Team Jacobs were playing with a new-look lineup this week in Estevan as Marc Kennedy, a member of Team Koe's Olympic squad last year, was replacing regular third Ryan Fry, who is taking a leave from the team following an excessive drinking incident at the Red Deer Curling Classic last month.
Kennedy said sometimes the simpler things are the key to winning.
"I think we just really enjoyed each other and had a lot of fun. Sometimes that's the secret to winning," explained Kennedy.
Despite the victory and quick chemistry with Team Jacobs, don't expect to see Kennedy playing with the boys from Northern Ontario anytime soon.
"We just played the week out the way it was. I couldn't commit to anything else this season. We're all thinking about Ryan. He's going to come back and make this team as good as it ever was," explained Kennedy. "So this was a one week, see how it goes and that's all it was. It was a special week."
Kennedy said it wasn't easy playing against former teammates in Koe and Hebert.
"Two great competitors and great friends. It's not easy playing against those guys," said Kennedy. "We had a pretty emotional four year run together. So, I Iove those guys. It was a good battle and at the end of the day we can still have a pop together."
Jacobs, a Brier and Olympic champion, said he was impressed with how his team came together this week to win against a stacked field, especially in the final on Sunday.
"I think we controlled our emotions very well. That's one of the most relaxed I think I've ever seen our team in a final. At least in a long time," said Jacobs.
"Just a great week all around and really happy for Marc stepping in here. What a season for him so far."
The last game of the week in Estevan was an interesting one to say the least.
New timing rules were tested this week at the Canada Cup, giving an allotment of "thinking time" per end rather than the standard 38 minutes over an entire game.
Team Koe was burned by the rule in the fifth end after failing to release their final stone in time despite using numerous timeouts in the end. However, the penalty was only given after Koe had already released his rock, causing plenty of confusion with the officials as it was unclear how much time they had left on the clock with one end of the sheet showing 11 seconds and the other showing just two seconds.
Lead Ben Hebert had some choice words for the officials before trying to explain his side of the story to Team Jacobs.
Koe revealed similar frustrations following the game.
"I know the officials are here trying their best, but I just think they did a really poor job there," said Koe after the game. "We took a timeout earlier and he told us we had 11 seconds and they didn't correct the clock. We just thought he was going to do it and the guy at the other end didn't know."
The disallowed shot in the fifth ended up sliding too far, meaning Team Koe would still have settled for one point even if the shot was released in time, but Koe says the communication needs to be better.
"I know I missed my shot in five, but we could of probably communicated better and the other officials out there telling BJ [Neufeld] to stop right away," said Koe. "I know they are trying their best, but it's an important part of the job and if they're going to come to do it, they got to do it right and in my opinion they didn't in that situation."
Jacobs also weighed in on the time violation after the game.
"To see that happen in a final is unfortunate, but what can I say, you're going to take every break you can in a final," he said."
Curling Canada will review the rule next month to see how they might implement it going forward. The standard 38-minute clock will be used at national and world championships this year.
The win gave Team Jacobs $14,000 in prize money, a spot in the 2021 Road to the Roar Pre-Trials as well as qualification for a Curling World Cup event next season. They also won $2,000 for each of their five round-robin wins.
Team Koe took home $9,000 for being a finalist as well as the $2,000 for each round robin win.
Both teams, as well as many others competing this week at the Canada Cup, will now travel to Newfoundland for the next stop on the Grand Slam circuit at the National.