Jays attempt to reach .500 mark on eighth try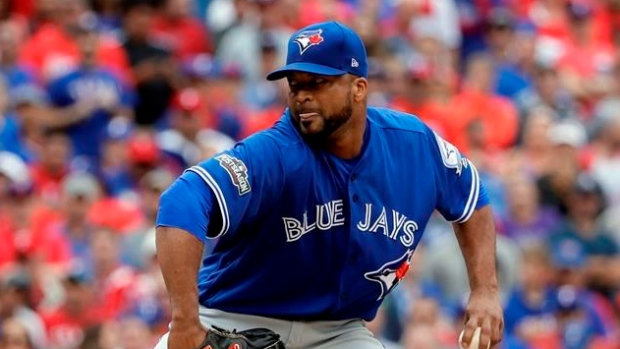 If the Toronto Blue Jays want to be considered a playoff contender in the second half of the season they'll first need to get to the .500 mark.
The 34-35 Jays can reach that elusive number for the first time of their trying 2017 season with a win tonight against the Texas Rangers at Globe Life Park in Arlington.
In fact this will be their eighth attempt at reaching the .500 mark this season. Toronto has had plenty of opportunities (two of which were in the first week) to get even, but have failed each and every time.
Since fighting back from a miserable 8-17 April to start 2017, the Jays had a chance to reach .500 with a win against the New York Yankees on June 1. They were pounded 12-2.
The Jays failed on the next four opportunities as well.
Take a look at what has happened each time the Jays have been a single win away from .500 this season.
Lucky No. 8?
Date
Record
Opponent
Result
Notes

Wednesday, April 5

0-1

Baltimore Orioles

L - 3-1

Second game of season

Friday, April 7

1-2

Tampa Bay Rays

L - 10-8

Starter

Francisco Liriano

lasts 1/3 of an inning

Thursday, June 1

26-27

New York Yankees

L - 12-2

Gary Sanchez

hits two home runs off Marco Estrada

Saturday, June 3

27-28

New York Yankees

L - 7-0

Reliever

Jason Grilli

allows four home runs in 2/3 of an inning

Monday, June 5

28-29

Oakland Athletics

L - 5-3

Ryon Healy

hits two homers off J.A. Happ

Tuesday, June 13

31-32

Tampa Bay Rays

L - 8-1

Starter

Marco Estrada

allows six runs and 12 hits in 3.1 innings

Friday, June 16

32-33

Chicago White Sox

L - 11-4

Former Jay

Melky Cabrera

records five RBIs
As you can see, some of Toronto's worst performances this season have been in games in which they can reach the .500 mark. The Blue Jays have allowed an average of eights runs and have been outscored 56-19 in these contests.
Last night in Texas, the Jays scored twice in the ninth to take a one run advantage over the Rangers before Roberto Osuna closed out the game with his 18th save of the season in the bottom half.
Manager John Gibbons will give the ball to Francisco Liriano (3-2, 5.36 ERA) Tuesday night as he will square off against righty Nick Martinez (1-3, 4.67 ERA). Liriano had a chance to get the Jays to .500 earlier this season, but that was way back in the first week of April.
If the southpaw can get it done against the rival Rangers, the Jays can finally say they are a .500 baseball team. And then the march to a third consecutive postseason appearance can really begin.