Jays combining power, pitching once again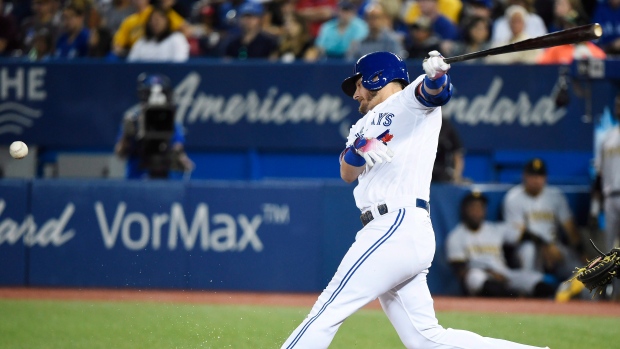 Starting pitching and power have carried the Toronto Blue Jays to the brink of the World Series in two straight seasons.
Both have been much harder to come by in 2017, but the tide has started to turn recently and the results, unsurprisingly, have improved.
Over the past 30 days, the Blue Jays have clubbed 41 home runs, third best in the American League.
Josh Donaldson has led that surge, doing what players with an MVP on their resume are expected to do from time to time — carry an offence.
Since July 27, a 16-game span, the 31-year-old third baseman has slashed a ridiculous .333/.451/.807, with eight homers and 16 RBI.
He's won two games all by himself over the past week, hitting a pair of two-run bombs in a 4-2 win over the New York Yankees to start this successful 10-game homestand, and then banging a two-run shot Monday night to account for all of the Jays' offence once again in a 2-1 series-opening victory over a wild-card foe in the Tampa Bay Rays.
The offence is still flawed and the lineup isn't very deep, thanks to injuries to Devon Travis, Troy Tulowitzki and Russell Martin, but when the Jays hit home runs, they're very good.
While the offensive turnaround has helped, an 8-4 record to start the month of August has been driven by the rotation.
"In baseball, you win and lose with pitching," manager John Gibbons said. "Especially playing 162 games. You need to slug it out at times, but the teams that win — of course they combine it — but it's pitching that gets you there. There's no doubt about that."
One year after using just seven starting pitchers and finishing first in the American League in rotation ERA with a sparkling 3.64 number — the next-best ERA was the Cleveland Indians at 4.08 — the Blue Jays have used 12 starters and run up a 4.59 ERA in 2017 to sit ninth in the AL.
But that's all changed this month.
In 12 August starts, Toronto's rotation has posted a 3.07 ERA, the second-best mark in the Junior Circuit.
Some of that has been Marcus Stroman's continued excellence and consistency.
Some of it has been Marco Estrada's bounceback.
And some of it has been much-needed quality step-in starts by Chris Rowley and Nick Tepesch.
"It's huge," Donaldson said. "That's huge for any ball club when your starters are able to give you some depth and also put up a lot of zeros."
The problem now is an overworked Jays' bullpen — they've been asked to throw the most innings in the American League this season — that's carrying a 5.77 ERA in August and a 4.95 ERA since the all-star break, both second worst in the AL.
Combine all of that and you have a team that's moving up toward the .500 mark once again and chasing seven teams in the race for the second AL wild-card spot.
Too little, too late? Maybe.
The hole the Blue Jays dug themselves early in the season may, as many predicted, be their undoing, and even playing .600 or better baseball down the stretch could leave them a game or two short.
But there's also a chance the stars will align to leave the final wild-card team in the 82-win range, far below the historical threshold of 86, which got the Houston Astros into the post-season mix in 2015.
"I don't know, you don't know, nobody knows," Gibbons said. "We'll just go out there and, hey, run this thing and see where we end up."
With 44 games remaining, the Jays would still have to go 25-19 (.568) to reach 82 wins.
Pray for parity should be the mantra.