Jays-Rangers rivalry is far from over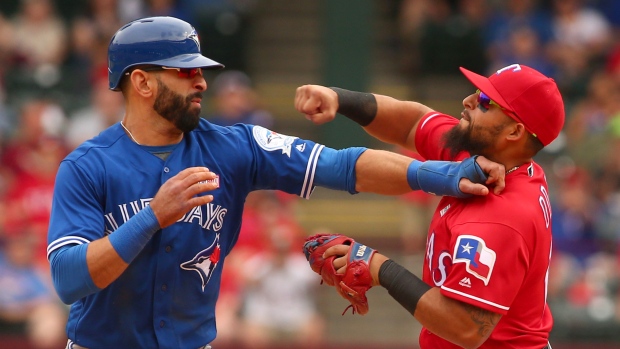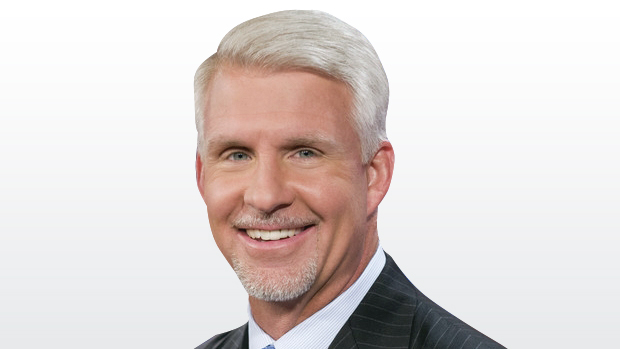 What a difference a week makes.
It seemed like the Texas Rangers had moved on from last year's emotional reaction to Jose Bautista's epic bat flip in Game 5 of the ALDS. The brawl last Sunday in Arlington seemed unlikely to happen, but in what turned out to be Bautista's final regular season at-bat against the Rangers, he got plunked.
Reliever Matt Bush seemingly took it upon himself to exact revenge against the Jays slugger. It was surprising that Bush was the one who delivered the pitch, as he wasn't even a member of the Rangers last season. In fact, he was in jail last October when these two teams met. He was serving a sentence for a DUI with serious bodily injury stemming from an accident where he injured an elderly cyclist.
I don't like that Bush was the one who went after Bautista when he did. I don't believe that he was ordered to do it, but I do believe that he heard enough chatter in the bullpen by his peers to know that it was the 'right' thing for the rookie to do.
Home-plate umpire Dan Iassogna whiffed when he only issued a warning after Bautista's plunking. He had the ability to eject Bush but chose not to. That left Bautista feeling that if he wanted justice he was going to have to get it himself. Bautista did exactly what I would have done; he led off first base hoping there would be a ground ball so he could get his pound of flesh at second base.
Bautista's went in with an illegal and over-aggressive slide. But it wasn't bad enough to justify Rougned Odor throwing the ball at Bautista's head or wanting to fight him. Odor had in his mind that he wanted to fight even before the ball was put in play. The rest is history.
MLB handed down penalties (suspensions and fines) to 14 coaches and players. Odor's eight-game suspension was the most significant penalty. I thought he deserved more because of the nature of the punch to Bautista and the attempt he made to punch Josh Donaldson in the ensuing chaos.
Bautista, the other main protagonist, was hit with a one-game suspension. I don't believe he deserved any penalty, but I expected MLB to hit him with three to five games for his aggressive movement toward Odor after the slide. All in all, the one-game suspension wasn't an awful result.
Elvis Andrus was suspended for a game for throwing a punch at Kevin Pillar. I worried that Pillar and Donaldson faced possible suspensions because they could have been perceived as aggressors in the scrum. The Jays caught a break when Baseball chose not to punish them.
Jesse Chavez was dinged with a three-game suspension for hitting Prince Fielder with a pitch to start the bottom of the eighth inning. Since a warning had been issued, he was immediately ejected from the game. The biggest injustice is that Bush and Chavez did the same thing: hit batters with intent and malice, yet Chavez will miss three games and Bush only got a fine. Bush started the entire incident, but effectively got away with it.
Blue Jays manager John Gibbons knew he would be suspended when he came back on the field after being ejected earlier in the game. He still had to do it. So he serves his own three-game suspension.
Overall, both sides got off lighter than expected.
The problem with all of it is that MLB on-field violence and beanball policy is set up to stop retaliation. If Iassogna had ejected Bush for Bautista, the Toronto slugger may not have felt compelled to go in to second base as hard as he did and the entire brawl may never have happened. Baseball needs to empower the umpires to punish the first-strike offenders rather than protect them.
This isn't over. Ballplayers have long memories. Whether they meet again in October or next May, there will likely be another incident. I can't wait.
The bumbling Atlanta Braves
The Blue Jays have had their struggles so far this year, but nothing compares to the Atlanta Braves.
Manager Fredi Gonzalez became the first casualty of the season, as the club relieved him of his duties after a 9-28 start to the season. To add further insult, Gonzalez found out about the move through an email notifying him that he was scheduled on a flight back to Atlanta the next day even though the team had two more games in Pittsburgh.
Yikes.
The Braves have good people making their decisions. John Schuerholz and John Hart are two of the most respected executives in the game. John Coppolella is learning beneath them and is highly regarded. It's unfortunate that Gonzalez found out about the flight and therefore his impending dismissal, but it was an honest mistake.
The bigger injustice is that Gonzalez was terminated in the first place. It was only July of last year that the club exercised their option for 2016. Gonzalez seemed like he was going to survive a dismal 2015 season.
When a team is 9-28 they don't have managerial problem, they have a roster problem. The Braves players aren't good enough or experienced enough. It is a roster full of underachieving veterans and ill-equipped youngsters.
The Braves explained that Gonzalez had become frustrated and anxious about the poor start to the season. Maybe that frustration was coming across as anger, which hurt the teaching environment for the young players. That would help explain why a change was made.
As is often the case, we don't know the full story. I get it. It serves no purpose for the organization to beat up a fired employee. The Braves made a change because the front office thought it was needed. I wouldn't want to pay two managers in a season where my club isn't going to win, but the Braves don't seem to mind.
Brian Snitker, the interim manager, had been running the Braves Triple-A affiliate. His promotion makes sense since the major-league roster will be largely a Triple-A team, full of guys who played for Snitker at one point in the minors.
The Braves are moving into a new stadium next season. They will likely wait until the end of the year to interview and hire their next manager. I suppose Snitker will get an interview for the full-time job, as will first base coach Eddie Perez and bench coach Terry Pendleton. I believe they will ultimately go outside of the organization for their answer.
The Braves need a manager who is good with young players and can teach at the big-league level. The manager also needs to be able to blend youth with experience and lead the club through a transition from a rebuilding franchise to a competitive team again.
Ron Gardenhire, the former Minnesota Twins manager, feels like the perfect fit.
Pace of play put under the microscope
MLB commissioner Rob Manfred spoke out once again this week about pace of play. MLB has seen the average game time jump from 2 hours and 53 minutes at this time last season to just over three hours in 2016. Even though baseball instituted a clock to limit coaches' visits to the mound, the time of games is increasing.
The biggest reason for this is that offensive production is up this season. Hitters have made the adjustment to the increases in velocity among pitchers. There are more runners on base and more runs being scored, leading to longer innings. The average OBP has gone up from .317 to .320, while slugging percentage is up to .408 from .405. Pitches per plate appearance have increased from 3.82 to 3.88. Runs per game have gone up as well, rising to 8.59 from 8.4.
The extra baserunners and additional runs per game are leading to longer innings and more pitches being thrown. It's worth pointing out that there is no time limit between pitches when there are runners on base.
Hitters have caught up to the 97 mph fastballs that were effective the last couple of years. If you give major league hitters enough reps against any fastball they will figure out how to hit it. This adjustment has exposed the lack of quality secondary pitches for some hurlers and they are struggling.
I understand it is easy to think of pace of game as being the same as time of game. Pace is more about the time between events on the field. The games feel like they are moving along at a decent pace for the most part — they are just taking longer because there is more action. I don't believe that is a problem.
My solution to the pace-of-play issue is to make what sounds like radical change in the game. Let's play three balls is a walk and two strikes is a strikeout. That would dramatically impact the pace of the game, but I don't think it would affect the actual result on the field. I believe we would have the same number of walks and strikeouts, but it would all happen much more quickly.
Random thoughts:
- MLB is auctioning off the sweatshirt and hat that Tigers' manager Brad Ausmus left on the field after his ejection from the game last Monday. Ausmus didn't like the home-plate umpire's strike zone and made a dramatic statement by leaving his sweatshirt on home plate. He tossed his hat for good measure. I know the auction is to raise money for a good cause, but it just feels wrong. Ausmus' meltdown, for which he earned a one-game suspension, shouldn't be celebrated by MLB. Certainly it shouldn't lead to a profit.
- Along the same lines, a restaurant in Fort Worth is offering Odor, free BBQ for life because of his actions in the brawl with the Rangers. This is sending such a bad message to kids: Do something wrong and you get rewarded. Who do I have to punch to get free steak for life?
- Chicago White Sox lefty Chris Sale is 9-0 with a 1.58 ERA, while Cubs ace Jake Arrieta is 7-0 with a 1.29 ERA. This leads to the obvious question: Who is better? I take Sale. He is younger and left-handed. Both pitchers are amazing, and I would be glad to have either or both of them on my team.
- Earlier this year, I shifted my vote for best player in baseball from Mike Trout to Bryce Harper. I am changing back again to Trout. He is the better all-around player. Can someone please tell me why pitchers are willing to pitch to Trout and not Harper? Trout should get the same treatment as Harper. Walk him. Sure Albert Pujols hits behind Trout, but I would much rather pitch to an aging Pujols than the Angels young slugger. Harper has 45 walks compared to Trout's 24. In addition, Harper has 11 intentional walks to Trout's three. I don't get it.
- The Phillies are 24-17, while they have been outscored by 28 runs by their opponents. How is that possible? They are 14-3 in one-run games. When they lose, they lose big; when they win, they win close. In other words, their timing has been really good this year. That won't last though. It rarely does. They will end up in fourth place in the division and will still be a really nice story.
- The Brewers are the first team to shut down the Cubs' bats. They did it with a steady diet of breaking balls and off-speed pitches early in the count for strikes. That allowed their pitchers to go to the fastball up and out of the zone late in the count. The Cubs hitters looked off-balance. It will be interesting to see if other teams try and duplicate that plan of attack moving forward.
- Look out for the Indians (21-17). I have a feeling that they are finally coming together. Their offence broke out this past week against the Reds and their pitching is among the best in the game. At some point, Michael Brantley will be active and healthy again.
- New York Mets starter Matt Harvey is a mess. He gave up nine runs in 2.2 innings of work on Thursday against the Nationals and was booed off the field. After the game, Harper shared that he felt bad for Harvey because of the fans' reaction. Harvey feels sorry enough for himself that he doesn't need Harper's sympathy. The Mets ace hung his head and had horrible body language. He needs to get mad, not sad. Time to battle and figure it out. By the way, Harper sure seemed sensitive to the booing from New York fans and it wasn't even directed at him. Maybe he won't choose to be a Yankee in a couple of years after all.
Steve Phillips was general manager of the New York Mets from 1997 through 2003, helping lead the club to a National League championship in 2000 and its first World Series appearance since 1986. His analysis appears each week on TSN.ca, TSN Radio and SportsCentre.