Blue Jays' Sanchez suffers broken fingernail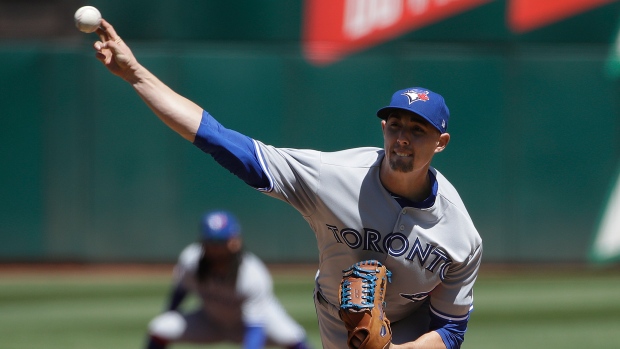 Toronto Blue Jays starter Aaron Sanchez exited Sunday's game against the Oakland Athletics after four innings with a broken nail on his right middle finger, the team announced.
Sanchez surrendered two hits and one run while striking out two and walking three against the A's, before being pulled from the game.
He threw 59 pitches and the Jays were leading 2-1 when he left the game, though he did not complete the five innings required to pick up the win. The Jays ultimately beat the A's 5-4 on Sunday and completed the series sweep.
Sanchez has battled finger issues for this past two seasons, a blister cost him almost the entire 2017 season, while getting his index finger tangled in a falling suitcase caused him to miss time in 2018.
Despite his troubling history with hand/finger injuries, Sanchez didn't seem overly worried about the severity of Sunday's latest setback.
"We have to see how it is in the next few days," he said after the game. "The good thing is we have a couple off days this week to give me some extra time to heal up."
The 26-year-old has a 2-1 record with a 2.77 ERA over five starts so far this season.
Following their sweep of the A's, Toronto will be back in action Tuesday night as they host the San Francisco Giants.