Jets acquire Tlusty for two draft picks
The Carolina Hurricanes have traded forward Jiri Tlusty to the Winnipeg Jets in exchange for a third round draft pick in 2016 and a conditional sixth-round draft pick in 2015.. He has scored 13 goals and 10 assists in 52 games with the Hurricanes so far this season.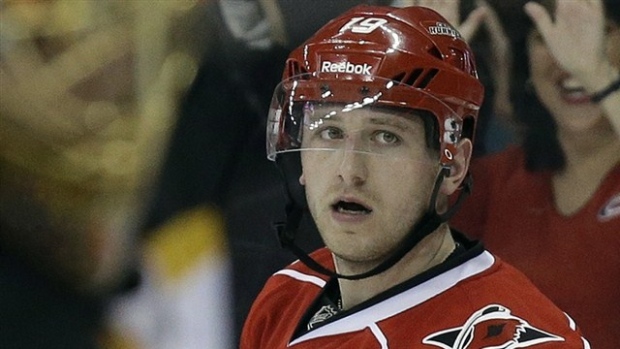 WINNIPEG - Kevin Cheveldayoff thought the injury-stricken Winnipeg Jets could use a boost in their playoff drive so he pulled off his second trade this month.
The general manager swung a deal to acquire eight-year forward Jiri Tlusty from the Carolina Hurricanes on Wednesday for two draft picks.
Carolina gets a conditional sixth-round pick in this year's NHL draft, but it'll become a fifth-round pick if the Jets make the playoffs. The Hurricanes also get a third-rounder in the 2016 draft.
"The third-round pick is a high price to pay at this time of the year," said Cheveldayoff. "It's certainly something that we don't take lightly, but as a group here we're trying to push. We're trying to push this group to give it an opportunity to make the playoffs and help in the development of this franchise."
Winnipeg (31-20-11) holds the first of two wild-card spots in the Western Conference with 73 points, four ahead of the Minnesota Wild. The Jets are also four points behind third-place Chicago in the Central Division.
The Jets haven't made the playoffs since the former Atlanta Thrashers franchise relocated to Winnipeg in 2011 and were renamed.
Winnipeg hosts St. Louis on Thursday and is trying to get Tlusty to the city in time for the game.
Tlusty, 26, was third in Carolina's scoring this season with 13 goals and 10 assists in 52 games and is a pending unrestricted free agent.
The Czech Republic native can play right or left wing and should help bolster a squad that's placed three players on injured reserve in the past week.
Winnipeg put top-line winger Blake Wheeler on the IR Wednesday, but head coach Paul Maurice said after practice he might play Sunday against the Los Angeles Kings.
Defenceman Ben Chiarot is out about six weeks after having surgery last Sunday for a broken hand, while second-line winger Mathieu Perreault was placed on IR last week with a lower-body injury that could keep him out for the remainder of the regular season. Forward Matt Halischuk (lower body) was put on the IR Jan. 30 and could return in early March.
"Sometimes you hit road bumps along the way with some of these injuries and the likes, but that's all part of it," Cheveldayoff said. "We feel excited about adding Jiri to our group and we're looking forward to getting a couple players back in the lineup as soon as possible, health permitting, in Wheeler and Halischuk. And, obviously, when Matty Perreault is ready it'll be a big boost."
Tlusty has played 396 career games with Carolina and the Toronto Maple Leafs, who drafted him 13th overall in 2006. Maurice coached the six-foot, 209-pound Tlusty with both those clubs.
Cheveldayoff said Tlusty can be on the power play, score some goals, is a good checker and has lined up with skilled players, like with brothers Eric and Jordan Staal in Carolina.
He added that Tlusty grew up with Jets goalie Ondrej Pavelec and forward Michael Frolik. He also played with defenceman Jay Harrison, whom the Jets acquired Dec. 18 from Carolina in exchange for Ottawa's sixth-round pick this year.
Tlusty's trade follows on the heels of Winnipeg's Feb. 11 blockbuster deal that sent injured forward Evander Kane, defenceman Zach Bogosian and prospect goalie Jason Kasdorf to the Buffalo Sabres for defenceman Tyler Myers and forward Drew Stafford. The Jets also got prospects Joel Armia and Brendan Lemieux and one of the Sabres' later first-round picks in this year's draft.
With the NHL trade deadline looming on Monday, is Cheveldayoff still in a wheeling-and-dealing mode?
"I'd rather under-promise and over-deliver," he said. "Again, you don't know how these things play out.
"We will be active on the phones up until the chiming of the deadline, but that doesn't necessarily mean there is something that is out there."