Jets lament goalie interference non-call in loss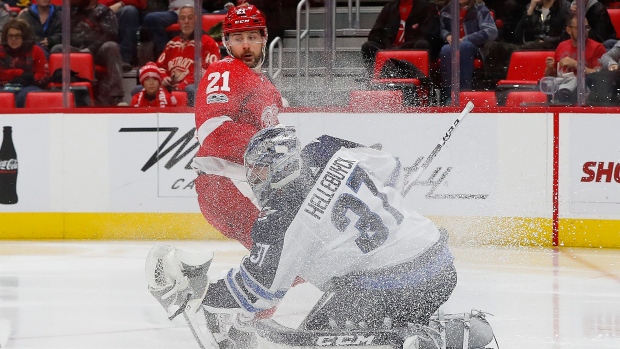 The Winnipeg Jets were down 2-1 in the third period when Detroit Red Wings defenceman Jonathan Ericsson scored on a shot from the point to extend his team's lead to two.
Jets goaltender Connor Hellebuyck was taken down on the play as both Gustav Nyquist of the Red Wings and teammate Josh Morrissey wound up on top of him.
After a lengthy review, officials determined Morrissey created the contact and the goal, which was then credited to Nyquist, would stand.
Just over two minutes after the call, Jets forward Blake Wheeler had the puck bounce over his stick to give Darren Helm a breakaway. Helm scored to give the Red Wings a commanding 4-1 lead, but Wheeler believes it was the goalie interference non-call that turned the tide of the game.
"The goalie interference call, I don't know if we agree with that one. That shifted the momentum to them, and then one bounces over my stick for a breakaway goal. That hurts, because now we're looking at a three-goal deficit," Wheeler said. "Obviously a terrible first period, but we still had a chance to win the game in the third."
Adam Lowry also pointed to the decision as key moment in the loss to the Red Wings, who were coming off a 10-1 defeat by the Montreal Canadiens.
"We knew this was going to be tough, because that's a good team that just took one of the worst losses in franchise history," Lowry said. "We had it to 2-1, and I thought we were in good shape, but we didn't get that interference call and it made things easier for them."
Jets head coach Paul Maurice, however, made no excuses for his team's loss.
"We lost the game, and we deserved to lose the game," Maurice said. "We missed the net on some good chances, but the biggest thing is that we gave up five even-strength goals. That's not good enough."
The Jets continue their road trip Thursday against the Florida Panthers (10-13-4).