Cuts tracker: Jets place Pavelec on waivers
The Winnipeg Jets have placed goaltender Ondrej Pavelec on waivers. Pavelec will be joined by waivers by New York Islanders forward P.A. Parenteau, according to Arthur Staple of Newsday.
The Canadian Press with files from TSN.ca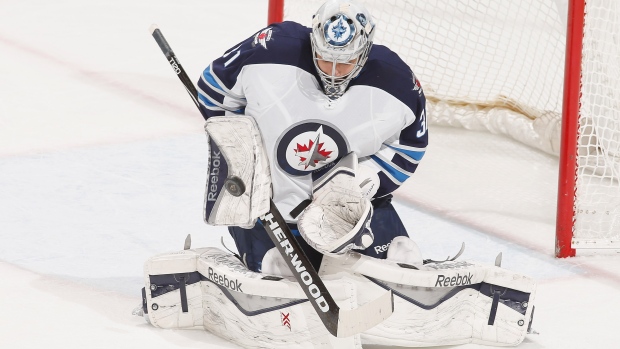 Goaltender Ondrej Pavelec and forward Pierre-Alexandre Parenteau were put on waivers Monday as NHL teams pare down to their opening night rosters.
The Winnipeg Jets announced they put Pavelec on waivers with the intent of sending him to the American Hockey League. The New York Islanders made their move with Parenteau three months after signing him to a $1.25 million, one-year contract.
Pavelec has one year remaining on his contract that pays him $4.75 million. The 29-year-old with 371 games of NHL experience was passed on Winnipeg's depth chart by younger goalies Connor Hellebuyck and Michael Hutchinson.
The Islanders brought back Parenteau in the hopes he could rekindle some magic with John Tavares. Parenteau has 101 goals in 424 career games.
Also on waivers are Arizona Coyotes defenceman Zbynek Michalek, Detroit Red Wings forward Teemu Pulkkinen, Columbus Blue Jackets forward Gregory Campbell and Tampa Bay Lightning forwards Cory Conacher and Erik Condra.
A total of just under $22 million in salary for this season is on waivers. Teams must set their season-opening rosters by 5 p.m. EDT Tuesday.
INJURY WOES
Sidney Crosby's concussion diagnosis shouldn't affect much on the roster, though the Pittsburgh Penguins don't know when the Conn Smythe-winning centre will be back. The Chicago Blackhawks expect forward Andrew Desjardins to be out 4-6 weeks with a lower-body injury. The Blackhawks put Desjardins on injured reserve Monday.
YOUTH SERVED
Around the league, teams are taking a chance on younger players even more so than in years past.
The Philadelphia Flyers will have defenceman Ivan Provorov and left wing Travis Konecny, 2015 first-round picks, on their roster, with general manager Ron Hextall saying he expects them to stick for the full season. The Montreal Canadiens will start the season with 2016 No. 9 pick Mikhail Sergachev and 21-year-old Finnish forward Artturi Lehkonen.
Beyond their goalies, the Jets will have plenty of youth with forwards Kyle Connor, Nikolaj Ehlers and 2016 No. 2 pick Patrik Laine leading the way. Winnipeg doesn't yet have Jacob Trouba signed, and the restricted free agent defenceman has asked for a trade.
NO DEAL YET
With the start of the season coming Wednesday, Trouba is one of several prominent restricted free agents without a deal. Tampa Bay Lightning winger Nikita Kucherov, Calgary Flames winger Johnny Gaudreau, Anaheim Ducks defenceman Hampus Lindholm and Buffalo Sabres defenceman Rasmus Ristolainen remain unsigned.
Flames release Higgins from PTO
Leafs trim roster
Andrew Campbell, Byron Froese, Colin Greening and Nikita Soshnikov assigned to AHL's Toronto Marlies. The Maple Leafs still have two cuts to make.
Full waivers