Jets RFA Morrissey confident he'll sign soon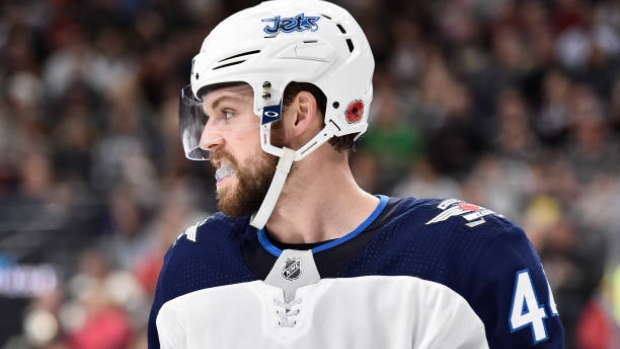 Winnipeg Jets restricted free agent Josh Morrissey is confident he will soon have a contract in hand and have the business side of the game put away ahead of training camp.
The 23-year-old emerged as a top-pairing defenceman last season and told the Winnipeg Free Press he expects his new contract will be completed in the near future.
"Everyone's going to have their own opinions and that's fine, but from my standpoint as a player, my agent and from our conversations with the team, everything's been going great," Morrissey said Tuesday. "Everyone's confident it will be handled and done, definitely in time for the season.
"Right now, it's in the works. Every player handles these things differently but I'm just focused on training throughout the summer. Of course, it's something you think about. You'd be lying if that wasn't the case. But I think things have really started to progress. For me, I love being here, I love playing here. You look at the playoff run last year that we had and just the support from the fans, I love being a Winnipeg Jet."
Morrissey is one three restricted free agents remaining for the Jets to sign, though the other two, JC Lipon and Eric Comrie, both spent the majority of last season in the AHL. The Jets entered the off-season with a long list of RFAs, including goaltender Connor Hellebuyck and defenceman Jacob Trouba, and Morrissey said there are no hard feelings with the club for having to wait on his new deal.
"No [animosity], not at all. None whatsoever," he said. "At the end of the day, everything's been going great. That's the business side of the game that goes on between my agent and Chevy [general manager Kevin Cheveldayoff] and [assistant GM] Larry Simmons. Both sides are working toward the same thing. Obviously, people are speculating, but things have been going great.
"... If you have UFA [unrestricted free agent] status then, obviously, July 1 is a pretty big date. If you have arbitration rights, whatever date is determined [for a hearing] becomes a big date. For me, for us, we basically just have to get something done before training camp and so it really doesn't matter if that's done in June or July or August. It's all part of the process and I'm just trying to enjoy it."
Morrissey posted seven goals, 19 assists, and 26 points last season – all better than his rookie year. He added a goal and an assist in the postseason while logging more than 20 minutes per game as Winnipeg made a run to the Western Conference finals.
He declined to reveal on Tuesday whether the two sides were working on a long-term deal, or if he'd be signing a bridge contract.
"That's always up for discussion. One way or the other, I'm just excited to be on the ice and be a Winnipeg Jet going forward," Morrissey said. "That's where I stand; one way or the other, I'm looking forward to the hockey aspect and the season aspect, and, as a player my focus has always been to become the best player I can be."
The Calgary native was drafted by the Winnipeg Jets in the first round (No. 13 overall) of the 2013 NHL Entry Draft. He's appeared in 163 games for the Jets over the past two seasons, posting 13 goals and 46 points with a plus-21 rating.