Jets taking risk by bringing in Myers
By now, the seven-player trade between the Buffalo Sabres and Winnipeg Jets has been carefully dissected from most every angle. Travis Yost digs into the overlooked part, the defencemen involved in the swap.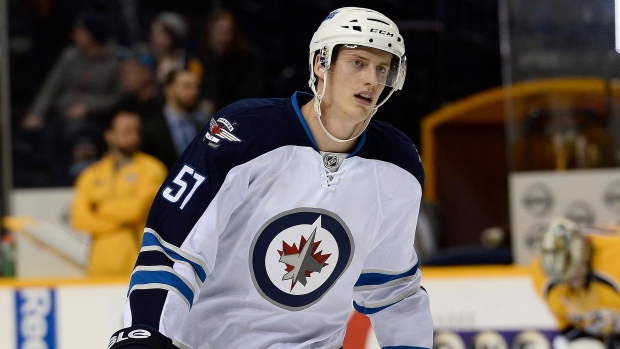 By now, the seven-player trade between the Buffalo Sabres and Winnipeg Jets has been carefully dissected from most every angle. Much of the attention has been focused on the big name, Evander Kane, and whether or not Buffalo gave up too much to acquire the 23-year old forward.
What's fascinating to me is that the most glossed over part of this deal – the de facto swapping of defensemen Zach Bogosian and Tyler Myers – has been glossed over quite a bit. From a Winnipeg standpoint, the exchange of the defensemen had an obvious financial benefit. While the cap hits are similar (Zach Bogosian's at $5.1-million; Tyler Myers is at $5.5-million), it's important to remember that Bogosian's deal is back-loaded, and Myers' deal front-loaded. Bogosian's due $28-million more through 2019-2010; Myers is due just $15.5-million, and his contract expires one year earlier.
That's a fair bit of savings on the books for Winnipeg, no question. But, I still think that the Jets are acquiring considerable risk in the acquisition of Myers, especially since this is a Winnipeg team that desperately needs talent on the roster now to realize that post-season berth.
One of the biggest red flags surrounding Tyler Myers is that he doesn't really seem to be able to drive play from a territorial standpoint, which is a dangerous proposition when you're talking about a twenty-two-minute-per-night defenseman.
To illustrate this, we can peel out his Corsi% numbers over the past four seasons with Buffalo, and can repeat it with ScoringChance% numbers to complement our investigation.
Here's how Myers looks since his rookie season. Ideally, we want to see the blue-line (Myers) consistently above the red-line (the team without Myers). First, Corsi%:
Aside from a nice stretch last season, Myers has either been around the team-average or worse from a Corsi% standpoint for years now. This year has been an unequivocal down-point – the Sabres have been measurably better with him off of the ice.
Do the scoring chance numbers legitimize what we see above?
ScoringChance% seems to mirror Corsi% here, which is what we tend to expect. And, this is really the concerning part: Myers, since that fabulous rookie season, has meant nearly two-points worse in Corsi%, and nearly two-points worse in ScoringChance% over 200-games.
We can perform a bit more intricate analysis from a possession standpoint on Tyler Myers over the years, looking at common linemates/pairmates and studying how the duo has performed with one another, and without one another. For the sake of this piece, I've compiled with/without numbers via HockeyAnalysis for six regular teammates – four forwards (Drew Stafford, Tyler Ennis, Cody Hodgson, and Marcus Foligno), and two defensemen (Josh Gorges and Henrik Tallinder). Outside of Gorges, obviously, all of these players have been with Buffalo for years.
Again, we want to see that Myers is pulling the player in question around – and not the other way around.
This graph is rather persuasive, and the green bars should really get most of your attention. That's where you'll see how the player in question performed away from Tyler Myers. In every case except for Marcus Foligno, the player was better from a Corsi% standpoint without Tyler Myers. In the case of Marcus Foligno, the together/player apart Corsi% was virtually identical, though Tyler Myers' Corsi% away from Marcus Foligno was measurably worse.
Now, it's worth noting that the player who departed Winnipeg – Zach Bogosian – didn't really identify himself as a brilliant possession-driver either, and Winnipeg's getting something of a financial discount in the process of the swap. Still, for a Jets team that (a) gave up, indisputably, the best player in the trade; and (b) is looking to reach the post-season for the first time since the team relocated from Atlanta, it's a bit of a curious move.
It's also worth noting that Tyler Myers is just 25-years old, and a change of scenery alone could render him salvageable. After all, it's not as if Myers – who has played his early Winnipeg minutes with Tobias Enstrom – has really had a skilled puck-moving defenseman on his hip in the past. Perhaps Enstrom is exactly the guy who can elevate Myers back to what he used to be in 2010.
But, ultimately, this situation comes down to risk and reward, and banking on Enstrom whitewashing thousands of average to ugly minutes for Myers over the last few years is a dicey proposition. It'll be worth seeing how Paul Maurice monitors Myers' minutes and deploys him over the stretch run, and whether or not he can resuscitate his game before Game 83.