Jets, Trouba agree to two-year, $6M contract
The Winnipeg Jets and restricted free-agent defenceman Jacob Trouba agreed to a two-year, $6 million deal on Monday.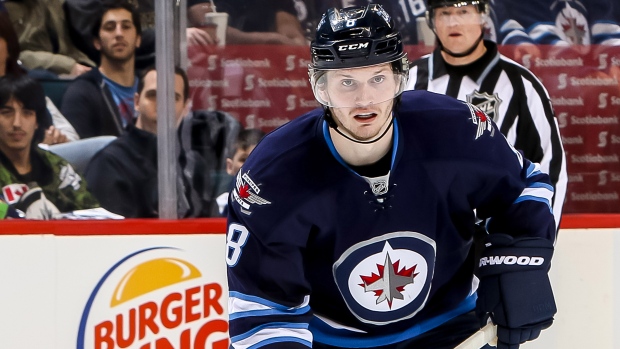 WINNIPEG — General manager Kevin Cheveldayoff expects Jacob Trouba to be welcomed back by his Winnipeg Jets teammates and their fans.
The holdout defenceman re-signed with the NHL club on Monday, inking a two-year deal that pays him US$2.5 million this season and $3.5 million in 2017-18.
"I think that Jacob is a popular player in the room there," Cheveldayoff said in a Monday conference call. "I'm sure that there was contact with different players and the like during this time so I don't anticipate that's a problem there."
Trouba missed Winnipeg's training camp and the start of the season while sitting out over a dispute with the team.
Trouba's agent Kurt Overhardt said in a September press release that the blue-liner wanted an opportunity to play somewhere else, citing Winnipeg's logjam of defenceman.
Cheveldayoff said Monday he doesn't think fans will hold a grudge against the 22-year-old Trouba.
"What I believe is that Jacob will go out and he'll play hard," Cheveldayoff said. "And I think the things that brought the fans towards liking him in his first three years, I think you're going to see those things occur again.
"And, certainly, he's going to help our team to win, which is ultimately what I think everyone in the stands wants to see."
Cheveldayoff, who has a picture on his office wall of him shaking Trouba's hand after the Jets selected him with the ninth overall pick in the 2012 NHL draft, said he's glad the dispute is over.
"I'd be lying if I said it wasn't certainly a difficult and trying time from my perspective because Jacob means a great deal to our organization," said Cheveldayoff, who met with Trouba when the team played in Detroit last Friday.
"There's a long-standing relationship that goes that's deeper than just the game," he added. "You care about how he's doing. You care about not just the business side of the game. You care about how he's holding up."
Trouba has been skating in his home state of Michigan with trainers and teams in the Detroit area and could arrive in Winnipeg as early as Tuesday.
Cheveldayoff wouldn't discuss how negotiations played out in regards to a potential trade, but he did respond to reports that Trouba wanted out of Canada.
"From the very onset, Jacob didn't have a problem playing in Winnipeg and didn't have a problem playing in Canada," Cheveldayoff said.
As for where Trouba will line up on the ice, Cheveldayoff is leaving that up to head coach Paul Maurice.
The young defenceman had been expected to continue playing this season on the left side with veteran Dustin Byfuglien, where he was logging an average of 22 minutes per game. Tyler Myers is on the right side in the second pairing, although he's out with an injury right now but could be back soon. Rookie Josh Morrissey has been in Trouba's spot with Byfuglien.
Had Trouba not signed a contract somewhere by Dec. 1, he would have had to sit out the remainder of the NHL season.
In 211 NHL games, Trouba has 23 goals and 49 assists for 72 points. He's eligible to sign a contract extension July 1.
Cheveldayoff was asked if he'd be seeking a longer extension with Trouba next summer.
"The ink's just drying on this contract here so let's let everything play itself out as it goes," he said.