Jets win thriller over Oilers in shootout
Blake Wheeler scored the only goal in the shootout as the Winnipeg Jets defeated the Edmonton Oilers 5-4 on Monday. Wheeler scored on the first shot of the tiebreaker, causing goalie Viktor Fasth to stretch out and injure himself. He left the ice and was replaced by Richard Bachman.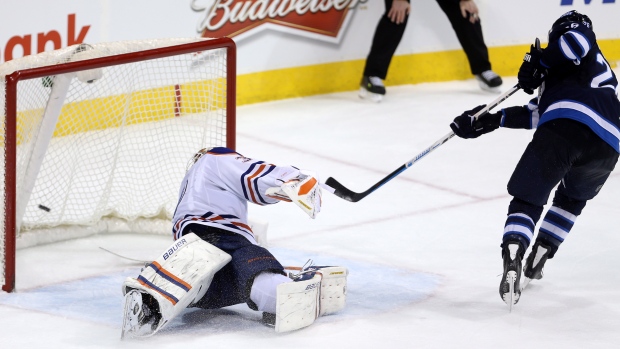 WINNIPEG, Canada - They call him Hutch the Clutch, and that's been the case for Michael Hutchinson when it comes to the shootout.
The Winnipeg Jets rookie goaltender stopped all three shots he faced in a 5-4 shootout win over the Edmonton Oilers on Monday, while teammate Blake Wheeler scored the winning goal with a deke on Viktor Fasth.
Last Saturday, Hutchinson was in net for a 5-4 shootout win over Detroit. He's now won the four career shootouts he's been in, stopping all 14 shots he's faced.
"You just kind of have fun with it and get a little competitive," said Hutchinson, who has won his last three starts (17-7-3). "Basically, you just try to keep your composure and try to make the shooter make the first move. You don't really want to let it get in your head at all.
"I try not to think about it at all. Not think about who is coming down and shooting on you at the time. Sometimes you might think they're going to do something you've seen before."
Hutchinson made 18 saves through regulation and overtime and turned aside Nail Yakupov, Derek Roy and Jordan Eberle in the shootout.
It was a bizarre situation on the opposite side of the ice.
Fasth injured himself stretching to stop Wheeler's winning goal — on the first shot of the tiebreaker — and was replaced by Richard Bachman.
Bachman then stopped shots from Bryan Little and Andrew Ladd.
"All I got is just that it's a knee issue," Nelson said of Fasth. "We don't know how bad it is."
Fasth made 42 saves through regulation and overtime.
"You have to give credit to their goalie, he really kept them in the game," Hutchinson said.
Little scored a pair of goals and added an assist for Winnipeg, which improved its record to 30-19-10 and 4-1-0 in its past five games.
Ladd also had a goal and defenceman Tyler Myers scored his first as a Jet after being acquired in a trade last week with Buffalo. Toby Enstrom and Wheeler each had a pair of assists.
Edmonton (16-32-10) got two goals from Yakupov and one from Anton Lander. Ryan Nugent-Hopkins also scored as the Oilers finished their six-game road trip 2-3-1.
"You don't see that too often," Ladd said of Fasth going down during the shootout. "It's a little weird.
"You have a move and then a new guy comes in and you start second guessing yourself. Obviously, (Bachman) came in and did pretty good. He stopped two, but it was a great goal by Wheels."
Bachman said it was odd for him, too.
"I've never seen it … with an injury, except for tonight obviously," Bachman said. "I have seen it where the coach will switch goalies, say one has a better shootout record or something like that, but I've never been a part of it, in either situation, so that was a first for me."
Nugent-Hopkins gave the Oilers a 3-2 lead at 1:08 of the third period with his 15th of the season, but Myers evened the score at 3:30.
Yakupov scored his eighth of the season at 15:14 on the power play, but Ladd responded with his 20th just 42 seconds later to make it 4-4.
Winnipeg forwards Mathieu Perreault and Drew Stafford were injured and will be evaluated.
Edmonton winger Luke Gazdic left the game in the second period when Jets defenceman Dustin Byfuglien checked him hard on his left shoulder and his face hit the boards. Nelson said he just has a gash on his chin.
Winnipeg starts a two-game road trip Thursday in Washington. The Oilers begin a three-game homestand against Boston on Wednesday.