Carlson, Josi and Hedman finalists for Norris Trophy
John Carlson, Roman Josi and Victor Hedman were named the finalists for the James Norris Memorial Trophy on Monday. The trophy is presented annually to the NHL's top defence player who demonstrates throughout the season the greatest all-round ability in the position.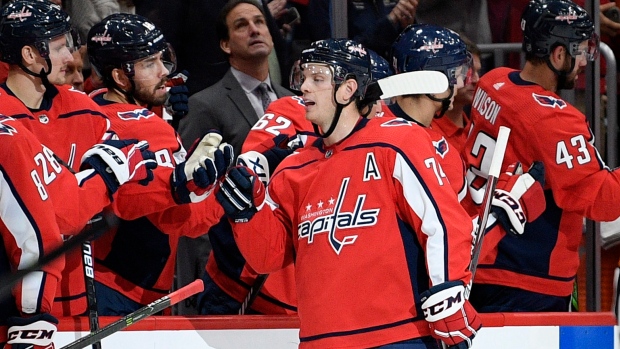 NEW YORK — John Carlson of the Washington Capitals, Victor Hedman of the Tampa Bay Lightning and Roman Josi of the Nashville Predators are the finalists for the 2019-20 Norris Trophy, awarded annually to the NHL's top defenceman.
Carlson helped the Capitals to a first-place finish in the Metropolitan Division for a fifth consecutive season by leading all NHL defencemen in scoring with 75 points (15 goals, 60 assists) in 69 games.
The 30-year-old native of Natick, Mass., is a Norris finalist for the first time.
"It's huge," Carlson said Monday on a videoconference. "You look at how long the season is, it's a long way to go and a lot of games that are very meaningful.
"There's a lot of players and coaches that have a stake in it as well. So it's an honour for me personally but it's also a cool thing for everyone within your team and organization to kind of rally behind you."
Hedman ranked third among defencemen in scoring with 55 points (11 goals, 44 assists) in 66 games, marking his fourth consecutive season with at least 40 assists and 50 points. During the Lightning's 23-2-1 run from Dec. 23 through Feb. 17, Hedman posted an even-or-plus rating in 22 of the 26 games (plus-29 in all) and played an average of 25 minutes 43 seconds per contest.
The 29-year-old Ornskoldsvik, Sweden, native is the first Norris Trophy finalist in four consecutive seasons since countryman Nicklas Lidstrom with the Detroit Red Wings was selected from 2005-06 through 2008-09. Hedman became the first Lightning player to capture Norris honours in 2017-18.
"It's definitely a big honour to be nominated, and definitely nothing you take for granted," Hedman said. "You go into every season not looking for these kind of acknowledgments, but you go out there and try to do what's best for your team.
"To get the recognition at the end of the year is a big privilege."
Josi led the Predators in scoring with 65 points (16 goals, 49 assists) in 69 games, joining Carlson as the only defenceman to top his club in points this season. Josi's 65 points set a franchise record for defencemen, surpassing the 61 he had recorded in 2015-16, and his 16 goals marked a career high.
The 30-year-old Nashville captain from Bern, Switzerland, native is a first-time Norris Trophy finalist and is vying to become the first winner in Predators history.
"If you look at all the guys who won it (Norris) and were nominated, it's a lot of guys you look up to," Josi said. "Even those two guys John and Viktor, you love watching those guys play. So it's definitely a huge honour to be nominated with those guys."
This report by The Canadian Press was first published July 20, 2020.