Johnsson adds to Toronto's impressive forward depth
Rookie winger has been solid in limited minutes, creating an intriguing lineup decision for Mike Babcock, Travis Yost writes.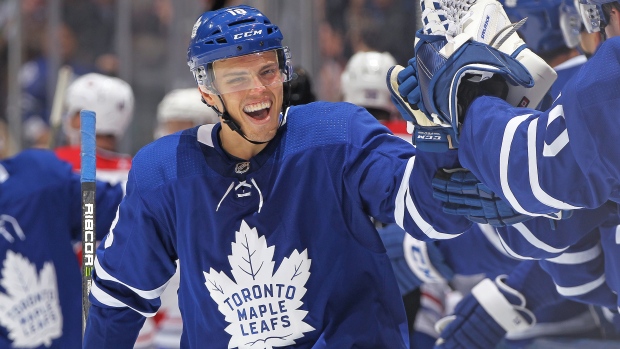 One of the more intriguing lineup decisions Mike Babcock will have to answer as the Toronto Maple Leafs head into the postseason concerns the use of forward Andreas Johnsson.
Teams as successful as the Maple Leafs have been this year don't like to tinker with deployment in the days leading up to the playoffs, and that's probably doubly true for a coach like Babcock. The Leafs are realistically looking at finishing sixth or seventh in the league standings, and a lot of that has to do with how deep their forward pool is and how productive they have been in the offensive end.
So, naturally, the bar that Johnsson would have to clear is quite high. But it's not impossible. He more or less dominated the AHL during the 2017-18 season – enough to warrant spot minutes for the big-league team this year, either due to injury or rest opportunities for a team locked into their playoff seeding. And Johnsson has been solid in limited minutes.
Qualitatively, it appears as though Johnsson's attributes are translating well to the NHL level. He's a high-end skater who is creative with the puck, and that's a dangerous weapon to possess when you are talking about a twelfth forward in a lineup playing predominantly against other depth forwards. He has three points in about 100 minutes, or 1.7 points per-60 minutes. That's ahead of teammates such as Kasperi Kapanen, Leo Komarov and Tomas Plekanec. Deployment varies from player to player here, but it's worth noting that his counting numbers are already there in the first nine games.
But what's more interesting than that is the level at which Toronto has territorially dominated with Johnsson on the ice. One of the things speaks volumes about the competency of a depth player (true for any player, but probably more true for guys further down the lineup who don't possess the same type of finishing skills) is their ability to consistently play in the offensive zone. Not only does this keep the pressure on opponents, it keeps the puck out of the defensive zone. That's more minutes for Toronto's stars to rest, and less of a workload for an already heavily burdened Freddy Andersen.
Just take a look at how the shots and scoring chances are falling in the minutes he's out there. At five-on-five, Johnsson – playing predominantly with Tomas Plekanec and Kasperi Kapanen – has been dominant in all the ways you want to see. (Data via Corsica and NST.)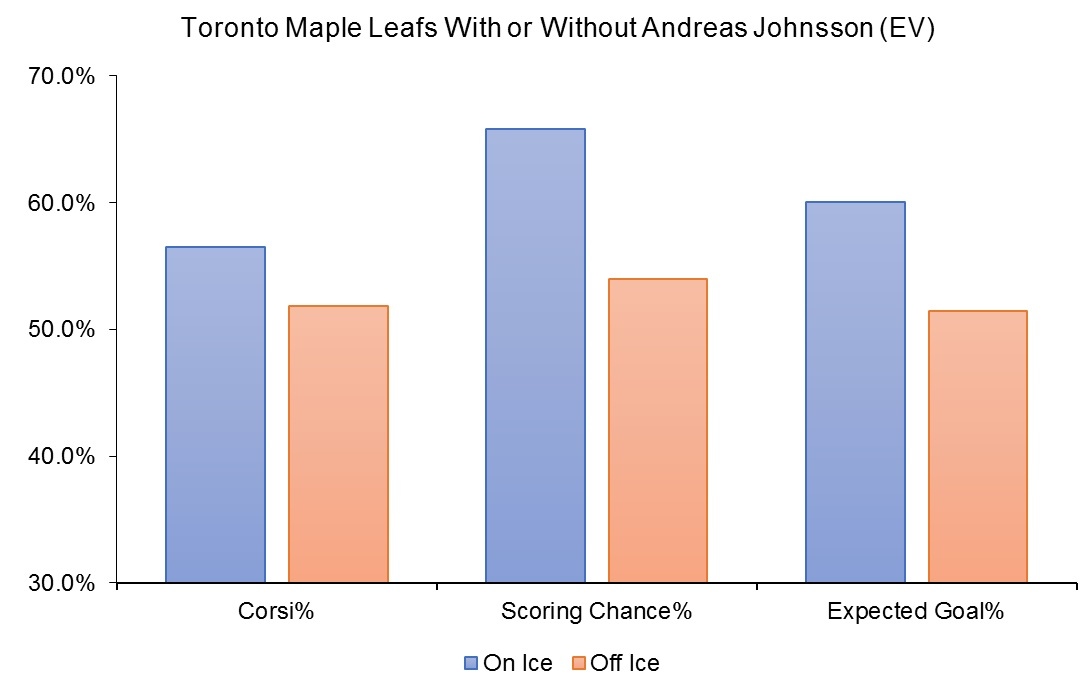 It's possible that playing with a veteran like Plekanec or a lightning-quick skater like Kapanen is helping Johnsson's transition. It's possible that he's just eating up soft minutes against inferior depth lines around the league. And it's true that Johnsson's limited action has come against some weaker competition in general – his most common opponents by ice time are stacked against guys from Buffalo and Montreal because of the way the schedule fell.
But none of that should marginalize what Johnsson has done so far. It's hard to transition into the NHL and it's probably more difficult to do it on a roster where the minutes are extremely competitive and just about everyone deserves ample ice time. The key thing for me isn't that Johnsson's minutes look great – any time you are pulling 55 to 60 per cent of shots or scoring chances, it's a good story. It's that his minutes are actually more impressive than the minutes played by Leafs skaters further up the lineup.
And that's the ultimate goal for any team looking to do damage in the postseason. Every team that makes the playoffs has quality. What's differentiated teams in the modern era is the ability to get out of top-heavy hockey – overreliance on one line and one pairing, or one outstanding goaltender – and towards a 23-man lineup that can decimate opponents shift after shift. It's why Nashville and Tampa Bay are considered two of the big Stanley Cup favourites this year. And it's why Boston has had such a strong bounce-back season after their depth was mercilessly exposed a season ago.
Right now, Johnsson is yet another option in what's becoming one of the deepest forward groups in hockey. But a few more games of this and Babcock may have little choice but to dress him in the postseason.
And for a rookie, that's all you can ask for.