Jones earns shutout, Sharks top Ovechkin-less Capitals
Martin Jones made 31 saves for his second straight shutout and the San Jose Sharks took advantage of Alex Ovechkin's absence from Washington's lineup to beat the Capitals 5-0 on Tuesday night.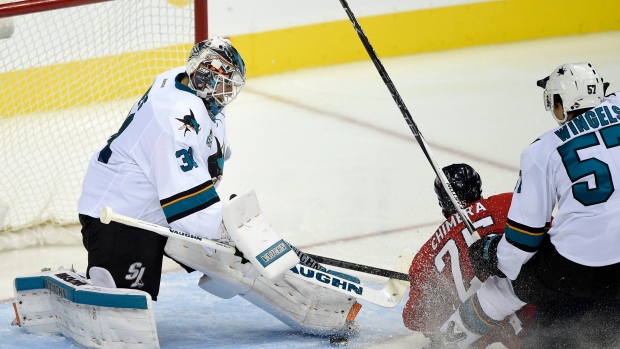 WASHINGTON - Martin Jones is fitting in perfectly in goal for the San Jose Sharks.
Jones made 31 saves for his second straight shutout and the Sharks took advantage of Alex Ovechkin's absence from Washington's lineup to beat the Capitals 5-0 on Tuesday night.
The Sharks improved to 3-0-0 and have outscored their opponents 12-1. Jones allowed a goal on the first shot he faced this season, but has blanked opponents for the following 178 minutes, 11 seconds.
Jones, acquired from Boston in the off-season, said Washington playing without Ovechkin (personal reasons) and first-line centre Nicklas Backstrom (off-season hip surgery) did not concern him or the Sharks.
"You can't really replace guys like that, but for us, we were just worried about our game," Jones said. "It didn't really matter who was in the lineup. I thought we did a really good job executing."
Matt Nieto and Chris Tierney each had a goal and an assist, and Joe Thornton, Mike Brown and Tomas Hertl added goals.
Ovechkin missed the game because of personal reasons. The Capitals sent out a note on Twitter about 35 minutes before the game saying the Russian star would not play. They confirmed earlier in the day that the left wing did not take part in the morning skate, and coach Barry Trotz said he would be a game-time decision.
Ovechkin had a goal and an assist Saturday night in Washington's season-opening victory over New Jersey.
Trotz refused to elaborate on Ovechkin afterward, except to say that the left wing would return Thursday night against Stanley Cup champion Chicago.
"He will be on the ice, and I expect him fully to be playing against the Chicago Blackhawks," Trotz said. "We could have used him tonight, and he's a great player. He's our captain. He's our leader but we didn't have today."
San Jose coach Peter DeBoer said the Capitals have plenty of talent in addition to Ovechkin and Backstrom, adding those are not the only two players that make the Washington offence go.
"Obviously, those guys are key people for them but at the same time, they have a lot of depth," DeBoer said. "The biggest mistake we could make was play differently because those guys aren't here. We have a lot of respect for the depth on that team."
The Sharks are showing their own depth, specifically on their fourth line that's been playing solid hockey so far.
Brown (one goal), Tierney (the two points) and Barclay Goodrow (two assists) combined for five points and continued their strong early-season play.
"We're playing well," Brown said. "We're feeling each other out right now. As of now... we're doing everything that we need to do."
Thornton opened the scoring on a power play in the first period. Brown and Hertl stretched the lead to 3-0, scoring off of rebounds early in the second period. Tierney's shot set up Brown at 2:36. Hertl scored after the Capitals were slow to clear goalie Braden Holtby's save of a Tommy Wingels nearly 5 minutes later.
Washington appeared to cut the lead to two a few minutes later, but the officials waved off Dmity Orlov's goal after San Jose challenged due to goalie interference.
NOTES: Defenceman John Carlson played his 400th NHL game, all with the Capitals Carlson also has played 380 consecutive games. ... Sharks right wing Joel Ward made his first trip back to Washington after playing the last four seasons with the Capitals. The crowd gave him a big ovation when some of his highlights were shown. ... Brown ended a 49-game goal drought.