Jones evasive on Riders quarterback future
Saskatchewan Roughriders head coach Chris Jones isn't saying whether he's interested in bringing back either of his quarterbacks next season. Zach Collaros and Brandon Bridge will become free agents in an off-season that could potentially see star quarterbacks Bo Levi Mitchell and Mike Reilly hit the market.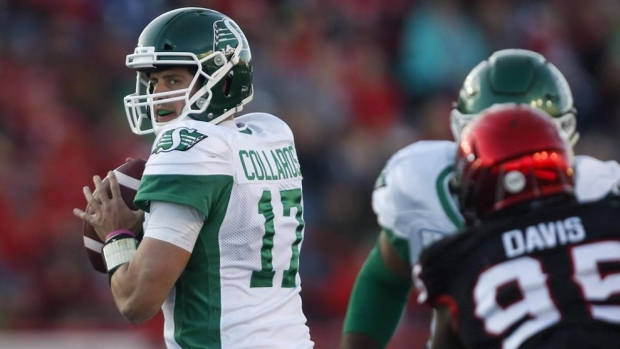 REGINA — The Saskatchewan Roughriders are entering the CFL off-season without either of their top quarterbacks under contract, and Chris Jones isn't tipping his hand on whether he plans to bring them back.
Both Zach Collaros and Brandon Bridge are set to become free agents in an off-season that could also potentially see stars Bo Levi Mitchell and Mike Reilly hit the market.
Jones, the Roughriders' head coach and general manager, kept quiet on his personnel plans for next season, saying discussion about free agency would take place at a later time.
"We just got to look for the consistency level," he said about off-season targets. "That's the biggest thing is to be able to get back to this point and give ourselves a chance to compete a year from now."
Jones was speaking at the Roughriders' locker cleanout on Tuesday. Saskatchewan's season ended on Sunday with a 23-18 loss to the Winnipeg Blue Bombers in the West Division semifinal.
Collaros didn't suit up against Winnipeg after taking a high hit in the Riders' regular season finale against B.C. He passed concussion protocol earlier in the week but Jones didn't want to risk his health. Collaros had suffered a concussion in Week 2 against Ottawa and missed four games.
Bridge started in place of Collaros and passed for 100 yards, no touchdowns and one interception.
The Roughriders offence passed for the second fewest yards during the regular season (3,971) and fewest touchdowns (11).
Collaros threw for 2,999 yards, nine touchdowns and 13 interceptions in 14 games this year. Bridge, from Mississauga, Ont., appeared in eight games for the Riders and threw for 804 yards, one touchdown and three interceptions.
Jones said the offensive struggles started at quarterback.
"Zach had a hard time staying healthy and staying on the field," Jones said. "I think if you look anywhere across the league when you have your second string quarterback in there that you don't always hit on all cylinders.
"We have to coach them a little better and we have to go out and execute."
Bridge said he loves playing in Saskatchewan and would like to be back next season. He admitted to being better prepared to play in the post-season last year while splitting playing time with Kevin Glenn.
He said it's hard to come off the bench and be expected to execute well when he hasn't played for a long period.
"I think last year I was able to be a 1A and this year I was a true backup," Bridge said.
The Roughriders also announced Tuesday they re-signed running back Marcus Thigpen to a one-year contract extension. Thigpen, 32, rushed for 408 yards and four touchdowns while adding 24 receptions for 233 yards and one TD.
He was suspended for the first two games of the season after violating the league's drug policy but ended up playing in 13 regular-season games.
Thigpen said it's a bit strange to re-sign with a team when the quarterback situation is unclear.
"I'm not sure what they're going to do but I do believe in the system and trust what they have in place," he said.
Future transactions this off-season could be impacted by a labour dispute, as the current collective bargaining agreement between the league and the players' association expires on May 15, 2019.
Players can sign contracts but wouldn't receive singing bonuses until a new agreement is reached.
Jones said the labour dispute, the inaugural season of the Alliance of American Football league, a potential return of the XFL and a tighter salary cap are all issues he'll have to deal with this winter.
"It's going to be harder and harder to find players," he said. "That's the harsh reality of the new leagues. The competitiveness for players is going to continue to get even harder as soon as the XFL kicks off."
— Follow @RyanBMcKenna on Twitter