Jones wins record fourth Canada Cup title with incredible shot in ninth
Jennifer Jones became a four-time Canada Cup champion Sunday afternoon at Affinity Place in Estevan, Sask. by making one of the best shots of her legendary curling career.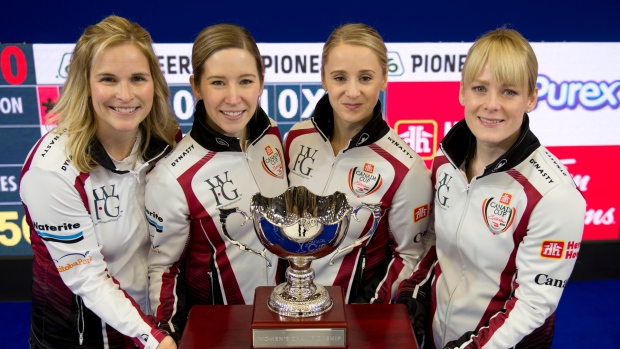 ESTEVAN, Sask. -- Jennifer Jones became a four-time Canada Cup champion Sunday afternoon at Affinity Place in Estevan, Sask. by making one of the best shots of her legendary curling career.
Tied 5-5 in the ninth end against Winnipeg's Team Kerri Einarson and facing a possible steal of one, the 44-year-old skip made an incredible long runback double takeout to score three.
The shot, which will likely go down as the best of the week, gave Team Jones an 8-5 advantage with an end to play and they wouldn't look back, taking the game by the same score after they ran Einarson out of rocks in the 10th end.
Jones said they thought it was worth the risk given the challenge of preventing them from scoring two and winning the game in the last end if they were to settle for just one.
"I like throwing that shot," Jones told the media following the game. "It looked good out of my hand. We knew it was going to be close. I just wasn't sure if we'd stick the shooter and it stuck around so it worked out really well."
Jones, who also won the last Canada Cup in 2016, is now tied with Kevin Martin for the most Canada Cup titles. She broke a tie with Saskatchewan's Stefanie Lawton for the women's all-time lead on Sunday. She also won in 2007 and 2011.
"Oh really? That's kind of cool," Jones said after being told about the record-setting news. "I actually couldn't remember how many we had won. It's kind of fun, especially when you get to the tail end of your career to realize maybe some of the records you set or success you have had. It really is a little bit surreal."
Second Jocelyn Peterman, who is in her first year with Team Jones as a replacement for future Hall of Famer Jill Officer, was not surprised by her skip's ability to make the big shot when it counts.
"For us, we're just riding along and that was all Jen," Peterman said.
"She's [Jones] very unique in the fact that she loves to play in those big moments," Peterman said. "It's amazing to be on her team now."
Jones, a Canadian, world and Olympic champion, was quick to give the credit back to her teammates.
"The girls swept that from my hand, I think, and we just made it by like a sliver," she said. "It's always a team game and I can't say enough about my teammates. Jocelyn has fit into the team great and we're having a ton of fun with her."
This was the first victory of the 2018-19 season for Team Jones.
"It's very exciting. It's a big win for us. We've been playing pretty good to start the season, but we hadn't come out with a win yet so it's very exciting," Peterman said.
This was only Einarson's second loss of the week after going an impressive 6-1 in the round robin and securing a berth straight to the final. The new-look rink of Einarson, Val Sweeting, Shannon Birchard and Briane Meilleur have been one of the top stories of the season with four event victories and a 46-13 record.
The win gave Team Jones $14,000 in prize money, a spot in the 2021 Road to the Roar Pre-Trials as well as qualification for a Curling World Cup event next season. They also won $1,500 for each of their five round robin wins.
Team Einarson took home $9,000 for being a finalist as well as the $1,500 for each round robin win.
Both teams, as well as many others competing this week at the Canada Cup, will now travel to Newfoundland for the next stop on the Grand Slam circuit at the National.