Journalist identified as beer-throwing suspect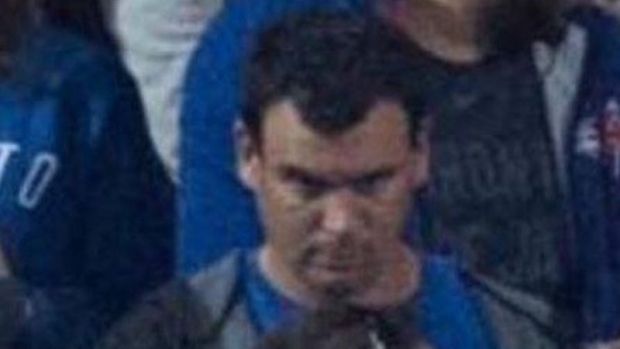 Ken Pagan, a desk editor with Postmedia Network, has been identified by The Toronto Sun as the man sought out by police in connection with the beer-tossing incident at Tuesday's Blue Jays game.
Postmedia owns some of Canada's largest daily newspapers, including The Toronto Sun.
In an interview on Wednesday with Sun columnist Joe Warmington, Pagan said he was "drinking out of a cup," during the Jays game. "I'd love to tell you what happened and my story ... but I can't say anything."
According to the Sun, Pagan spoke with Police Wednesday night to make arrangements to turn himself in. He hasn't been charged.
Pagan's lawyer Frank Genesee told The Toronto Sun that Pagan was not working Tuesday night and that he has "been identified as possibly the person who did this... All I can say now is he's going to co-operate fully with the investigation."
Genesee told the Sun that Pagan is a "good guy" who "needs the benefit of legal advice."
On Wednesday, before Pagan's identity was confirmed, the Postmedia-owned paper offered a $1,000 reward to whomever came forward with information to identify the man who threw a can of beer that nearly hit Baltimore Orioles outfielder Hyun Soo Kim.
Toronto Mayor John Tory called the culprit a "loon-ball," and asked Jays fans to help locate the offender, who left his seat before police arrived on scene, according to a Toronto Police Service spokesman.
Pagan's LinkedIn page identifies him as a sports copy editor with Postmedia.
A company spokeswoman declined to comment.
Pagan has also worked for the North Bay Nugget and Timmins Daily Press newspapers and won a 2005 Ontario Newspaper Awards sports reporting award in 2005, according to his LinkedIn page.
A Toronto police service spokesman said whoever threw the beer can would probably face a charge of mischief. If anyone had been hit with the can, a charge of assault with a weapon could have been filed.