Julien downplays Habs practice scuffle
Although things got a bit heated between teammates Andrew Shaw and Joe Morrow at practice Thursday, Montreal Canadiens coach Claude Julien shrugged off the incident.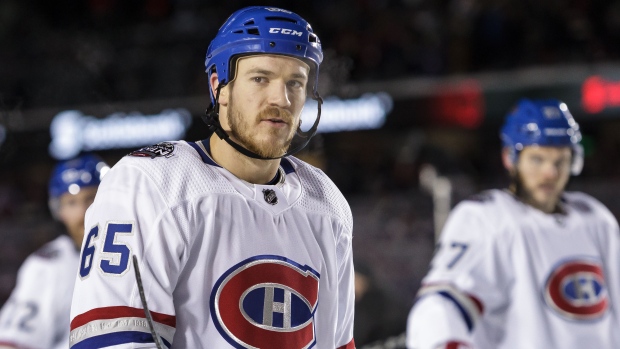 CALGARY, Alberta -- Although things got a bit heated between teammates at practice Thursday, Montreal Canadiens coach Claude Julien shrugged off the incident.
A day before their game against the Calgary Flames, a scuffle broke out between right winger Andrew Shaw and defenceman Joe Morrow during Montreal's afternoon ice time at the Scotiabank Saddledome.Teammates had to intervene to separate the pair before cooler heads prevailed.
"It's players showing emotion -- that happens," said Julien afterward. "At the end of the day, there's a professional side to the game and there's a personal side to the game. What happened on the ice was professional and they're going to be in the room on a personal side and they'll probably be hugging each other and buying each other a Gatorade and move on."
Captain Max Pacioretty, who had a pair of assists during Montreal's 7-5 road win over the Vancouver Canucks on Tuesday, also downplayed the incident.
"It's nothing out of the ordinary," Pacioretty said. "Obviously, it makes for good conversation for you guys, but it's nothing we're not used to."
The skirmish aside, Julien is more concerned about the fact that the Canadiens (15-15-4) gave up five goals to the Canucks, including a hat trick to left winger Thomas Vanek.
"We're happy with the offensive part, not so much with the defensive part of our game," Julien said.
With Shea Weber still out with a foot injury, the Canadiens recalled fellow defenceman Brett Lernout from the AHL's Laval Rocket and he joined the team in Calgary.
"I think when he plays within his strengths, he's a good defenceman," Julien said. "We have some decisions to make for (Friday) and we have some options."
Meanwhile, Calgary coach Glen Gulutzan told reporters that defenceman Travis Hamonic is day-to-day with a lower-body injury that he sustained late in the first period of Wednesday's 2-1 win for the Flames (18-14-3) at home over the St. Louis Blues.
"Most likely, Bart will pull in," said Gulutzan in regards to defenceman Matt Bartkowski being inserted into the lineup against Montreal.
Dougie Hamilton, who scored the game-winning goal against the Blues, said he and the rest of Calgary's defensive corps had to pick up the slack in Hamonic's absence.
"You just know you're going to get tired quick and just try to know you're going to play a lot more -- just do the best we can to fill in for him," said Hamilton, while adding that the Flames would like nothing more than to run their winning streak to three games heading into the holiday break. "It's big. That's a break in the season. You try to get into a playoff spot as early in the season as we can and try to keep getting points as much as we can. That's the biggest thing. Games are worth the same now as at the end of the year."
Right winger Michael Frolik, who also scored against the Blues, agreed with Hamilton's assessment.
"It's going to be a big game against Montreal, a Canadian team and a big market," he said. "You always want to finish in a good way going into the break. We're playing pretty good hockey lately. Just keep it rolling and have a good game."