Kadri on cross-check: 'Of course I regret it'
As Kristen Shilton writes, Nazem Kadri replaced some of his usual defiance with a heavy dose of contrition as he dissected the fallout from his second straight postseason suspension.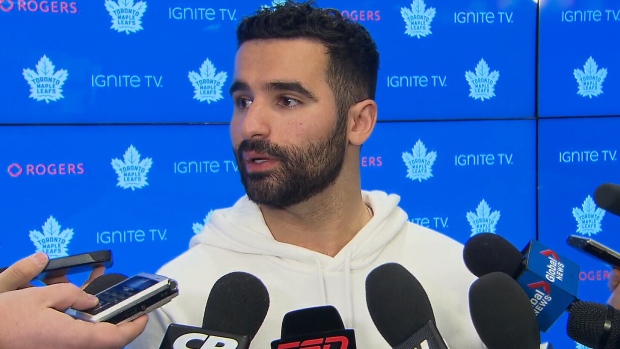 TORONTO – In dissecting the fallout from his second straight postseason suspension, Nazem Kadri replaced some of his usual defiance with a heavy dose of contrition.
"Of course I regret it," Kadri said Thursday in his first comments since his five-game ban for cross-checking Jake DeBrusk in Game 2 of the Maple Leafs' first-round series against Boston. "It was tough to watch. I've never been so anxious and stressed out in my life in watching these games here. It's not my intent to hurt people or to injure; I'm always going to be that guy who tries to stand up for his teammates. Unfortunately that did not go the way I envisioned."
Kadri has a reputation for getting under opponents' skin, unafraid as he is of mixing it up verbally or throwing his body around. Late in Game 2, an enraged Kadri went after DeBrusk for an unpenalized hit the Bruins' winger levied against Patrick Marleau. Kadri connected with DeBrusk's face on the play, earning him a five-minute penalty and a game misconduct.
The NHL's Department of Player Safety offered Kadri an in-person hearing, reflective of his status as a repeat offender. Not only was Kadri suspended for three games in last season's first-round series against Boston for boarding Tommy Wingels, he's been suspended by the NHL five times since 2013, and fined on two other occasions.
"I wasn't intending to get him in the face," Kadri explained of the DeBrusk cross-check. "That's completely not my character. I just was unsatisfied with the hit on Patty. I just wanted to go give him one of those shots on the arm, just kind of let him know that wasn't okay with us. Unfortunately I caught him high and I've got to be accountable for that. I've got to have control of my stick. That's definitely a bit of a bone-headed play."
Things were heated between the two forwards in Game 2 before the incident, thanks to offsetting roughing penalties in the first period and a knee-on-knee hit DeBrusk laid on Kadri that went uncalled. When asked why he didn't fight DeBrusk instead of eventually cross-checking him, Kadri said that wasn't an option.
"I tried to go that avenue," he said. "That's obviously the first thing I think of. I want to keep it within the rules. But if that doesn't happen you obviously got to do something to get the message across. That's an uncalled for play. Sometimes maybe I think a little too much with my heart as opposed to my head. That's something I'm going to fix. I can assure you this isn't going to happen again."
In reacting the way he did to DeBrusk, Kadri put the brakes on what was a strong start individually to the series with a goal and an assist. More critically, his decision robbed the Leafs of their depth at centre.
"Ultimately in trying to do the right thing and protect my teammates, I ended up doing the wrong thing," Kadri said. "I was just starting to play my best hockey in that series. I really was planning on bringing it and being a difference and being that X-factor. To say we would have advanced if I would have played is tough to say. It's hard to sit back and watch when you know you could have made an impact."
Leafs' coach Mike Babcock tried to liken losing Kadri to having a player go down with injury, but Kadri's actions were as controllable as they were costly. Babcock had to move William Nylander to centre in Kadri's absence, taking away the option of Nylander bumping up to one of the Leafs' top lines later in the series.
"You sit there and you watch your teammates go to battle and you know you might be the tilt to the series, the depth they were counting on from you," said Babcock. "You didn't intend to cross the line. You were trying to stand up for a teammate but it went bad on you. The impact is more that it's back to back years. And so it's hard."
The most difficult assessment of Kadri now may be whether he can be trusted not to hurt the Leafs again. At 28 years old and nine seasons into his NHL career, Kadri's behaviour can't be excused as youthful indiscretion. But he's also a valued piece of the Leafs' forward group, with three years left of a team-friendly contract that uses only $4.5 million in cap space.
For his part, Kadri says he's "not at all concerned" about his future with the team, but that there are issues he needs to address in order to not be in hot water again.
"There are a few things I can do that I already have in mind, more on the personal side, so I'd rather not share those," he said. "There's obviously a time and place for when I feel the need to do something like that to be able to step back and relax and kind of assess for the long run. Usually I don't think about consequences ahead of time. That's something I'm becoming much more aware of as this happens."
General manager Kyle Dubas couldn't guarantee anyone would remain with the team going forward on Thursday, stressing the importance of ongoing evaluations. But while Kadri stands at this crossroads between the player he is and the player he must be for his own good, Dubas said he won't go down that path alone.
"When we talked to him, his temperance is a major point," Dubas said of Kadri. "He's an excellent player for us and brings an element that we don't have in abundance. Yes, he likes to defend his teammates and he plays hard, but we need him to be available. He needs to find that balance. It's a major challenge for him character-wise. It's not just on him, we need to do everything we can to make sure he keeps himself available and we'll do that."