Kane leads 'Hawks over Sabres in homecoming
Patrick Kane had a goal and an assist in his annual homecoming, leading the Chicago Blackhawks to a 5-1 win over the Buffalo Sabres on Sunday night.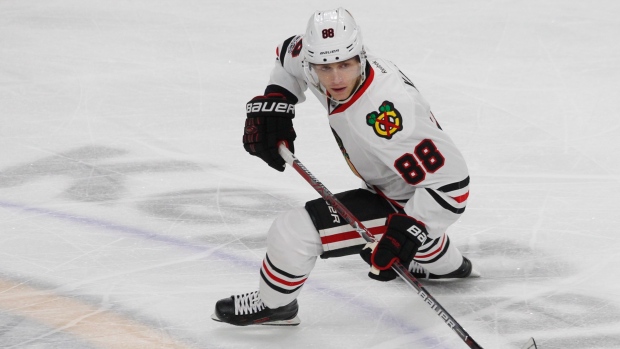 BUFFALO, N.Y. — Patrick Kane felt a little sheepish for being a little too emotional during a fist-pumping celebration after extending Chicago's lead to four goals in the third period.
It certainly wasn't a clutch goal or anything like that. The Blackhawks coasted to a 5-1 win over the Sabres on Sunday night.
Then again, Kane only gets to play in his Buffalo hometown once a year.
"I was a little jacked up for a 5-1 goal," Kane said. "I don't even know what I was thinking after that. It was kind of a blackout in that moment."
At least it had some historical significance.
It was Kane's 20th goal of the season, making the South Buffalo native the league's first American-born player to score that many in each of his first 10 seasons , according to Elias Sports. Kane also became the fifth Blackhawks player to reach the 20-goal plateau 10 times on a franchise career list led by Stan Mikita's 14.
"I think it's a pretty cool number," Kane said, before joking he's starting to feel old for 28.
"It's almost sad how fast it goes by," he added. "I feel maybe not as young as I used to be. ... Hopefully, a lot of great years left."
Marian Hossa and Jonathan Toews broke it open with second-period goals for Chicago, which won for the sixth time in seven games. Ryan Hartman and Artem Anisimov also scored, helping the Blackhawks bounce back from a 3-1 loss to Edmonton on Saturday.
Scott Darling, subbing for starter Corey Crawford, made 25 saves in just his seventh appearance in two months.
Evander Kane scored and Robin Lehner stopped 32 shots for Buffalo in its final game before its five-day bye. The Sabres were trying for their first four-game win streak since December 2014.
Patrick Kane, however, was part of the draw given the large number of No. 88 Blackhawks jerseys that dominated several parts of the stands. And he gave them plenty to cheer about in the third period.
First, his one-timer from the high slot set up Anisimov's goal, making it 4-1 at the 3:29 mark.
Some three minutes later, Kane showed off some of his remarkable stick-handling skills. The NHL MVP was set up on the right of the Buffalo net, and was untouched for several seconds before easily depositing the puck inside the right post .
Kane celebrated by skating around the net, dropping down to one knee and pumping his arm, before flashing a big smile at a large number of Blackhawks fans in the stands.
Darling ate it up from the far end of the rink, knowing how special the moment was to Kane.
"It's an emotional game," Darling said. "I was super happy for him to have a highlight-reel goal like that."
Kane has scored in eight straight games against the Sabres. He upped his career total to eight goals and four assists in 13 meetings.
Chicago won its 11th consecutive game over Buffalo. The Blackhawks haven't lost to the Sabres since a 2-1 defeat at Buffalo on Dec. 11, 2009.
The Sabres were unable to match the Blackhawks' speed or depth after Evander Kane tied the game by converting Jack Eichel's centring pass with 6 seconds left in the first period.
Buffalo was outshot 20-14 over the final 40 minutes and 37-26 overall.
"We did too much sitting back, playing in our own zone," Eichel said. "We didn't play aggressive enough. We gave them too much room and the puck ended in our net."
Fatigue could have played a factor for the Sabres, who went 4-2 over a stretch of six games in nine days, including a 3-2 win over St. Louis on Saturday night.
"We can take some time here to rest a bit and try and let ourselves refocus for the last push of the season," Eichel said.
NOTES: Sabres C Sam Reinhart missed his second consecutive game due to illness. ... Blackhawks LW Vinnie Hinostroza played after being recalled from the minors earlier in the day. ... Sabres D Taylor Fedun cleared waivers and was assigned to Rochester of the AHL.
UP NEXT
Blackhawks: At Minnesota on Tuesday.
Sabres: Visit Colorado on Saturday.