Kane's streak ends as Avs blank Blackhawks
Semyon Varlamov stopped 29 shots for his first shutout of the season, leading the Colorado Avalanche to a 3-0 victory over Chicago and snapping Blackhawks star Patrick Kane's points streak at 26 games.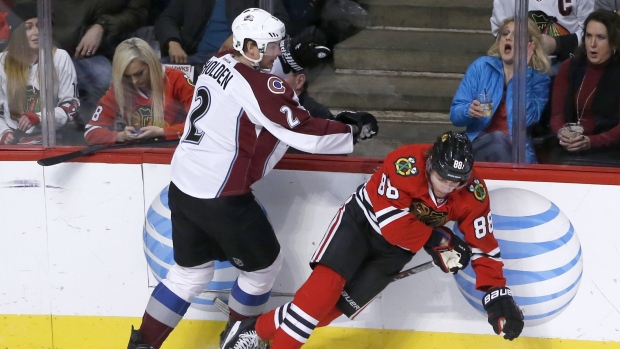 CHICAGO - Semyon Varlamov and the Colorado Avalanche found a perfect way to snap Blackhawks star Patrick Kane's franchise record points streak.
Varlamov stopped 29 shots for his first shutout of the season, leading the Colorado Avalanche to a 3-0 victory over Chicago on Tuesday night and ending Kane's streak at 26 games.
Matt Duchene had a goal and an assist for the Avalanche, who won their third straight to cap a perfect four-day road trip to Nashville, St. Louis and Chicago. Zach Redmond scored in the second period and Gabriel Landeskog added an empty-netter with 1:57 left.
"We didn't focus on (Kane's streak), we focused on winning the hockey game," Colorado coach Patrick Roy said. "I thought we did a good job offensively, defensively. in the neutral zone.
"I liked our game tonight, and our goalie was really solid in key moments in the game."
Varlamov was sharp when needed in earning his 19th career shutout and third against Chicago. But for most of the game, Colorado limited Chicago's chances — and Kane.
"Didn't have it tonight, so now I can just focus on playing hockey," Kane said. "It was a good run, but when you have to talk about it every day it gets taxing."
Once the Avalanche got a 2-0 lead, they taxed all the Blackhawks with a frustrating defensive style.
"I don't know if we got many chances on (Varlamov) today," Kane said. "They did a good job of against us. They swarmed us; I don't know if we're really ready for that. They're a fast team."
Varlamov was sharp in his two previous games, allowing just three goals on 79 shots in Nashville and St. Louis. He improved to 11-3-0 against the Blackhawks, including a 54-save shutout in Chicago last January.
The Avalanche goalie wasn't nearly as busy in this one. Even if Varlamov said Kane's line — with Artem Anisimov and Artemi Panarin — "had a couple good chances," Kane was held without a shot.
"I don't have any secrets. It's all about my teammates," Varlamov said. "They play well in front of me every time we play here in Chicago.
Kane's streak was the longest since Mats Sundin's 30-game stretch in 1992-93. The Chicago right wing had 16 goals and 24 assists during the run, and has points in all but three of the Blackhawks' 32 games.
"The fact he was able to sustain it for this length of time was amazing," Blackhawks coach Joel Quenneville said. "So it was pretty spectacular in today's game to be on the board in 26 games, and It was fun to be a part of it."
Chicago's Corey Crawford, who entered with back-to-back shutouts, had 24 saves.
Defenceman Rob Scuderi made his debut with the Blackhawks after being acquired on Monday from Pittsburgh for defenceman Trevor Daley. The 36-year-old Scuderi was paired with Michal Rozsival.
Despite their schedule, the Avalanche came out with energy in the first and outskated the Blackhawks to take a lead that Varlamov helped preserve.
Duchene opened the scoring with 5:30 left in the first period, the first goal allowed by Crawford's in more than 155 minutes. With Nathan MacKinnon parked in front, Duchene's shot from the left circle slipped over Crawford's glove.
Redmond made it 2-0 at 1:43 of the third with his first goal this season. The defenceman skated into the right circle uncovered and beat Crawford with a low shot after taking a cross-ice feed from Blake Comeau.
Varlamov made two of his toughest saves late in the second.
He stopped Bryan Bickell's point-blank one-timer —set up by Andrew Shaw's perfect pass — with a right pad save with about 2:30 left. A minute later, he blocked Teuvo Teravainen's drive from the slot.
Varlamov wasn't tested heavily in the third, but made an alert kick save on Dennis Rasmussen with just over three minutes remaining.
NOTES: Varlamov entered the game with a 1.93 goals-against average and .946 save percentage against the Blackhawks in 14 previous contests. ... Redmond was recalled from San Antonio of the AHL on Nov. 12 and skated in his eighth game. ... With Scuderi joining the Blackhawks, D David Rundblad sat out. ... The Avalanche have played 18 of their last 25 on the road, but will play nine of their next 10 in Denver