Karlsson, wife Melinda mourning family loss
The Ottawa Senators announced that defenceman Erik Karlsson will miss Tuesday's game against the Florida Panthers following the death of his son.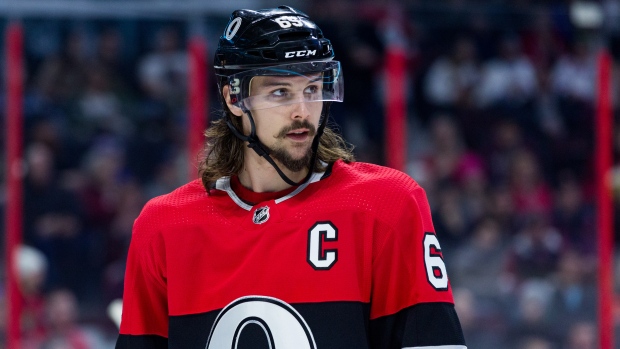 OTTAWA — The Ottawa Senators say the son of captain Erik Karlsson has died.
"The collective thoughts and prayers of the Ottawa Senators organization, the city of Ottawa and entire hockey community rest with Erik and Melinda Karlsson following the loss of their son," the team said in a release.
"We ask that you respect the family's wishes for privacy during the grieving process."
The couple announced in November that they were expecting their first child.
The Senators had said earlier that Karlsson would not play in Tuesday's game against the visiting Florida Panthers.
The hockey world was quick to voice its condolences and support.
"The players and staff of the NHLPA extend their condolences to Erik and Melinda Karlsson following the loss of their son," tweeted the NHL Players' Association.
"Today is a day to remember that there are way more important things in life and hockey is just a game. Our condolences to @ErikKarlsson65 and his wife Melinda on their tragic loss," former NHLer Marc Savard said via Twitter.
"The entire LA Kings' organization is thinking of Erik Karlsson and his family during this time," said the Kings.
The 27-year-old Senators captain has already suffered through a painful season that has seen Ottawa plummet in the standings. The two-time Norris Trophy winner was also the object of trade speculation for weeks ahead of the NHL trading deadline.
Karlsson, who can become an unrestricted free agent after the 2018-19 season, said in late February that he hopes to stay in Ottawa. Talks on a contract extension can't begin until July 1.
The smooth-skating Swede had a slow start to the season after surgery last summer to repair torn tendons in his left foot. The tears, which occurred during the Stanley Cup playoffs, were found in a post-season MRI.
Going into play Tuesday, the 26-34-11 Senators were 14th in the Eastern Conference. They finished sixth in the Eastern standings last season at 44-28-10.