Keep an eye on Staal and the Wild
Veteran centre is the kind of top-six forward on a good deal we didn't expect to see available for the Golden Knights during the expansion draft, Travis Yost writes.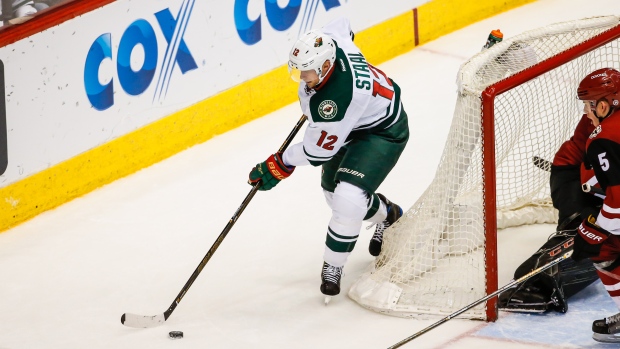 One of the funny wrinkles of the expansion draft rules this year is how disparately they impact certain teams.
Some teams – particularly those that either bottomed out recently, or are in the process of bottoming out – risk next to nothing in exposure by way of the draft. (If you don't believe me, take a good, hard look at what players could be selected from a team like the Vancouver Canucks.)
Other teams sit on the opposite end of the spectrum. The expansion rules aren't particularly kind to teams with lopsided talent allocation – a lot of good forwards, or a lot of good defenders – or clubs in the prime of their contention, especially if those teams have a handful of veteran players with tricky no-movement clauses.
The good news for these teams is that they can only lose one player through the expansion draft. The bad news is that, because of who they had to protect, that player could end up being a substantial organizational loss.
There are two teams in pretty precarious spots by way of the above – the Anaheim Ducks and the Minnesota Wild. Anaheim's situation has been created in part by an incredible stockpiling of young defensive talent. It's created a spot where Vegas can land a surefire top-four defender in either Josh Manson or Sami Vatanen, or negotiate a side trade with Anaheim to stockpile a number of assets (based on the rumour mill rumblings, this seems likely). Regardless of whether Vegas land the defender or the relief package, they're going to do well in any deal with Anaheim.
The other team that's really in a fascinating spot is Minnesota. The Wild are in a bit more of a contractual mess, with a ton of money on the cap and a bunch of no-move clauses. The Wild had to start their protection list by barring the likes of Zach Parise, Mikko Koivu, and Jason Pominville from the draft. They supplemented that list by adding some logical names – Charlie Coyle, Mikael Granlund and Nino Niederreiter at forward, and Jonas Brodin, Jared Spurgeon, and Ryan Suter defensively.
Two names you won't see: Matt Dumba and Eric Staal. We knew Minnesota would likely lose a defender, so Dumba's presence isn't surprising. But Staal's is. The organization opted to protect winger Jason Zucker over him, perhaps due to the age gap between the two players.
I'm not sure what public perception is of Staal right now, but I do know that it cratered towards the tail end of his Carolina career – enough to get him to Minnesota on an incredibly team-friendly $3.5mm AAV contract through 2018-19.
There were, at times, questions as to whether Staal's game was starting to diminish. And to be fair, surely he's not the player he was in his heyday. But for Vegas, this is an awfully easy decision – Staal's a no-doubt-about-it top-six forward, something that we didn't expect to see available for the Knights during the expansion draft.
To show this, I went and pulled all of Staal's pertinent individual and on-ice measurements at 5-on-5 over the last three seasons. This graph compares Staal with all other forwards across the league using a number of key performance metrics. Reading it is simple – if Staal's 100 per cent in a category, he's been better than all other forwards league-wide. If he's 0 per cent, he's been worse.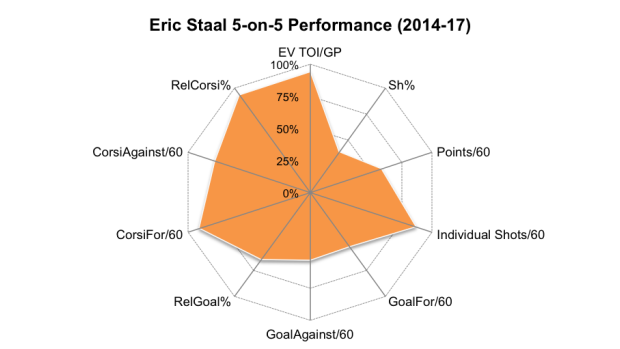 Again, I don't think this is Eric Staal of the late 2000s, but this is still a very productive player. One of the most noticeable things to me is that his coaches seem to love his play – Staal saw more 5-on-5 ice time than about 95 per cent of forwards across the league over the last three seasons.
The other noticeable thing is how Staal's game has evolved – for better and worse – over the last few years. Territorially Staal still dominates both ends of the ice, especially in the offensive zone. He and his linemates pile up shots whenever they get there, and generally that's indicative of a productive unit. But Staal individually hasn't been the same scorer he was from a few seasons ago. The first things that have degraded in his game as he's aged through the league are his individual scoring rates (look at how he grades versus peers by way of shooting percentage and points per-60, for an example).
To me, it's been an evolution from all-around talent to playmaker for Staal. He's become a bit more reliant on his wingers to handle the finishing, but he's still more than capable of pucks to areas that few others centres around the league can. Quite frankly, at aggregate in most of these areas, Staal is better than about 75 to 90 per cent of forwards league wide. That'll comfortably slide you into any top-six, and in Vegas' case, probably the first line.
The million-dollar question is if Minnesota will move heaven and earth to stay Staal's selection, kind of like what we anticipate happening in Anaheim. Staal is a valuable player on a fantastic deal, and Minnesota's window to win is now.
Keep an eye on the Wild over the next 48 hours.