Kennedy to join Team Jacobs for Canada Cup
Two-time Olympian Marc Kennedy and veteran curler Matt Wozniak will play as substitutes for Ryan Fry on Team Brad Jacobs at curling competitions next month.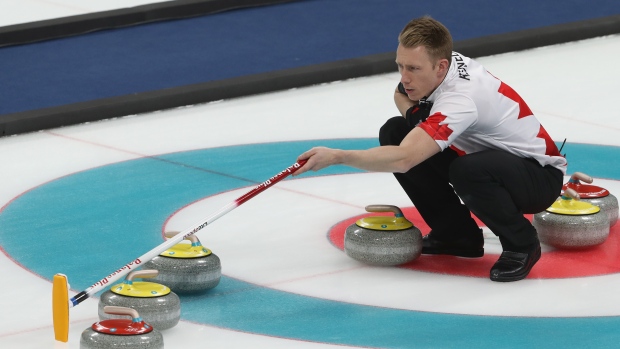 Team Brad Jacobs will turn to a couple of curling veterans to fill the vacancy created by Ryan Fry's decision to take an indefinite leave after his disqualification from the Red Deer Curling Classic.
Two-time Olympian Marc Kennedy will play as a substitute at the Dec. 5-9 Canada Cup in Estevan, Sask., while Matt Wozniak will fill in at the Dec. 11-16 National in Conception Bay South, N.L., the team said Monday in a statement.
"It's mixed emotions," Kennedy said Monday from Toronto before boarding a flight to Edmonton. "I'm excited to get back out there, to test out my hip and to have a chance to play with a pretty incredible team. I'm looking forward to that. I know they've been through a tough couple weeks here.
"Hopefully I can come in and add a positive spark and help get them through this difficult time that Team Jacobs is going through."
Fry announced last week that he would be taking a break from the Sault Ste. Marie, Ont.-based team to focus on his "growth and self-improvement." His decision came a few days after he was ejected from a World Curling Tour event for what organizers called unsportsmanlike behaviour resulting from excessive drinking.
Fry, who was playing as a substitute in Red Deer, was kicked out of the competition with teammates Jamie Koe, Chris Schille and DJ Kidby. All four players later issued statements to apologize for their actions.
Organizers said Fry broke three brooms and that the team used foul language and was disruptive to other players on the ice. The WCT fined Fry $1,000 and said that his behaviour was the reason for the team's disqualification.
"We are fortunate to have such great players step up and help us out in this time of need while Ryan takes the time he needs to manage his well-being," Jacobs said in an email. "It says a lot that two great players in Marc and Matt are willing to support us. We know they will fill Ryan's shoes very well and give us a great opportunity to compete as we try to win the Canada Cup and the National.
"We are excited to be only one week away from competing. Last week was a whirlwind for our team and quite stressful but thankfully it is behind us now. Our focus has now shifted to doing everything possible to be prepared for the Canada Cup. It's crucial we maintain a healthy mindset and are well rested going into the next few weeks of competition."
Fry, 40, won Olympic gold at the 2014 Sochi Games with the Jacobs team. They also won the Tim Hortons Brier in 2013.
Kennedy, 36, won Olympic gold at the 2010 Vancouver Games with skip Kevin Martin. He returned to the Pyeongchang Games this year with skip Kevin Koe but did not reach the podium.
Wozniak, 35, was a longtime second on a Winnipeg team skipped by Mike McEwen. That rink disbanded after last season with McEwen forming a new team with skip Reid Carruthers.
Wozniak will play his familiar position with Team Jacobs with E.J. Harnden moving to third, the team said in a post on Twitter.
Kennedy announced last March that he would be taking a break from competitive curling to recharge and rest a nagging hip injury. He took on a consulting position with Curling Canada and has been practising through the autumn.
He also teamed with Rachel Homan last month to win a mixed doubles event in Sherwood Park, Alta.
"I think once I get out there and start playing a couple ends, I feel it will all come back pretty quickly," Kennedy said. "Hopefully I can make as many shots as the team needs me to."
The Canada Cup men's and women's winners will earn spots in the 2021 Road to the Roar Pre-Trials. They will also qualify for a Curling World Cup event next season.
Fry has represented Northern Ontario on five occasions at the Brier. He also won four provincial titles (2009-12) with skip Brad Gushue out of Newfoundland and Labrador and won a Manitoba crown in 2007 with skip Jeff Stoughton.
Team Jacobs, which holds the No. 5 position in the men's world rankings, won a Grand Slam title earlier this month in Thunder Bay, Ont.
———
Follow @GregoryStrongCP on Twitter.