Kings' Phaneuf to be healthy scratch tonight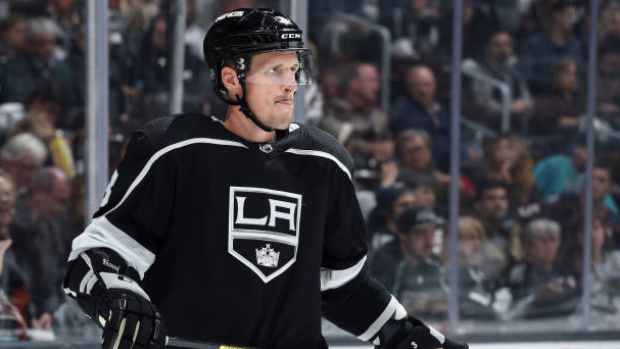 Los Angeles Kings defenceman Dion Phaneuf will serve as a healthy scratch against the Philadelphia Flyers on Thursday night, head coach Willie Desjardins announced.
The 33-year-old is minus-16 this season with one goal and three points in 46 games. He scored his first goal since Feb. 20, 2018 on Tuesday against the New Jersey Devils.
The decision comes less than two weeks after the Kings traded defenceman Jake Muzzin, who was averaging 21:32 of ice time on the team's blueline.
Phaneuf is averaging 14:38 of ice time this season, which is the lowest mark of his career by five minutes. He missed seven games in December with an upper-body injury and called out his own play last month.
"I​ haven't​​ had a very good year," Phaneuf told The Athletic in January. "I'll be the first to admit that I haven't played well enough. I expect more of myself and my game.
"I'm disappointed in my year personally and I have to be better for our team."
Phaneuf had three goals and 10 points while averaging 19:28 of ice time - then a career-low - in 26 games upon joining the Kings last season after a trade from the Ottawa Senators. The Senators retained $1.75 million of Phaneuf's salary in the deal and he has two more seasons left on his contract at a cap hit of $5.25 million.
Phaneuf played in his 1,000th career NHL game in November and currently sits 17th among active players in games played. He said in January he has not considered hanging up his skates.
"I always said I want to play as long as I can. As long as my body will allow me to play. Right now, you come, you do your job and no one's happy where we're at. No one's happy where we're at in the standings. I think everyone here, we had a lot higher aspirations and a lot higher expectations of ourselves as a team," Phaneuf said.
"I don't look too far ahead, to be honest with you. I've got a couple of years left on my contract and I want to play as long I can. That's what I said."
A first-round pick of the Calgary Flames in 2003, Phaneuf has 137 goals and 491 points in 1,027 NHL games with the Kings, Senators, Toronto Maple Leafs and Flames.