Hyman returns to the lineup for hobbled Leafs
The injury-riddled Maple Leafs get an important winger back for the rematch with Calgary but will have to do a much better job responding to a number of other key absences, Kristen Shilton writes.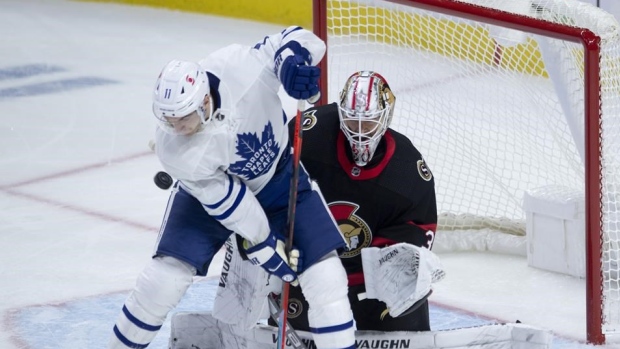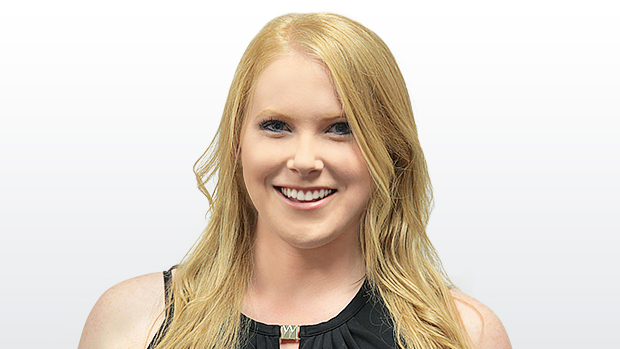 TORONTO — The Maple Leafs will get winger Zach Hyman back in the lineup for Wednesday's rematch against the Calgary Flames, but starting goaltender Frederik Andersen, defenceman Jake Muzzin and forward Joe Thornton all remain day-to-day with injuries.
Toronto responded poorly to its many absences in a lifeless 3-0 loss to Calgary on Monday, and are out to prove in round two they can weather a little adversity.
"Guys are going to go down and I don't think we handled it that great," said Morgan Rielly on a Zoom call Wednesday following the Leafs' optional morning skate.
"I thought when we lost Auston [Matthews] for a game earlier in the year [with a hand injury], we did a great job of playing without him, and I just don't think we did that last game. So it's up to us, the people in the room, to take responsibility for that and make changes and make sure that we don't allow that to happen again tonight."
Michael Hutchinson will make his third start of the season in Andersen's place, after posting 30 saves and a .909 save percentage on Monday.
Head coach Sheldon Keefe said it doesn't look like Andersen's undisclosed injury is overly serious, and that he's "progressing well," but there's no timeline for a return.
Muzzin is still dealing with a broken bone in his face, while Thornton is nursing a lower-body ailment.
Nic Petan will come out for Toronto to make room for Hyman, and Keefe said he'll slide onto Toronto's top line with Matthews and Mitch Marner.
Keefe experimented with John Tavares in that spot during Monday's game, but it failed to generate any sort of spark as the Leafs were shut out for the first time this season.
Toronto's power play was also abysmal in an 0-for-7 showing, while the Flames racked up two goals on special teams that helped turn the tide in their favour.
To that end, Keefe shuffled the power play units at Tuesday's practice, moving Jimmy Vesey onto the top group with Matthews, Marner, Rielly, and Travis Boyd, while Tavares, William Nylander, Alex Kerfoot, Jason Spezza and Mikko Lehtonen populate the other.
"We're going through it all at once here right now," acknowledged Keefe of adjusting to the injuries. "And it's a chance for us to look at different things and get other people to step up. There's no excuses; there's no feeling sorry for ourselves. Every team in the league has already gone through [injuries] or will be going through them. We're no different. This is our time here now and we have to have a better response than we did the other night."
Toronto has been one of the best offensive teams in the league all season, averaging the third-most goals per game (3.60) and boasting the NHL's leading goal scorer (Matthews, with 18) and third-highest point producer (Marner, tied with Patrick Kane at 30).
But that duo couldn't find a way past backup goalie David Rittich on Monday though, managing only five shots total on net. Now Keefe is looking for the Leafs' disappointment over both being stymied at even strength, and failing to convert on any of their power-play opportunities (including a 5-on-3 chance), to fuel more positive production on Wednesday.
"I hope they've got a little extra hunger around the net, extra hunger to get on to the inside, make it harder on the goaltender," Keefe said. "We've got to get to that area a lot better, be on offence a little bit more, and execute better on our power play – all those kinds of things that make life harder on defence and goaltending."
That's something Boyd has been focused on since not only establishing a regular role for himself on the fourth line, but also securing a net-front spot on the power play following Wayne Simmonds' wrist injury last month.
It's been quite an increase in responsibility for the Leafs' newcomer, who signed a one-year, $700,000 deal in October. He got off to a slow start with his new team in training camp and was demoted to the taxi squad for a time, but the 27-year-old eventually found his way into a regular job at 5-on-5 and, soon after, on special teams.
The Minnesota native admits now his early issues were due to poor planning around Canada's mandatory 14-day quarantine period.
"I put myself behind the eight ball by not coming out of quarantine and having some days [before camp] to get up to speed," he said. "So, for me it was just about getting into game shape and playing catch up conditioning-wise. I was hoping to get that chance [on the power play] and it definitely gives you a confidence boost. I'm just trying to really be able to support the puck, create pressure and be around the net, hopefully to bang home a rebound or two."
Toronto will take all the offence it can muster for this second outing against Calgary, a team that entered Monday night on a three-game slide while languishing around the .500 mark.
The Leafs didn't match their urgency the first time around, and pledge not to be caught flat-footed again.
"They played hard," said Rielly. "They're a good team and they were on a skid a bit, so we knew that they were going to come hard and compete and play and that's exactly what they did. When you go back and watch the game, we had chances, but they played well. So it's important that we respond here tonight with a good effort. We talked about it yesterday, and it's up to us to respond and compete a little harder here tonight."