Kuchar defends $5K payment to caddie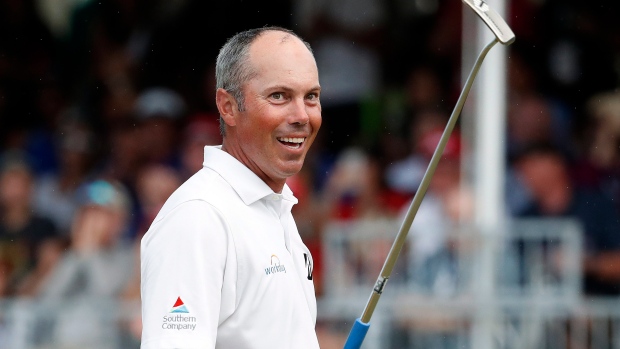 Matt Kuchar says that the $5,000 payment his caddie received after his November win at the Mayakoba Golf Classic in Mexico City that came with a $1.296 million purse was more than fair.
With his regular caddie, John Wood, unavailable, Kuchar went with a local caddie in David "El Tucan" Ortiz" during the tournament and won his first event in four years.
Ortiz confirmed to Golf.com earlier this week that he received a payment of $5,000, the equivalent of a little over 0.3 per cent of Kuchar's winnings.
"It's kind of too bad that it's turned into a story," Kuchar told the Golf Channel's Will Gray at this weekend's Genesis Open near Los Angeles. "I really didn't think it was a story because we had an arrangement when I started. I've done enough tournaments and had enough weekly caddies, and I'm very clear about what the payment will be. And we had an arrangement Tuesday that David was okay with, and I thought Sunday he was very much okay with it."
Kuchar notes that he offered an additional $15,000 to Ortiz, but the payment was refused.
Ortiz told Golf.com that he had traded emails with Kuchar's agent, Mark Steinberg, in hopes of a $50,000. Handshake agreements between players and caddies are common and caddies can often earn up to 10 per cent of a golfer's tournament purse.
Kuchar insists that the arrangement between himself and Ortiz was met.
"I kind of feel like unfortunately some other people have got it in his head that he's deserving something different than what we agreed upon," Kuchar said. "And it's just too bad that it's turned into a story, because it doesn't need to be. We had a great week."
The 40-year-old Winter Park, FL native says that he had never met Ortiz prior to the tournament and the pair had arranged a plan that could see the caddie make up to $4,000.
Kuchar says that not only did Ortiz receive more than they had agreed upon, he'd more than likely take Kuchar up on that offer again.
"I kind of think, if he had the chance to do it over again, same exact deal, that he'd say yes again," Kuchar said.
Kuchar, who is set to tee off for his opening round at the Genesis Open on Thursday afternoon, considers the matter over and done with completely.
"You can't make everybody happy," he said. "You're not going to buy people's ability to be OK with you, and this seems to be a social media issue more than anything. I think it shouldn't be, knowing that there was a complete, agreed-upon deal that not only did I meet but exceeded...Making $5,000 is a great week."