Jets reach deals with D Kulikov, G Mason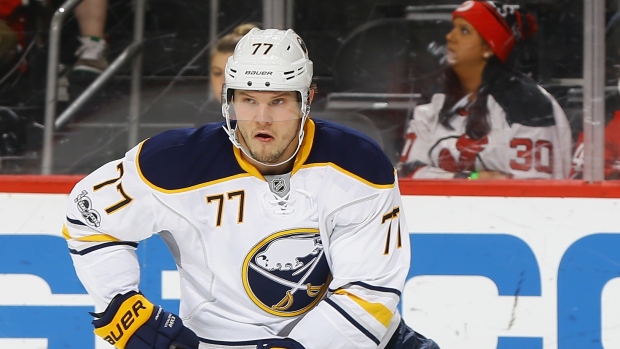 Veteran defenceman Dmitry Kulikov has agreed to a three-year, $12.99 million deal with the Winnipeg Jets, according to TSN Hockey Insider Darren Dreger.
The deal owns an annual cap hit of $4.33 million.
After spending the first seven years of his career with the Florida Panthers, Kulikov was in Buffalo last season, finishing with two goals and three assists in 47 games with the Sabres.
Kulikov battled through an upper-body injury last season.
Still just 26-years-old, Kulikov has played in 507 career NHL games, and has 30 goals and 113 points.
Drafted 14th overall by the Panthers in 2009, Kulikov is coming off a three-year, $13 million contract he signed with the Panthers.
Mason Signs
Also on Saturday, the Jets signed goaltender Steve Mason to a two-year, $8.2 million contract.
Mason had a .908 save percentage and a 2.66 goals against average in 58 games last season for the Philadelphia Flyers.
The 29-year-old was a Vezina Trophy finalist in his rookie year for the Columbus Blue Jackets in 2009, but failed to match his production in the seasons following. In April of 2013, he was traded to the Flyers in exchange for Michael Leighton and a 2015 third-round draft pick.
Mason was coming off a three-year, $12.3 million deal.
Last season, it was Connor Hellebuyck's crease in Winnipeg. In 56 games for the Jets, he had a save percentage of .907 and a goals against average of 2.89. He will be a restricted free agent this summer.
Sgarbossa Added
The Jets also signed former Florida Panther Michael Sgarbossa to a one-year, $650,000 contract on Saturday.
Sgarbossa scored two goals and added five assists in 29 gamnes with the Panthers this season.
The 24-year-old owns two goals and eight assists in 48 career NHL games.