Kyrou earns comparison to Modano
The Team Canada forward is tied for the tournament scoring lead with four points in two games.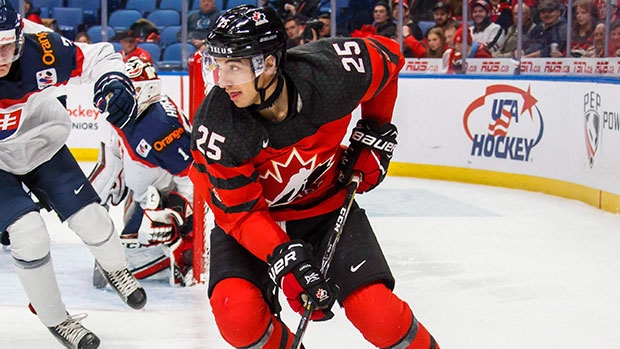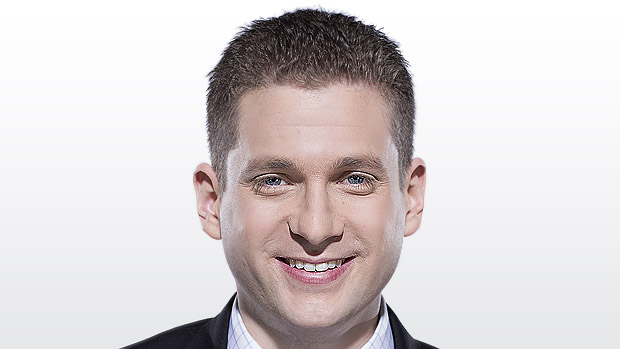 Team Canada cancelled its morning skate ahead of Friday's outdoor game against Team USA at New Era Field in Orchard Park, NY.
On a team lacking marquee names up front, Jordan Kyrou is emerging as chairman of Team Canada's offence by committee. The Sarnia Sting captain electrified his bench and broke the game open with a magical move on Wednesday night, stickhandling through Slovakia's Erik Smolka before potting a power-play maker early in the second period.
"Oh man. Um, I don't even know how he did it," said forward Jonah Gadjovich with a laugh. "I don't know what happened, but when the puck went into the net we went crazy on the bench."
"It was pretty spectacular," said defenceman Cale Makar. "I mean, I don't even know what happened there. He went through the guy's legs like four times and then shot it. It was cool to see. He's a very special player. He's got very quick hands."

Kyrou is an understated guy with the media and was modest about his puck sorcery.
"Good work on the power play with puck retrieval," he noted. "I made a nice move and just put the puck on net and luckily it went in."
Kyrou leads the OHL in scoring with 19 goals and 58 points in 30 games. How many highlight-reel beauties does he have in the OHL this season?
"Maybe like one or two," he said. "It doesn't happen often, but when it does it's like, 'Wow.'"
Does he practice moves like that?
"Nothing like that. It just kind of happened."
Kyrou had just one goal in his last 10 games before leaving for the World Juniors and said Wednesday's jaw-dropping tally will have a big impact on his confidence level.
"It boosts it a lot," he acknowledged.
Gadjovich, who plays in Owen Sound, points out that a confident Kyrou is a very dangerous prospect for opponents.
"He makes one move and you think you know what he's going to do next, but you really have no idea," Gadjovich noted. "He's a special player and it's a privilege to play with him."
Canada's major strength this year is team speed and Kyrou, picked 36th overall by St. Louis in 2016, is leading the charge in that department.
"He's fast," said goalie Colton Point. "I mean, you notice that with all these guys, but he's probably the fastest guy on our team and he's smooth as well. He's a threat everywhere and you never know when he's going to strike."
Kyrou is tied for the tournament scoring lead with four points in two games.
"I like to use my speed to my advantage," Kyrou said, "chipping pucks around guys and faking to the middle and going to the outside to get them."
That ability to make incredible plays at high speeds earned him a lofty comparison from Sarnia head coach Derian Hatcher, who played 1,045 NHL games, including 10 seasons with the Dallas Stars.
"I told [Blues general manager] Doug Armstrong when they drafted him, I compared him to Mike Modano and Doug looked a little surprised with that, but the only reason I did that is he has that skill with the puck," Hatcher explained. "He's faster with the puck and that's a tough skill to have. He can make plays going full [speed] and not many players can do that. I'm not saying he's going to be Mike Modano, but I definitely think his future's going to be bright."
Despite Kyrou's dry spell leading into the World Juniors, Hatcher was expecting big things.
"He'll help them a lot," Hatcher said in an interview during Canada's selection camp. "Jordan, everyone knows, sometimes he might not compete at the highest level every night, but when he does he's one of the best [junior] players in the world. I think in this tournament he's going to have to compete every shift and every day and I think that will help him a lot."
Kyrou credits Hatcher for helping him become a more well-rounded player.
"He's taught me a lot of things. One thing, playing the right way, playing harder on the puck, playing harder on my stick and winning battles along the wall more."
----
At the World Juniors each team can pick the song that plays after they score. Canada's choice this year has raised a few eyebrows. They are going with a remix of the classic Bruce Channel song Hey Baby, by DJ Baby Otzi.
"I think we're going to change it up," said Kyrou. "At first we thought it was a good idea, but after hearing it, it's kind of iffy. We'll change it up."
Who is behind this year's pick?
"I'm not going to say," Kyrou said with a laugh. "I'm not going to embarrass him."
Kyrou wants more of a pump-up track and suggests going back to We Dem Boyz by Wiz Khalifa, which was used last year.
But not everyone believes a change is necessary, especially with Canada undefeated during the 'Hey Baby' era.
"I don't think we can change it," said defenceman Jake Bean. "Ten goals in two games, it's working. We don't have a reason to."
Captain Dillon Dube isn't sure what all the fuss is about.
"People have been questioning it, but I like it," he said suggesting the choice was a collaborative decision. "I think it's funny. Enjoy yourself after the goal and it kind of gets you loose. You get pumped up before, but right when you score you got to relax a little bit and be happy about it."
Popular support seems to be trending against Dube's position, at least according to a Twitter poll posted by Hockey Canada:
----
The United States doesn't have much time to regroup after a shocking upset against Slovakia on Thursday night, but head coach Bob Motzko doesn't think that's necessarily a bad thing.
"Let's play. Doggone right," Motzko said. "The atmosphere when you walk out, young athletes can find enthusiasm in little things ... We'll battle tomorrow. The fresh air's going to do us good. It really will. We had a little jump out there [at practice at New Era Field] the other night and we know they'll be ready so we have to respond."
Despite the defeat, the Americans weren't too down about their performance against Slovakia crediting goalie Roman Durny for standing on his head. An injury to Senators prospect Logan Brown also disrupted the rhythm up front.
"We kind of came out slow," said forward Max Jones. "Their goalie had a great game and they played the trap really well and we couldn't adjust until later. We had 40-something shots and their goalie hung in there. I don't know. I don't want to say we played terrible. We just have to move on."
"We had a little flat tire tonight," said Motzko. "We were trying to pump it; we just couldn't get it going. Give Slovakia a lot of credit, they had a game plan and they stuck with it and they kept growing as the game went. They clogged the middle zone up and made life difficult for us and we didn't handle it well. We didn't respond to it well. And we just had spurts all night. It'd be a little spurt and then there'd be a timeout and we wouldn't get it back."
----
Brady Tkachuk scored his first World Juniors goal in the loss to Slovakia. On Friday, he gets another first, a date with archrival Canada on the big stage.
"It's a big deal to me," he said. "My brother and my dad have been a part of this rivalry so for me to finally be a part of it, it's an honour."
Father Keith Tkachuk won a bronze medal at the 1986 World Juniors and brother Matthew Tkachuk replicated that feat at the 2016 event. But neither got this type of opportunity.
"It's my first outdoor game and it will be an awesome experience and something I'll remember forever and definitely my brother and father are a bit jealous," he said. "It will be an awesome atmosphere."
Tkachuk will also be facing his Boston University teammate Dante Fabbro.
"He's a really good guy and a better player. He's tough to get around in practice. He's one of the best defencemen I've ever played with."
What makes Fabbro so tough to play against?
"He does everything," Tkachuk said. "He baits you into making a move and then just takes it away just like that so the best play you can make is just to shoot it around him."
Fabbro will be facing three NCAA teammates on Friday as Terriers goalie Jake Oettinger and forward Patrick Harper are also on the American roster.