Laine had back injury throughout season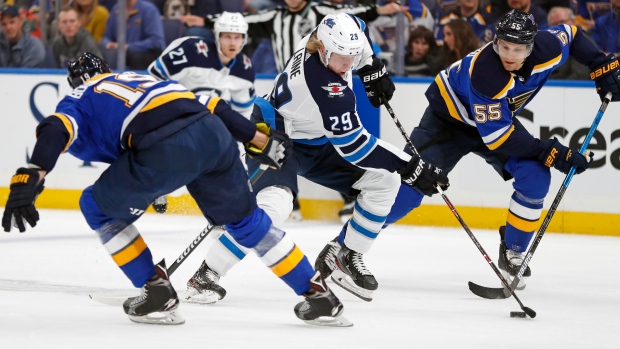 Winnipeg Jets forward Patrik Laine said Monday he dealt with a back injury throughout the regular season and was slowed by a groin issue in the playoffs.
"Nothing I couldn't handle," Laine said of the injuries at the Jets season-ending media availability.
Laine wasn't the only Jet to play injured in the postseason, though, as teammate Nikolaj Ehlers revealed Monday he played through a foot fracture in the team's season-ending Game 6 loss to the St. Louis Blues. Ehlers, who played just 9:01 in Game 6, was held without a point in the first-round series.
Additionally, winger Brandon Tanev had hand surgery on his broken finger prior to the playoffs and managed to post one goal and two points in five games during the series.
A restricted free agent this summer, Laine posted a career-low of 30 goals and 50 points in 82 games this season. The 21-year-old scored 18 goals in 12 games in the month of November, but posted just six over the final 58 games of the season.
He had three goals and one assist in six playoff games as the Jets were eliminated by the St. Louis Blues.
He said Monday he will not be participating in next month's world hockey championship with Team Finland.
Laine, 21, scored 36 goals as a rookie in 2016-17 and topped that mark with 44 goals and a career-best 70 points in his second season. He had a minus-24 rating this season after posting a plus-15 mark over his first two seasons in the league.
Laine is one of 15 players - including Tanev - on the Jets 23-man roster without a contract for next season.