Laine on track to become NHL's next premier sniper
Winnipeg Jets winger's sophomore season is cementing his reputation as a truly elite shooter, Travis Yost writes.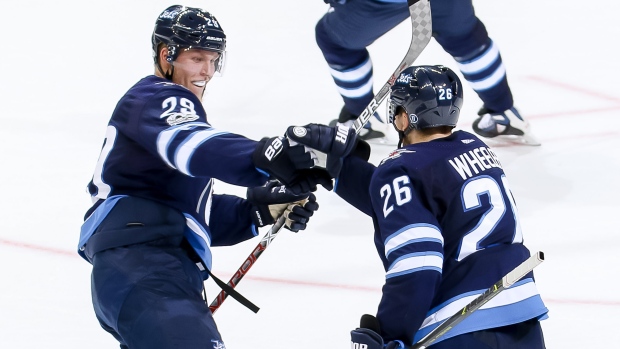 Last January I wrote a piece on Winnipeg Jets rookie Patrik Laine explaining why I expected him to sustain his reputation as one of the league's preeminent shooting talents.
A lot of the discussion around Laine last season was whether or not he could be one of those rare NHL snipers – guys like Steven Stamkos and Ilya Kovalchuk who spent years piling up shots and scoring goals at a ridiculous percentage.
Stamkos and Kovalchuk types are hard to find because it requires an incredible mix of talents. They generate a high volume of shots (which sometimes is counterintuitive to sustaining a high shooting percentage) and score on a large percentage of those attempts. Another way of saying this: There are plenty of volume shooters and there are plenty of high shooting percentage guys. But players who can do both simultaneously are increasingly rare and incredibly valuable.
To that end, last year for Laine was particularly interesting. Everyone has long conceded he's a star in the making, if not one already. But there was plenty of discussion about what his true shooting talent was. After all, guys don't just come into the league as rookies and score 36 goals on 17.8 per cent shooting very often. And of the handful who has done it, some experienced immediate regression in future periods.
For Laine, the rookie year debate was never been about whether or not he'd remain a quality goal scorer. Rather, it was whether or not we were actually witnessing the development of the league's next premier sniper.
One year later, I think we have more evidence that the answer to the above question is yes. Laine is having another electric season. He has 18 goals, which puts him on pace for 38 by end of the year. And he's shooting 16.7 per cent – a shade under where he was one season ago, but still double the average conversion rate in 2017-18.
It's a great sophomore season, no question. But the key here is that he is reemphasizing everything we thought about him during his rookie year – that few guys can really wire the puck like he can, and those handful of comparable names are guys who've had incredible longevity as established snipers.
To illustrate this, I took out every forward since the 2007-08 season who had productive rookie and sophomore goal-scoring seasons – the list is subset down to forwards who played at least 112 games (Laine's current number) with 20+ goals and 100+ shots. I've plotted them below – the horizontal axis showing shot generation rates (per game), and the vertical axis showing shooting percentage over that interval.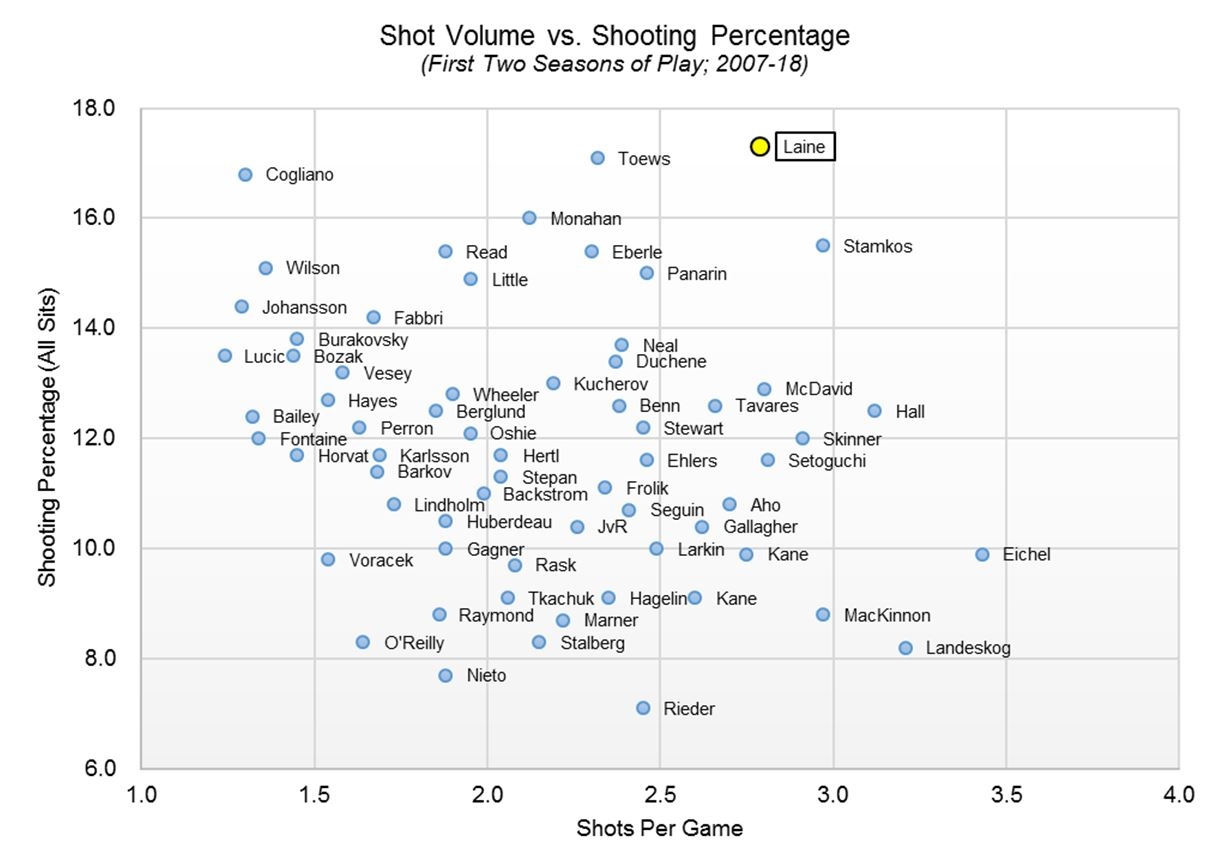 The guys in the top-right quadrant of this graph are your truly elite shooters. And not surprisingly, Laine is really at the top of the class. It is worth noting here that Laine's rookie and sophomore seasons are on pace to be a bit more impressive than Stamkos and his 74 goals over that two-year stretch. That, in and of itself, is ridiculous.
Also ridiculous: If Laine stays at his current shooting percentage pace, he'll likely end up with the best shooting percentage of any established forward over his first two seasons. Considering how frequently he is in the offensive zone and how regularly his playmaking teammates find him in his sweet spots, you start to feel for opposing goaltenders.
The other interesting piece here – not Laine related – is that there are a couple of other names establishing themselves as high-end shooters right now (if they haven't already). Artemi Panarin in Columbus and Sean Monahan in Calgary had fantastic rookie/sophomore seasons, and have continued playing well since then.
Finishing up with Laine – I think we have long since established that he's an elite offensive player. But I think we are at the point now where we can also start seriously considering him as a rule exception of sorts on the shooting talent front. More than a 100 games into his career, Laine continues to shoot near 17 per cent on a high volume of attempts.
His final test will be keeping the streak alive with superstar centre Mark Scheifele out. Laine and Scheifele haven't played together much lately at 5-on-5, but Scheifele is Laine's key setup guy on the power play. A great shooter is even greater when playmakers find them in dangerous scoring areas, no different than the Alex Ovechkin/Nicklas Backstrom duo in Washington.
It will be interesting to see if Laine is just as threatening in Scheifele's absence, or if his goal scoring fades a bit as Winnipeg tries to find a new first power-play unit.