Lamoriello: Liljegren, Polak won't make Leafs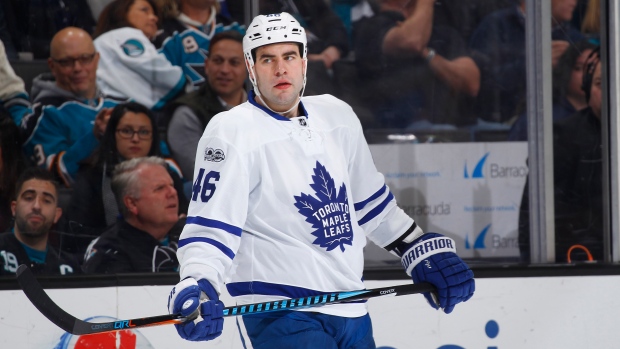 Roman Polak will not be signing with the Toronto Maple Leafs after completing his professional tryout with the team.
General manager Lou Lamoriello said Polak may, however, stay with the team as a practice player while he continues his recovery from a playoff leg injury.
Lamoriello also said 2017 first-round pick Timothy Liljegren will either spend the season with the AHL's Toronto Marlies or in Sweden.
Both Polak and Liljegren were on the 26-man roster released earlier Monday by the team.
Polak, who has played 186 games with the Maple Leafs over the past three seasons, was injured in a leg-on-leg collision with Washington Capitals defenceman Brooks Orpik in Game 2 of the Maple Leafs' first-round series against the Capitals.
The Maple Leafs will be left with 24 players on their roster with Polak unsigned and Liljegren assigned. Lamoriello said the team will keep all 14 forwards listed on Monday's roster and drop to seven defencemen.
According to TSN Maple Leafs Reporter Kristen Shilton, the team will send either Andreas Borgman or Calle Rosen to the Toronto Marlies before Tuesday's deadline to submit opening night rosters. Neither player needs to pass through waivers to reach the Marlies.
The team's 14 forwards will be: Zach Hyman, Auston Matthews, William Nylander, James van Riemsdyk, Tyler Bozak, Mitch Marner, Patrick Marleau, Nazem Kadri, Leo Komarov, Matt Martin, Eric Fehr, Connor Brown, Dominic Moore and Josh Leivo.
The Maple Leafs open their season on Wednesday night against the Winnipeg Jets.