Lamoriello: No aftermath from Tavares leaving, 'it's different if they had won championships'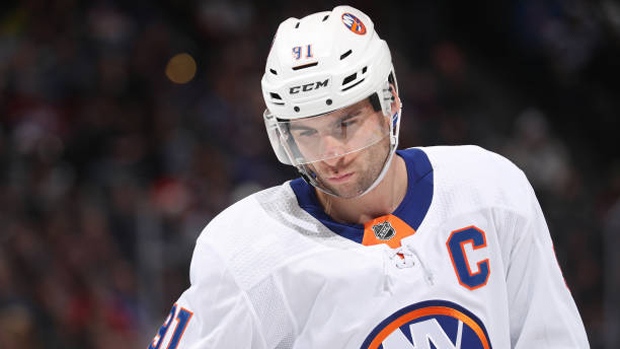 New York Islanders president Lou Lamoriello said Tuesday that the team's recent struggles limit the damage caused by former captain John Tavares leaving for the Toronto Maple Leafs.
The Islanders reached the playoffs three times in Tavares' nine seasons with the team and never advanced past the second round.
"There's no aftermath. Players come and go," Lamoriello told The New York Post of Tavares' departure.
"It's different if they had won championships. It's different if they had had a lot of success. They haven't done much — and I don't say that with any disrespect. Haven't been to the playoffs the last couple years. Things haven't worked out the way everybody would have liked them to, from what my understanding is.
"So, an aftermath? There's no such thing in my mind. What the players we have here should be thinking about is not making the playoffs last year, and that's what the goal should be. Teams win, not players. Individual players win some games, but teams win championships. And that's what we have to create."
Though the team failed to find success, Tavares scored 37 goals and posted a career-high 84 points last season. Still, new head coach Barry Trotz insisted Tavares hasn't been on the team's mind ahead of training camp.
"I don't think with us we mentioned John once, other than when we get asked," Trotz said. "We move on. We're not looking back, we're looking forward."
The Islanders focused on mostly depth additions after losing Tavares, bringing in Leo Komarov, Tom Kuhnhackl, Matt Martin, Valtteri Filppula, Jan Kovar and goaltender Robin Lehner over the summer. Trotz said there was a specific focus for the team this off-season.
"The people that were brought in, they all have an element of one of two things," Trotz said. "They've either won, or they bring a high-character value to the group."
Lamoriello did admit, however, that there are still plenty of question marks around the 2018-19 Islanders.
"Still trying to learn, and it's going to be a learning process right through training camp," Lamoriello said. "It'll just have to be a little patient and wait and see how things develop."