Lamoriello: Soshnikov to stay on IR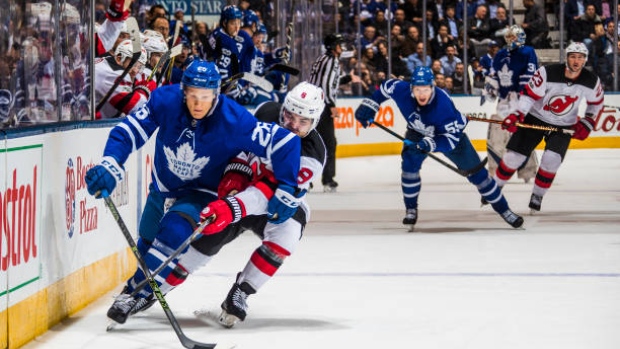 It appears the Toronto Maple Leafs won't be forced to make a roster move Monday after all.
Leafs general manager Lou Lamoriello said Monday forward Nikita Soshnikov will remain on injured reserve after completing his AHL conditioning stint.
Soshnikov played the fifth and final game of his conditioning stint on Sunday. He posted two goals and five points in those five games with the Toronto Marlies.
Lamoriello said Soshnikov will practise with the Maple Leafs until he is cleared to come off of injured reserve by the team's doctors. Once he is cleared, the Leafs will be forced to make a roster move.
"There's no illegality to this," Lamoriello said, per Jonas Siegel of the Athletic. "We're not doing anything that isn't the normal process."
Soshnikov would require waivers to be assigned to the AHL since he appeared in his 70th career NHL contest earlier this season with the Leafs.
He has no points and is a minus-2 in three games with the Leafs this season, last appearing in a game on Nov. 24.