LaRoche hits two-run homer, Nationals beat Marlins
Adam LaRoche hit an early two-run homer to support Doug Fister and lead the National League-leading Washington Nationals to a 3-2 win over the Miami Marlins on Friday night. Fister (15-6) allowed two runs and five hits in 6 2-3 innings for the Nationals, who have won six of seven.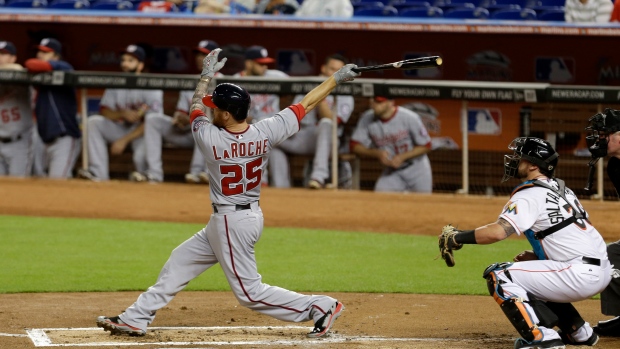 MIAMI - The Washington Nationals have clinched a division title and are continuing to make a push toward home-field advantage for the playoffs.
Adam LaRoche hit an early two-run homer to support Doug Fister and lead the NL-leading Washington Nationals to a 3-2 victory over the Miami Marlins on Friday night.
Fister (15-6) allowed two runs and five hits in 6 2-3 innings for the Nationals, who have won six of seven.
"We've got some momentum, guys are playing well — great defence behind us — so that makes it a little bit easier," Fister said. "We're still staying focused and working together."
The Nationals (89-64) lead the Dodgers (88-66) by 1 1-2 games for the best record in the league and are expected to get third baseman Ryan Zimmerman back from a hamstring injury for the stretch run.
"It's nice, it's what great seasons are all about, kind of peaking at the right time, getting healthy at the right time, and this last month and a half everyone is healthy and we've been playing good ball," said Nationals reliever Tyler Clippard, who pitched a scoreless eighth.
Washington's Denard Span had two hits and drove in a run for Washington.
Justin Bour hit his first major league home run for the Marlins and two RBIs.
"Obviously felt good to get that home run, it's not as enjoyable as if we would have won, but it's definitely very cool and I'm excited that it happened," Bour said. "It took a little bit longer than I thought it would, but I'm glad it did."
Drew Storen pitched a clean ninth for his eighth save in 11 chances.
LaRoche hit his 25th home run of Tom Koehler (9-10) in the first inning, a two-run drive in the upper deck to right field.
"Those guys put the ball in the seats, that's what they do," Marlins manager Mike Redmond said. "You look in the middle of that order with four guys with 80 RBIs, those guys can do some damage."
Bour's RBI groundout scored Marcell Ozuna, who tripled to leadoff the second.
The Nationals loaded the bases in the third inning after Span tripled and Koehler issued consecutive walks, but LaRoche struck out and Ian Desmond lined into an unassisted double play to second baseman Enrique Hernandez.
Span's RBI single in the fourth extended the Nationals lead to 3-1.
Bour pulled the Marlins to 3-2 with a homer to deep right-centre field.
Koehler allowed three runs in five innings.
"Any time you give them a two-point advantage before we even get started, it's going to be tough," Koehler said. "There's a reason why they are where they are."
TRAINER'S ROOM
Nationals: Zimmerman (hamstring) played seven innings in an intrasquad game on Friday in Viera, going 3 for 8 with a home run. He could be reinstated from the disabled list over the weekend. "He's sore right now, it's like spring training," Williams said. "I don't think it's hamstring sore, it's just general body soreness."
Marlins: RHP Jose Fernandez (Tommy John surgery) has been cleared to start throwing on Oct. 1. "I know he's really excited about it and we are too, so that's huge," Redmond said. ... RHP Bryan Morris (groin) has been shut down for the remainder of the season.
UP NEXT
The two teams will meet again on Saturday with Nationals RHP Jordan Zimmermann (12-5, 2.83) on the mound against Marlins RHP Jarred Cosart (4-2, 2.05). The Nationals have won the last nine starts pitched by Zimmermann, who is 6-0 with a 2.11 ERA during that span. Cosart will be looking for his 14th win of the season after going 9-7 with the Astros.
BOUR GETS HOME RUN BALL
Bour's home run bounced off the seats in the upper deck and bounced back into play. Nationals right fielder Jayson Werth alertly picked up the ball and tossed it over the fence into the Marlins' bullpen so Bour could have the keepsake.
"Werth threw it over the bullpen for me so that was pretty cool," Bour said.
LaROCHE REACHES PLATEAU
LaRoche reached the 25-home run plateau for the sixth time in his career. His career-high is 33 set in 2012.