End of an era: Senators trade Karlsson to Sharks
The Erik Karlsson era is over in Ottawa. The Senators traded the star defenceman to the San Jose Sharks on Thursday, just one day before the team hits the ice for training camp.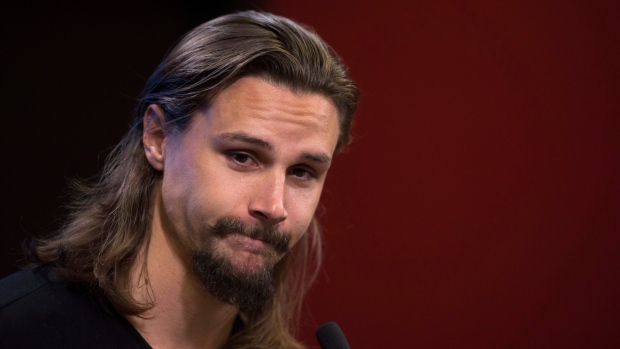 OTTAWA — The Erik Karlsson era is over in Ottawa.
The Senators traded the star defenceman to the San Jose Sharks on Thursday, just one day before Ottawa hits the ice for training camp.
The Senators dealt Karlsson and prospect forward Francis Perron to the Sharks. Ottawa gets forwards Chris Tierney and Rudolfs Balcers, defenceman Dylan DeMelo, prospect forward Josh Norris and two conditional draft picks. If San Jose re-signs Karlsson, Ottawa receives a conditional 2021 second-round selection — or a first-round pick (not lottery protected) if the Sharks reach the Stanley Cup final in 2019.
"I don't think that I've ever in my wildest imagination thought that I would ever leave this place," said Karlsson in an emotional news conference. "But, unfortunately, we're here under these circumstances and, again, that's not something I'm going to go into detail about.
"I was prepared to come here and work hard for this team. I still have a year left on my deal but unfortunately I couldn't follow that through."
Ottawa receives San Jose's first-round choice in either 2019 or 2020 (not lottery protected). If the Sharks miss the playoffs in 2018-19, it will be a 2019 selection, otherwise it will be in 2020. Ottawa gets a second-round choice in the 2019 draft from San Jose (which will be the higher of the two picks the Sharks currently own — the Florida Panthers' and their own).
"Erik is an exceptional hockey player whose skills delighted our fans for the past nine years," Senators general manager Pierre Dorion said in a statement. "We thank him for his dedication to hockey, and we wish him all the best.
"This is the right moment for us to rebuild our team, and shape our future with a faster, younger and more competitive team on the ice. We are going to build a culture of consistency which will allow this team to sustain better performance over the long term."
The departure of the 28-year-old face of the franchise is the latest development in what has been a turbulent stretch for the Senators.
Things started to go sideways last fall in the nation's capital after the club returned from a two-game sweep of the Colorado Avalanche in Sweden, going an ugly 1-9-3 over its next 13 to begin a tumble down the standings
Then on the eve of franchise's showcase outdoor game in mid-December, Senators owner Eugene Melnyk rained on his own parade by musing to reporters at a media availability on Parliament Hill that he might move the team if ticket sales didn't improve.
That launched the #MelnykOut hashtag on Twitter the same month, and while Melnyk eventually backtracked on the relocation talk, some fans decided to vent their frustration by raising money to fund a series of billboards featuring the slogan.
Through it all, Karlsson's future remained a key talking point ahead of February's trade deadline.
He ended up staying put, but tragedy struck in March when Karlsson and his wife Melinda announced their first child, a son they named Axel, was stillborn.
"I don't think that I could have ever prepared for this. That's why I don't have anything written, I haven't really wrapped my mind around what is really going on," said Karlsson, who made a statement without any prepared notes before taking questions from reporters. "I think it's been happening really fast, even though there's been noise for a year now."
More controversy bubbled to the surface in May when former captain and franchise icon Daniel Alfredsson, who left his role with Ottawa as a senior adviser the previous summer, was quoted saying he hopes the team gets a new owner.
Then assistant general manager Randy Lee was charged with harassing a 19-year-old male hotel shuttle driver in Buffalo, N.Y., during the NHL's pre-draft scouting combine. He was suspended by the team two weeks after being charged.
And if that wasn't enough, news broke in June that Karlsson's wife had filed a peace bond against Monika Caryk, the fiancee of former teammate Mike Hoffman, for alleged cyberbullying.
Hoffman, who was traded a week later, and Caryk have denied the allegations. A civil suit is ongoing.
Lee, who was also GM of the Senators' AHL affiliate, resigned from both jobs with the organization last month.
Karlsson, a two-time Norris Trophy winner (2012, 2015), spent the last nine seasons in Ottawa. The six-foot, 191-pound Swede was drafted by the Senators with the 15th overall pick in the 2008 NHL Entry Draft. He made his debut in Ottawa the following year.
His breakout campaign came in 2011-12 when he had 78 points (19 goals, 59 assists), while averaging 25:19 of ice time.
"It's extremely rare that players of this calibre become available," Sharks general manager Doug Wilson said in a statement. "The word elite is often thrown around casually but Erik's skill-set and abilities fit that description like few other players in today's game. With Erik, Brent Burns and Marc-Edouard Vlasic, we feel we have three of the NHL's top defencemen and stand as a better team today than we were yesterday. We are thrilled to welcome Erik and his wife, Melinda, to San Jose."
"Ultimately, to acquire a player like this, you have to give to get and we are losing some quality players but also some very good people. All of the players leaving our organization have a very bright future in this league and we wish them all the best."
Speculation about Karlsson's future had been a hot topic in what has been a headline-loaded off-season for the Senators. The team said it offered Karlsson, who can become an unrestricted free agent next summer, a contract extension on July 1.
Ottawa fell to the Pittsburgh Penguins in double overtime in Game 7 of the Eastern Conference final in 2017, but struggled mightily last season, finishing 30th in the 31-team NHL with just 67 points.
Karlsson put the Senators on his shoulders in the 2017 playoffs, leading them in scoring with 18 points — including two game-winning goals — in 19 contests, averaging more 28 minutes of ice time despite having torn tendons in his left foot, which required off-season surgery.
Karlsson had 62 points (nine goals, 53 assists) in Ottawa's disastrous 2017-18 campaign.
In 627 career games, the speedy native of Landsbro, Sweden, has 126 goals and 392 assists, while averaging just under 26 minutes a night. He's added 37 points (six goals, 31 assists) in 48 playoff outings.