Law on Jays: 'It's not a top 10 system'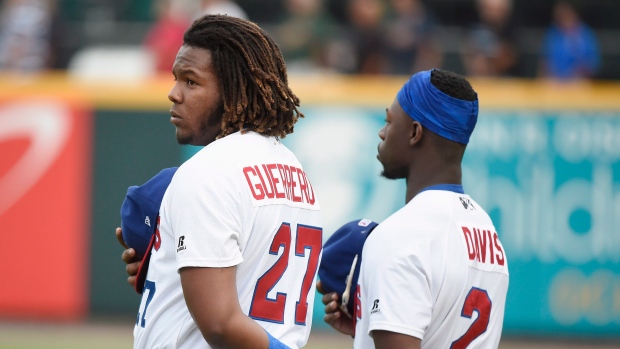 The Toronto Blue Jays have the fifth-best farm system in baseball according to MLB Pipeline's ranking from last month and general manager Ross Atkins spoke glowingly of the team's prospects over the weekend.
ESPN senior writer Keith Law doesn't agree.
"It's not a top 10 system. I think that's absurd. I understand that teams like to boast about their own farm systems, but the objective evidence is simply not there. I find that really empty," Law said Wednesday on Landsberg in the Morning.
"Look, everybody thinks they have a good farm system, but it is disturbing when you exaggerate to that extent. The Blue Jays have a top-heavy system. They have arguably three prospects who are among the elite in the game and then below that it gets very thin very quickly."
The three Law is referring to are likely Vladimir Guerrero Jr., Bo Bichette and Danny Jansen, who has held his own in 44 at-bats at the big-league level.
"There is significant evidence that winning will come if you have one of the better farm systems. Seeing that evidence and having a good farm system is a good combination," Atkins told TSN's Scott Mitchell over the weekend.
"It's not just upper-level talent. It's not just Vladdy and Bo, it's an abundance. There are 13 middle infielders in our system that we are elated about. We have a lot of pitching coming and there's been a lot of pitching that's gotten better this year and you've seen some of it here on the major-league field and throughout the system," Atkins added.
Law, who worked for the club from 2002 to 2006 in the scouting department and as a special assistant to GM J.P. Ricciardi, disagrees, saying the Jays' system lacks depth.
"Farm systems that look like this are never in my top 10," Law said. "The top 10 systems in baseball, objectively, should have both star-calibre prospects and quite a bit of depth of future average-or-better major leaguers. They don't have the latter."
The Jays added to their prospect pool with a flurry of trades this summer, but Law isn't overly excited about the return.
"If you look at the results from the trades now, really they waited too long to trade a couple of key pieces and the returns have been very meager," he said.
Law also had some thoughts on the Jays' decision to send Guerrero Jr. to the Arizona Fall League as opposed to getting him at-bats in the big leagues this season.
"There's no question Vlad can hit velocity. There's probably no question he can hit everything. But he's not going to be challenged by Fall League pitchers. This is not the next stage in Vlad's development. He needs to face Major League pitchers who have better quality off-speed stuff who can locate their off-speed stuff," Law said.
"He doesn't get to make that adjustment if he's not playing in September and then goes to the Fall League, which, if anything is probably just a lateral move in terms of the calibre of competition he's going to be facing."
Vlad Jr. will join Bichette and No. 9 ranked prospect Cavan Biggio on the Surprise Saguaros this fall.