Leafs acquire Morin from Blackhawks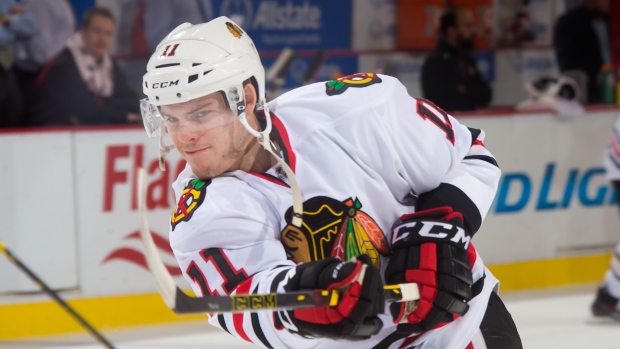 The Toronto Maple Leafs acquired forward Jeremy Morin from the Chicago Blackhawks in exchange for forward Richard Panik on Sunday night.
Morin will join the American Hockey League's Toronto Marlies.
The 24-year-old Morin has nine goals and 13 assists over 28 games with the Rockford IceHogs this season, Chicago's AHL affiliate.
The American has 10 goals and 12 assists over 82 career NHL games with the Blackhawks and Columbus Blue Jackets. He was selected in the second round, 45th overall, by the Atlanta Thrashers in the 2009 NHL Entry Draft.
Panik, 24, has netted eight goals and 16 helpers over 32 games with the Marlies this year after playing a full season with the Leafs in 2014-15.
The native of Slovakia has 19 goals and 20 assists over 151 career NHL games with the Tampa Bay Lightning and Leafs.