Leafs agitator Kadri built for this moment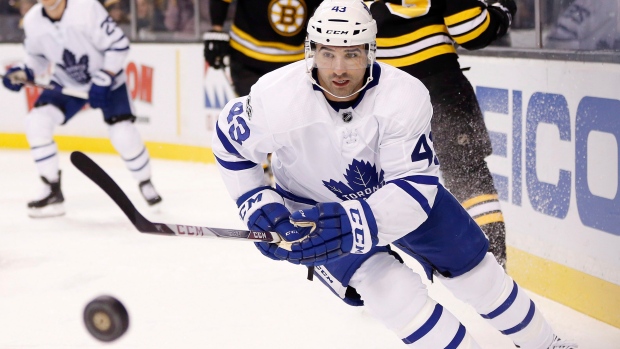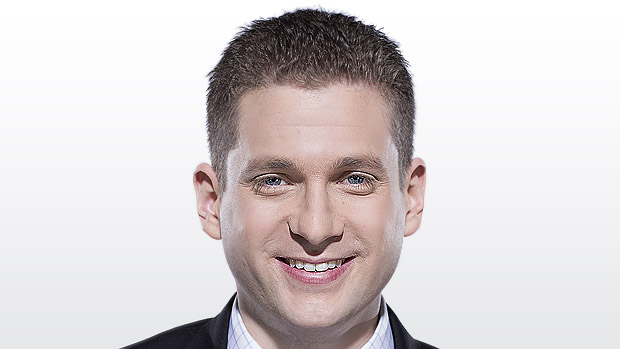 TSN Toronto reporter Mark Masters checks in daily with news and notes from Maple Leafs practices and game-day skates. The Maple Leafs held a morning skate at the Air Canada Centre on Monday. The Bruins held an optional skate.
When the Toronto Maple Leafs have kept the Boston Bruins' top line quiet during the playoffs, what have those shifts looked like?
"We have?" Leafs coach Mike Babcock shot back. "I never said that."
David Pastrnak, Patrice Bergeron and Brad Marchand were held off the scoresheet and were minus players in Games 3 and 5, which were the two games in the series that Toronto has won. Despite failing to score, that trio still generated plenty of chances in the losses.
"I don't think​ they've been necessarily held out of the game," observed Bruins coach Bruce Cassidy, "but they've been held in check (at times), because they've done a good job (against them) and the goalie's made saves against them. But, clearly, it matters when your top guys don't score. It was well-documented when Toronto left Boston after Game 2, some of their guys hadn't scored and it's one of the reasons they lost."
Boston's top unit has exploded for 23 points combined in the three victories. Overall, the line has outshot the Leafs 40-19 at even strength in the four games they've played together. Bergeron surprisingly missed Game 4 with an upper-body injury, but Cassidy confirmed he'll be good to go tonight.
​"They get the puck back fast and they compete hard and at a high level," Babcock said. "Lots of good lines in the league can't check; they can do both, that's what makes them so dangerous. They can play against anybody at any time, they play in all situations so they never sit on the bench and get cold."
And while the Leafs have struggled against what is arguably hockey's finest line right now, tonight Babcock will finally have his favoured matchup centre to throw at them. That would be Nazem Kadri, who missed Games 2, 3 and 4 while serving a suspension. He returned to the lineup on Saturday playing most of his even-strength minutes against the David Krejci line.
What was it like getting thrown back into the fire?
"I think the pace increased as hard as that is to believe," Kadri said. "From Game 1 of a playoff (series) to Game 5, I think things got a little more intense. It felt that way for me stepping (in). I don't know if it was because I was out of the lineup for a little bit of time, but it seemed like the pace was at an all-time high."
This is the biggest moment of the season for Kadri. The stakes are incredibly high and he knows it better than anyone.
"You try and approach it as normal as possible, just like any other game, but it's tough to," he admitted. "You're definitely thinking about that in the back of your head and you don't want this to be an elimination game.
"We don't want such a great season to come to an end like this."
With that in mind, will it be tough to get in a good nap before the game?
"I'm a napper," Kadri confirmed with a smile. "I'm an excellent napper, as a matter of fact. So, I shouldn't have any problem getting down."
The bigger struggle will come shortly after 7 p.m. when the puck drops and Bergeron's group goes to work. In the last regular-season meeting between the two teams at the Air Canada Centre on Feb. 24, Kadri won the possession battle against Bergeron, but was still outscored 2-0.
"Their transition game is so good," Kadri said. "Their D move the puck up to the forwards so well and those guys definitely can pick lanes through the neutral zone and gain the offensive zone with speed, so they're pretty crafty and elusive so it's just about trying to congest that neutral zone as much as possible."
Bergeron, a four-time Selke Trophy winner and a nominee again this season as one of the league's best defensive forwards, has emerged as one of Kadri's favourite players to watch.
"He's a great competitor and I always appreciate and respect going up against him," Kadri said. "When I'm not playing or he's playing against other people, he's definitely a guy I watch and try to pick from his game, because he just does everything well."
What has stood out of late?
"I love the way and appreciate the way he works on the power play and finds those soft areas in the middle of the ice and is able get that one-timer off so gracefully and effortlessly. That's something I'm trying to pick up."
Kadri is hoping he won't be watching Bergeron on the power play much tonight after seeing Boston get six chances with the man advantage on Saturday. The referees for Game 6 will be Francois St. Laurent and Kevin Pollock, who are making their series debuts.
"I think they're fairly safe," Kadri said. "They're good officials so I trust their judgment calls."
---
Kadri and Marchand are both guys who like to live in the grey areas and walking the line has never been more important.
"It can be tough at times," Marchand said. "Different refs call the games differently. You try and figure out how the refs are calling it early on and play within those rules."
In Game 5, Kadri got mixed up with Jake DeBrusk along the boards at one point and appeared to give the Bruins rookie a shot in the head at the end of the sequence. A referee came over for a chat after that play.
"He said, 'Just watch your hands,' and basically the retaliation thing is a thing and you don't want to be disciplined for," Kadri revealed. "I appreciate the referee's opinions too, because sometimes the player and ref's opinions are different so I think communication is key."
Maintaining your composure against Marchand is easier said than done. He's found a way to land some late shots in subtle ways throughout the series.
"He approaches every single shift like it's a desperate shift for him," Kadri said. "He likes to get under the opponents' skin and he does a great job of agitating. I see things afterwards, but as they play out you don't necessarily see them, so he does a pretty good job at staying undercover a little bit when no one's watching."
---
Marchand was asked if he's disappointed the Leafs have spoken so highly of him during the series.
"I, honestly, haven't heard a thing that they've said," he insisted. "You know, the biggest thing is, especially in Toronto and Canadian cities, you don't pay attention to the media ... Everyone knows how to play the game nowadays and try to play the media so that's all it is, noise."
Informed about Babcock's statement that the Leafs hadn't really slowed down Marchand's line at all, the Bruins winger laughed.
"Yeah, OK," he said.
---
With Kadri slotting back in between Patrick Marleau and Mitch Marner at the morning skate, Tomas Plekanec shifted to the line with Andreas Johnsson and William Nylander. Meanwhile, Connor Brown maintained his spot on the top line beside Auston Matthews. Matthews set up Brown for Toronto's first goal on Saturday.
"I thought Matty was more engaged," said Babcock. "He didn't spend as much time in his own zone, did a better job, I thought, of playing defensively fast so we could get on offence quick. I thought he skated better. In this league, especially against good players, you end up in your own zone chasing the puck all the time and it ends up (being) a long night and it usually zaps the life out of you."
Matthews said playing alongside Brown, who scored for just the second time in 27 games, instead of Nylander isn't a big adjustment.
"It doesn't change much," he said. "We want to play in their zone. We want to create offence, make plays to one another and get to the net. He's a different player than Willie, but they both bring good things to the table."
With last change, Babcock may be able to get Matthews away from Zdeno Chara a bit more. Matthews certainly wouldn't mind that. Brown's goal came with the six-foot-nine Bruins captain on the bench.
"He takes up twice the amount of space of a regular defenceman," Matthews noted. "There's not a lot of space out there to begin with so when he's out there you've got to try to create space for yourself."
Matthews is hoping the atmosphere in the building may also give his team an added boost.
"It always gives you goosebumps when you see all the fans there in Maple Leaf Square," the Arizona native said. "When you score and see the video footage of them out there cheering, we love that. We have the best fans in the league. Tonight's a huge game and we know the atmosphere is going to be incredible."
---
Cassidy confirmed no Bruins player will miss tonight's game due to injury. But the coach also said he was contemplating a lineup change. Danton Heinen stayed out late at the morning skate and may be replaced in the lineup by Tommy Wingels.
---
Lines at Leafs morning skate:
Forwards
Hyman-Matthews-Brown
Marleau-Kadri-Marner
Johnsson-Plekanec-Nylander
van Riemsdyk-Bozak-Kapanen
Leivo, Moore, Komarov
Defencemen
Rielly-Hainsey
Gardiner-Zaitsev
Dermott-Polak
Martin-Carrick
Goaltenders
Andersen starts
McElhinney