Leafs batten down the hatches ahead of outdoor game
High winds forced the Toronto Maple Leafs and Washington Capitals to scrap outdoor practices at the Navy-Marine Corps Memorial Stadium on Friday, but while the forecast is better for Saturday night's outdoor game, the wind will still be a factor, Mark Masters writes.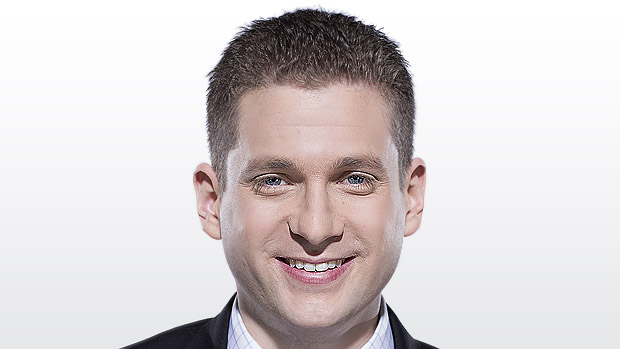 TSN Toronto reporter Mark Masters checks in daily with news and notes from Maple Leafs practices and game-day skates. The Leafs practised at the Brigade Sports Complex at the Naval Academy on Friday before meeting the media at Navy-Marine Corps Memorial Stadium.
High winds forced the Toronto Maple Leafs and Washington Capitals to scrap planned outdoor practices at the Navy-Marine Corps Memorial Stadium on Friday. The glass was removed from the boards at the on-field rink as a safety precaution with gusts reaching as high as 76 km/h.
What's the biggest challenge playing in the wind?
"Not a clue, to be honest with you," veteran centre Tyler Bozak said with a laugh. "Whatever way is going with the wind, I think we'll like that a little more. But I doubt it'll be as windy as it is out there today. I really hope not."
The forecast is, indeed, better for Saturday night's outdoor game (8 p.m. ET), but the wind – gusts are expected to be in the 35-40 km/h range – will still be a factor. The NHL is monitoring the playing conditions and the weather and will provide an update at 1:30 p.m. ET Saturday. If the weather becomes a concern, the league's contingency plan is to move the game to Sunday.
"I was just making fun of (Jake Gardiner's) shot," noted Nazem Kadri with a grin, "saying that if he threw one to the net with this type of wind it might just stop in mid-air and just fall down. It will certainly be a challenge, but we're ready for anything."
So, about those challenges.
"Definitely for the guys skating up and down the ice, it's going to be a little bit different if there's a lot of wind so hopefully we won't have to backcheck in the wind," said goalie Frederik Andersen. "I guess that's the biggest issue."
"You better not be too tired on the backcheck because you'll never get back against the wind," agreed Capitals head coach Barry Trotz. "We'll see how it is. The league will decide if we're going to play for how windy it is."
"It will definitely make for a unique dynamic," said James van Riemsdyk, who will be suiting up in his fifth outdoor game. "It seems like in today's game there's lots of high flips, so it will be interesting to see how the puck reacts to getting flipped if a gust of air comes up."
Ever the optimist, Leafs bench boss Mike Babcock downplayed concerns.
"Tomorrow we're going to get up, there's going to be no wind and we're going to have a good game tomorrow night," he insisted. "That's just the way it's going to be. These things have a way of working themselves out just fine."
Many players expressed a desire to skate at the Naval Academy on Saturday morning just to get a better sense of the ice, boards and stadium feel.
"I would love to try and get out there," said Andersen. "The goalies have such a small margin of error when you play a game like this."
Both teams are in a good position when it comes to the playoff race. Washington leads the Metropolitan Division while Toronto is 19 points clear of the Florida Panthers for the third and final automatic playoff berth in the Atlantic Division.
"This game kind of comes at a good time for us," said defenceman Morgan Rielly. "It's a good opportunity to get our families here, a bit of tension breaker and then after this we make a final push and get into playoff mode.
Kadri, Rielly share admiration for Ovechkin
Alexander Ovechkin will continue his pursuit of history on Saturday. The Capitals captain is just three shy of scoring 600 goals for his career. He is also one tally away from posting another 40-goal season, which would be his ninth in the NHL.
"That's absolutely incredible," said Kadri, who was matched against Ovechkin and the Capitals' top line in last spring's playoffs. "I don't think people understand, really, how hard that is to do. He just makes it seem so effortless."
With one more goal this season, Ovechkin would be the sixth player in history with at least nine 40-goal seasons, joining Wayne Gretzky (12), Marcel Dionne (10), Mario Lemieux (10), Mike Bossy (nine) and Mike Gartner (nine).
Ovechkin laughed off the suggestion that, as someone who likes the big stage, the outdoor game provides the prefect chance to reach a milestone. He did say his favourite part of his two previous outdoor games was the "atmosphere."
Ovechkin is poised to become just the 20th player in NHL history to reach 600 goals and, according to Elias Sports Bureau, the fourth to do it in fewer than 1,000 games (Saturday will be his 986th NHL game), joining Gretzky (718), Lemieux (719) and Brett Hull (900).
"He's one of the great goal scorers to play in a while," said Rielly. "When I was younger, there was definitely a lot more of sitting back and watching him and then when you get used to playing against him it becomes fun."
"I didn't realize how big he was until I actually played against him," said Kadri. "He's just very thick, very strong, a big winger, exactly what you want. A good skater. He's got all the utensils."
That size – Ovechkin is listed as 6-foot-3, 235 pounds – makes him especially hard to contain.
"Being that big, you can be physical and you can try to push guys around and buy yourself a little more time, which is important for him with that shot," said Kadri. "He doesn't need much time so when he can be physical and create some separation and a gap it can work out for him so he's got that mastered."
Held off the board in his first outdoor game in 2011 against the Pittsburgh Penguins, Ovechkin chipped in a goal and an assist against the Chicago Blackhawks back in 2015.
---
Capitals defenceman John Carlson had a special Navy-themed outfit with a blue sport coat and gold pants designed for Saturday.
The Leafs, meanwhile, are saving their fashion statement for the ice with an all-white uniform.
"I appreciate the white," Kadri said. "It almost looks so clean I don't want to mess it up or anything, but I know that's probably not going to happen with the way I play."
Military setting hits home for Babcock, Gardiner
This is the 25th outdoor game in NHL regular-season history, but the first to be held at a service academy.
"If you're a North American, this one is more special just because of the men and women who look after you and give you all the privileges you have in your life by keeping you safe and letting you live in a democracy," said Babcock, who met with some of the Navy hockey team players today.
The pre-game festivities will feature a flyover by two Boeing F/A-18F Super Hornets. Players from the Navy men's Division I and II club teams and the women's club team will unfurl the U.S. and Canadian flags before the singing of the anthems.
"Both my grandparents fought in two different wars, one of them is still alive and he's pretty excited about this game, to have us play in this setting," said Gardiner, a Minnesota native. "People who defend our country every day, it's cool to be in the same area they are. We met some (students) sitting on our bench today. It was cool just talking to them and seeing what they go through every day."
One of Gardiner's grandfathers served in the navy.
"He was on a ship, not sure what it was called, slept through an alarm and where he was supposed to be, a bomb went off and there was a fire. People died in that area where he would've been … Just lucky I guess."
Lines at Friday's practice:
Forwards
Marleau-Kadri-Marner
Hyman-Plekanec-Nylander
van Riemsdyk-Bozak-Brown
Komarov-Moore-Kapanen
Martin
Defencemen
Rielly-Hainsey
Gardiner-Zaitsev
Dermott-Polak
Leivo-Carrick
Goaltenders
Andersen
McElhinney