Babcock: Matthews (shoulder) 'out for a bit'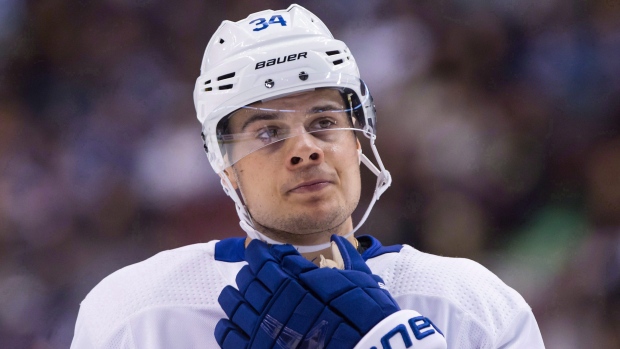 Auston Matthews is "out for a bit" and considered day-to-day with a shoulder injury according to head coach Mike Babcock.
He is set to have an MRI Friday according to TSN Hockey Insider Bob McKenzie after leaving early in Thursday night's win over the New York Islanders. Babcock said the Leafs expect to know more about his status tomorrow.
"Put a smile on your face. You get healthier quicker when you're smiling. He's a passionate guy, he wants to play. I'm not very concerned about him, he's fine. We were joking around in there a minute ago. He'll be ready to go," Babcock said.
He was the only Leaf not ice for practice Friday morning according to TSN's Kristen Shilton.
Matthews left the game in the final minutes of regulation after a collision with Cal Clutterbuck and Adam Pelech of the Islanders. Matthews went back to the bench gingerly and eventually to the locker room after talking to trainers.
Prior to his exit, Matthews scored the tying goal that forced the game into overtime and eventually a shootout that resulted in a 4-3 win for the Leafs.
Matthews has missed time twice this season with upper-body injures, the latter of which he admitted was a concussion.
"He's an amazing player, hope he isn't out too long, but believe we have a deep enough team to remain competitive if everyone does their job," goaltender Frederik Andersen said.
In 53 games this season, the 20-year-old has 28 goals and 22 assists.
The Leafs (38-20-5) will be back in action Saturday night at home against the Boston Bruins (37-13-8).