Leafs call-up Leipsic; Nylander next?
General manager Lou Lamoriello hinted more call-ups are on the way as the Toronto Maple Leafs continue to trade players for future assets, writes TSN's Mark Masters.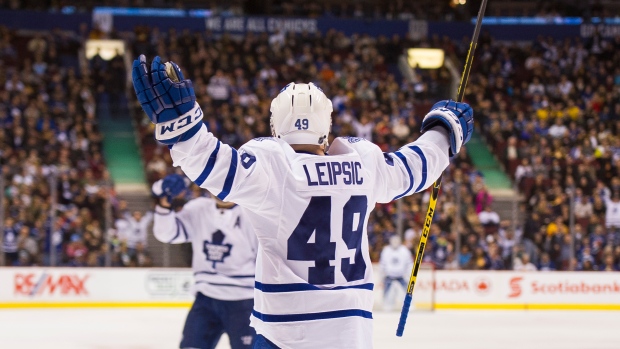 TORONTO - Brendan Leipsic didn't have to wait long for his next NHL call-up. The Toronto Marlies forward, who scored a goal in this first and only game with the Maple Leafs on Feb. 13 in Vancouver, was promoted again on Monday after the team traded Nick Spaling and Roman Polak to the San Jose Sharks.
"I was lucky enough to play my first game, get my first goal and kind of left with a good feeling," Leipsic said on Saturday after scoring twice to help the first-place Marlies win yet again. "Each shift I played there I kind of felt a little more comfortable, holding onto the puck more and making plays like I do down here."
Leipsic was acquired by the Leafs close to the deadline last year in a deal with Nashville that saw Cody Franson and Mike Santorelli go the other way. Now, it appears his NHL career will start in earnest thanks to another February trade.
Despite only being up with the Leafs for a few days on an emergency recall, Leipsic said he learned a lot.
"I was just trying to be a sponge up there and soak it all in. Playing without the puck is a huge thing up there and taking care of the puck as well. It's such a controlled game up there. It might be a little scrambly here."
Leipsic admits his confidence took a hit because he was cut earlier than he thought he would be at Leafs training camp, but after a slow start in the minors he has emerged as a leader on the powerhouse Marlies.
"I would say where he's grown the most is just how competitive he's been away from the puck," said Marlies bench boss Sheldon Keefe following Saturday's win at the Air Canada Centre. "His defensive assignments and tracking and coming back to our own zone and blocking shots and doing those little things and then just picking his spots a little bit better.
"At times he can overdo it with the puck, but he's picked his spots a lot better and as a result he's had a lot more success offensively. He's been a real tough player for the opposition to handle when he's skating the way he is and he's protecting the puck and doing the things he can do. At times, he'll force the issue and there are turnover issues, but he's sorted that out pretty well."
Leipsic is one of several Marlies now with the big club. Stuart Percy was also called up on Monday while Viktor Loov was recently summoned to replace the injured Matt Hunwick. Josh Leivo (upper body) is on the injured list. Mark Arcobello and Rich Clune are also on the Leafs roster at the moment.
During a conference call on Monday morning, general manager Lou Lamoriello hinted that more call-ups would be on the way as the Leafs continue to trade players for future assets.
William Nylander, the team's top prospect, admitted he was keeping an eye on the deadline deals in the hopes it would open up a spot with the Leafs.
"Yeah, I mean, you're always looking forward and trying to get a call-up," Nylander said on Saturday. "You try not to focus on that, but that's the way it goes. Whatever happens, you're ready for anything."