Leafs chose Marleau over more cost-effective options
Toronto accelerated their rebuild by signing the veteran forward, but Travis Yost says there were more cost-effective options in the market.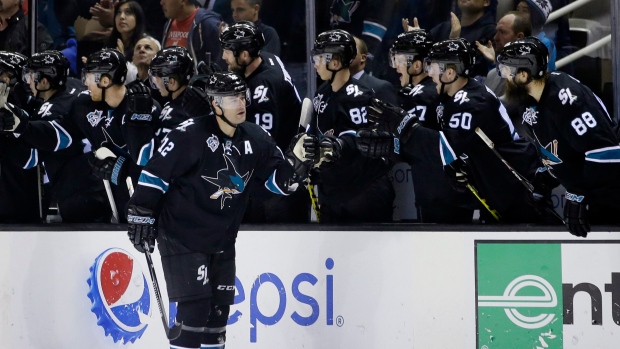 One thing is for certain: The signing of unrestricted free agent Patrick Marleau to a three-year deal has, to some degree, accelerated the rebuild for the Toronto Maple Leafs.
For the Leafs, the transaction makes a fair bit of sense – they had a serious vacancy in their top-nine forwards and a good piece of cap room available. For Marleau, there will surely be questions about whether or not he thinks he has a better chance winning a Stanley Cup in Toronto than San Jose over the next three seasons. Not that long ago, it would have been impossible to imagine a player like Marleau "ring chasing" with the Leafs. But loaded with young talent and poised to take another step in the Eastern Conference, I think Marleau sees a real opening for himself.
There's an interesting question about the Leafs strategy here though and whether or not Marleau was the best fit on the free agent market. Marleau, nearing the end of an illustrious career, has truly taken a step backwards as an attacker (more on this in a minute). It's important to note that this wasn't a one-horse race in free agency. While Marleau is still a quality forward, names like Alexander Radulov and Scott Hartnell were available at either comparable or demonstrably lower cap hits. (This, of course, wouldn't even take into account things like Marleau's full no-movement clause in his contract.)
One of the first questions I thought about when the Leafs news broke is the obvious one: What kind of player is Marleau today? So much of the signing of veteran players is built up about a player's legacy, but as we have learned time and time again with older players, it's important to be cautious. The last couple years of Jarome Iginla, as just one example, have truly paled in comparison to most of his career. This is hardly a comment on Marleau (or Iginla for that matter), and more so one on age. Father Time comes for all players, and when he comes, it stings.
I pulled out all of Marleau's production at 5-on-5 over the last three seasons and compared him to every other forward across the league. I used 12 key metrics – four individual, four on-ice, and four team relative – for a quick snapshot of how Marleau has performed relative to other forwards across the league. On the 0 to 100 per cent scale, a 0 per cent grade would indicate all forwards performed better than Marleau – a 100 per cent grade would indicate Marleau performed better than all forwards.
Here's how he has looked in San Jose: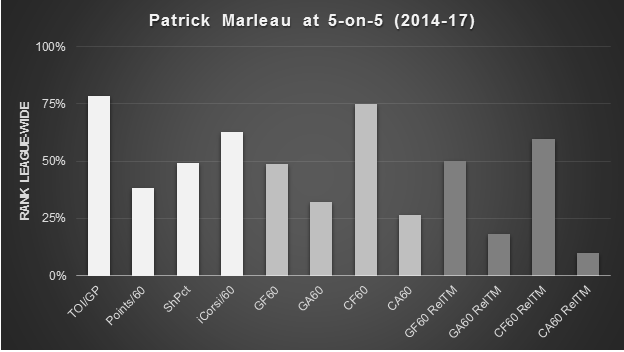 Marleau is a prototypical middle-six forward at this stage in his career. He generally is in the 30 to 60 per cent range for each key metric, which is probably fine for what Toronto wants him to be. One cautionary note here though is Marleau wasn't the type of scorer he's being billed as – about half of the forwards across the league had better 5-on-5 shooting percentages and two of every three forwards across the league outscored him on a per-60 minute basis. That's particularly noteworthy when you look at how well he generated shots (iCorsi/60 indicates his individual shot rates – CF60 indicates San Jose's shot rates when he was on the ice). It wasn't for lack of opportunity that Marleau wasn't filling the net.
I look at this and think that Marleau can absolutely be productive in Toronto. Swap his usual centre of Joe Thornton out with the talented Auston Matthews and you should squeeze a couple more quality seasons out of him. Marleau, again, is still a very fine player at the age of 38.
But the caveat here is that Marleau comes at a price. Toronto's definitively inched closer to the cap ceiling and new contracts for guys like Matthews and Mitch Marner are on the horizon. Marleau doesn't constrain them right now, but it could complicate acquisition opportunities at the trade deadline.
I mentioned names like Radulov and Hartnell earlier as just two examples. I've overlaid Radulov on the Marleau graph here – look at how disparate the performance is between the two.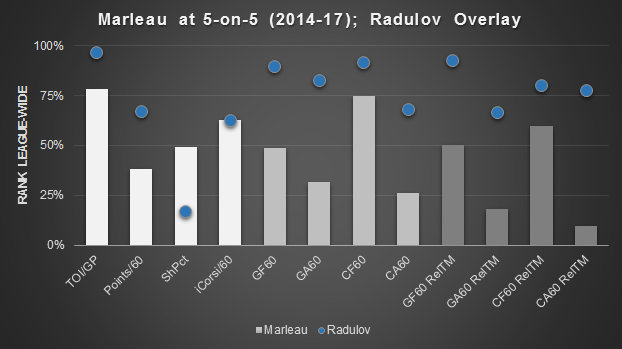 Now, Radulov wasn't cheap for Dallas – he will carry roughly the same cap hit as Marleau – but Radulov here looks like a star forward playing exceptional hockey. To me, this is the type of guy who you add to put you over the top. Maybe Toronto had no interest in Radulov, or vice versa. But head-to-head against Marleau, he's a better scorer, his team's better when he's on the ice from a goal perspective, and his team's better when he's on the ice from a shot perspective.
Let's go bargain hunting. Nashville signed Scott Hartnell for essentially the NHL's veteran minimum. How does Marleau compare to Hartnell?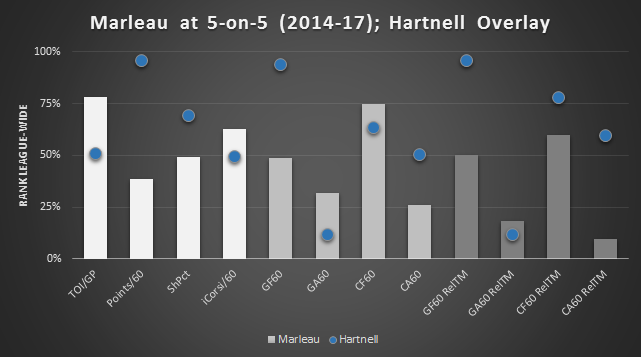 For about $16 million and two years less term, Toronto could've had a guy who has arguably out-performed Marleau at even strength. I'm not sure why Hartnell suffered such a fall from grace, but my guess is it's largely because his team couldn't get a save when he was on the ice – his goals against per-60 minutes are tremendously low, and one of the big reasons why he has dropped a bit in the lineup lately.
Either way, again you have a player here who compares favourably to Marleau, and he could've been had at a fraction of the cost.
I think Marleau will fit in quite nicely in Toronto, especially if he's riding shotgun to Matthews. But it's worth mentioning that the Marleau the Leafs are getting isn't exactly the type of player he was even just a few seasons ago. Although Toronto is a materially better team today than they were a couple of days ago, I think there were probably more cost-effective options in the market. Those options, of course, could have kept their cap space clean for another big acquisition down the road.