Treliving: Flames know some reasons behind Nielsen's 'step back'
The Toronto Maple Leafs have traded defenceman Andrew Nielsen to the Calgary Flames in exchange for forward Morgan Klimchuk.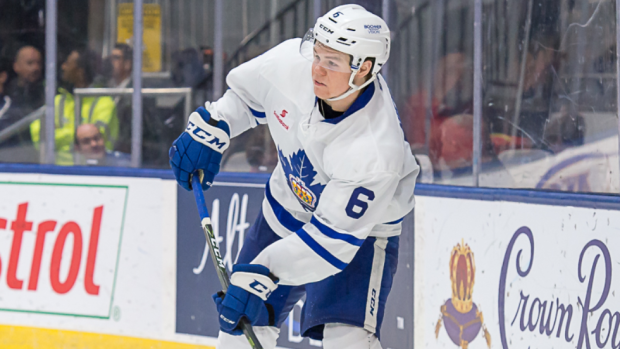 The Calgary Flames acquired defenceman Andrew Nielsen from the Toronto Maple Leafs on Tuesday in exchange for forward Morgan Klimchuk.
Nielsen, 22, has played in eight games for the American Hockey League's Toronto Marlies this season, recording three assists. He has 20 goals and 50 assists through 152 AHL games.
"He was really excited. He told me, 'This is like a dream come true,' " Flames general manager Brad Treliving told the Calgary Sun of Nielsen. "Growing up, he said the Flames were his team and he dreamed of one day playing at the Saddledome."
Nielsen's offensive production has dipped since posting 14 goals and 39 points in 74 contest as an AHL rookie in 2016-17. He was also a healthy scratch for all but eight of the Marlies' postseason games on their run to the Calder Cup last spring.
Treliving said the Flames believe they may know what's behind the 22-year-old's drop off.
"Not a lot of guys come in and have those type of statistics in their first year in the American League," Treliving said. "As you've heard me say, not everybody develops at the same rate. So I think he took a big step in his 20-year-old year to jump on the scene … We have some reasons why we think he maybe took a step back. We have to get to know the kid a bit more. We've done a lot of homework on him, but he probably hasn't taken as many steps forward as he was hoping and anticipating.
"But I like the attributes of his size. I like the attributes of his range. I like his shot. He's shown an ability to create offence at the American League level. So now, he has to dig in here and we have to push him to take those steps forward."
Klimchuk, 23, has appeared in 16 games with the AHL's Stockton Heat this year, scoring three goals and tacking on five assists. He played one career NHL game with the Flames, making his debut last February against the Boston Bruins.
Klimchuk has 100 points (44 goals, 56 assists) through 204 AHL games.
"I have nothing but good things to say about Morgan Klimchuk. He is a real good young man," Treliving said. "But we have some depth up front, we needed to create some more depth on the blue-line, and so we find a deal that hopefully works for both sides."
Nielsen was drafted by the Maple Leafs in the third round (65th overall) of the 2015 NHL draft. Klimchuk was selected by the Flames in the first round (28th overall) in 2013.