Leafs' Dermott set to make NHL debut versus Canucks
Travis Dermott has already made one professional debut in his young career. On Saturday, he'll be making another when the 21-year-old blueliner suits up for his first NHL game, Kristen Shilton writes.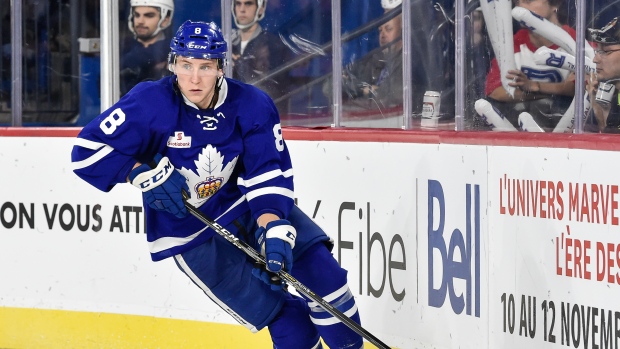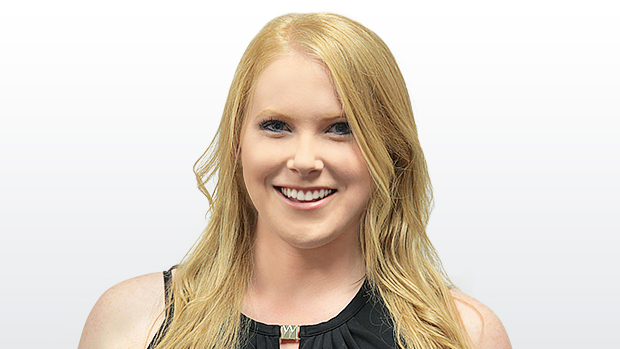 TSN reporter Kristen Shilton checks in daily with news and notes from Maple Leafs practices and game-day skates. The team held an optional morning skate at Air Canada Centre at Saturday ahead of its game against the Canucks Saturday .
Travis Dermott has already made one professional debut in his young career. On Saturday, he'll be making another when the 21-year-old blueliner suits up for his first NHL game.
While he has fond memories of his American Hockey League debut with the Toronto Marlies back in 2015, there's nothing quite like what's coming for him now.
"I mean, nerves are pretty high for both games, but you don't dream about playing the AHL right? You dream of being here," he said. "That's the opportunity that I get tonight. I'm going to make the most of it, and just go with it and take everything in."
Despite this being one of the biggest days of his life to date, the second-round pick in 2015 said there was little ceremony to the announcement that Saturday was the game he'd been waiting for.
"This morning [I] came in, looked at the sheet on the board and had my number up there," he said. "No one told me directly but it honestly might have been better just to find out on my own. Your stomach drops right away…Right when I saw it I was like 'yeah, this is really happening' and you just try to prepare your best."
After shooting his dad a quick text to tell him the good news, Dermott participated in the Leafs' optional morning skate and went through the rest of his regular routine. The Newmarket, Ont. native will have both parents in attendance at Air Canada Centre, an event Dermott said "they wouldn't miss."
To slot in for the Leafs, Dermott bumps fellow rookie Andreas Borgman from the lineup and projects to slot in next to veteran Roman Polak. Mike Babcock said the demotion was nothing that Borgman did, just that it's time for the Leafs to see what they have in their top defensive prospect.
And as for what constitutes a good game for Dermott, Babcock said that will be if he doesn't notice him back there at all.
"You can't be thinking about making mistakes," said Dermott. "You just go out there and try to make a positive impact every shift."
Having spent the entirety of the season to this point with the Marlies, Dermott is only familiar with his new teammates as far as he's gotten to know them in training camp. But the presence of Connor Brown, who played for the OHL's Erie Otters with Dermott in 2013-14, makes the room "kind of feel like home" for him.
Plus, being paired with a partner like Polak doesn't hurt the freshman, either.
"He's a good steady d-man, talks a lot to me, makes me feel comfortable," said Dermott. "So it'll be good for us."
-------
Back when the Leafs started the season with a 6-1 record that prompted Babcock to coin the phrase "fantasy tour," it naively seemed his team would never find themselves in a stretch like this one.
Over their last 11 games, the Leafs have earned just four victories. The last time they won consecutive games not punctuated by the NHL's holiday break was from Dec. 6-10, putting almost a whole month between the Toronto and when they were consistently earning positive results.
But one of those rare wins came just days ago on Thursday, in a shootout against the San Jose Sharks. It was Toronto's first victory on their current six-game homestand, and there was a lot to like about how they were able to put the Sharks away.
"We did a lot of things the right way," said James van Riemsdyk. "We didn't give up too many unnecessary chances against. We played pretty tight, so hopefully we continue to do that."
Consistency has been a thorn in the side of Toronto all season, especially in their defensive game. But there's reasons for optimism among defenders and forwards alike that beating a playoff-calibre team like the Sharks will give them more confidence in that aspect of the game.
"I think we played a good 200-foot game [on Thursday]," said Morgan Rielly. "We went over the video this morning about us playing good defensively and doing a good job of not losing our forwards and making sure we're above guys and we're going to try to replicate that again tonight."
The opportunity to be back at home after playing 10 of 13 games in December on the road is something the Leafs should be relishing. The best way to do that is by stringing together a few victories, and to this point the Leafs' maturation process has still been getting in the way of that.
"We have to learn how to win," said Babcock. "So that means not losing F3, that means good line changes, that means managing the clock, that means shooting the puck instead of passing. There's a whole bunch of things it means. But it's also when you watch a veteran team play, and they do it, and you watch us play, and sometimes we don't do it all the time."
The visiting Canucks have had their own struggles of late, winning just one of their last seven games. But their led by red-hot Calder Trophy front-runner Brock Boeser, and have already beaten the Leafs once this season. To even the season series, Toronto is prepared to parlay their recipe for success into a second straight game.
"We want to stick within our structure and game plan," said van Riemsdyk. "That's making smart plays with the puck, being good defensively and then going from there. Obviously we know [Vancouver] has got some guys on their team that have been pretty hot offensively, so we'll try to manage that as well."
-------
Rielly doesn't like to talk about himself much. So when he was asked whether this season is the one he's felt most confident in over the last four and a half seasons as an NHLer, he expectedly demurred.
"I don't really think about that. I don't really measure it against anything," he said. "It's just something that happens naturally. The most important thing is the team is playing well and winning games, because when the team is winning, we all feel good, we all have confidence. I think you earn that with team wins."
Rielly has earned his place on the Leafs' top-pairing this year by having a quiet, but highly effective, first half. He paces all Leafs blueliners with 29 points and has tallied seven assists in his last six games alone. But even then, he won't take any of the credit.
"Just trying to get pucks to the net and Mitch [Marner] is doing a great job on the halfwall on the power play," he said. "Just good luck I guess."
While this Leafs roster didn't see much turnover from the team that fell in the first-round of the Eastern Conference playoff last season, the addition of Ron Hainsey has perhaps been the Leafs biggest move of all. Not because he's been lightning up the box score, but because of the impact he's had on Rielly.
When the 23-year-old came into the league at 18, the Leafs were an underachieving club that had room for promising young prospects like him. He's evolved each year since then, but appears to be establishing his game now alongside Hainsey.
"Last year we never played [Rielly] in any offensive situations at all. We just told him to learn how to play without the puck," said Babcock. "Then we brought in a guy named Ron Hainsey, who tells him what to do every shift, sits next to him on the bench every day and suddenly he's not erratic in his play. And then he's learned to shoot the puck, get the puck to the net on a regular basis. He goes [to offence] when the opportunity is there and plays defence when the opportunity isn't there. So he's growing up."
-------
Babcock frequently singles out all of his veteran players for the leadership they bring to his team on and off the ice. Well, almost all.
Amid daily mentions of Patrick Marleau, Hainsey and Roman Polak, Babcock rarely breathes a word about Dominic Moore. Perhaps as a result, the journeyman centre has struggled to take a strong foothold in the Leafs lineup. When the season started, he was sharing fourth-line centre duties with Eric Fehr, but won that battle when Fehr was placed on waivers in October and re-assigned to the AHL.
But while the Leafs were sliding at the end of 2017, the team recalled Frederik Gauthier and inserted him into the lineup to replace Moore. Despite it not being a flawless transition for the rookie, he's staying in, while Moore remains out.
"Bottom line is, every night you're watching your team play and you're looking for your team to be as good as it can be," said Babcock. "Fourth line centre, what I'm looking for is you dominate the face-off circle, you play well without the puck so I don't get nervous every time you're on the ice, and you're a good penalty killer."
To this point, Moore has been the Leafs' best regular face-off man at 54.3 per cent, while Gauthier is at 50 per cent over his first two games of the year. In 31 contests, Moore has tallied four goals and fives assists, but has averaged less penalty kill time overall (1:46 per game) than Gauthier has been offered since arriving (2:24 per game).
However the numbers stack up, Babcock doesn't seem poised to make a lineup change any time soon.
"If you look at last game, our fourth line was minus-two. Goat wasn't involved in any [of that]," he said. "What he should have done was be better in the face-off circle (than 44.4 per cent). But he was good defensively. That's what I look for, I make it real clear what I'm looking for and someone has to have it. We just want to keep improving."
-------
Projected Leafs lines vs. Canucks:
Hyman-Matthews-Nylander
Marleau-Kadri-Komarov
van Riemsdyk-Bozak-Marner
Martin-Gauthier-Brown
Rielly-Hainsey
Gardiner-Carrick
Dermott-Polak
Andersen
McElhinney