Leafs expected pushback, and got it in Game 2
After the Maple Leafs' emphatic 4-1 victory in Game 1, Brad Marchand admitted the Bruins had expected the outing to be "a little easier" on them than it ultimately was. Toronto knew Boston would come back desperate, but from the opening puck drop the Leafs had no response for their hosts' intensity.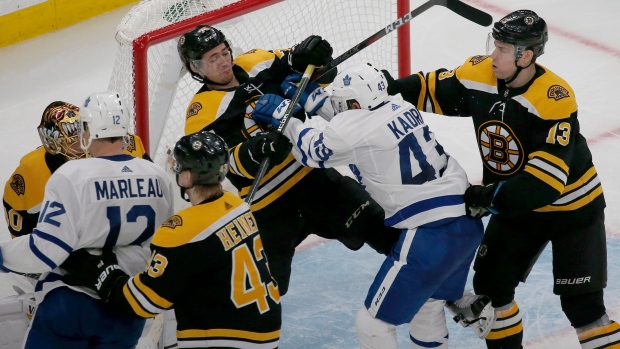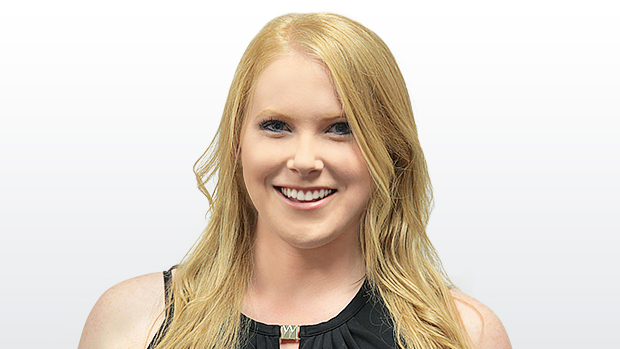 Toronto expected a pushback from Boston in Game 2 of their first-round playoff matchup and that's exactly what happened as the Bruins evened the score with a 4-1 victory over the Leafs on Saturday, tying the series 1-1. Nazem Kadri scored the lone goal for Toronto in the third period before he was tossed from the game for cross-checking Jake DeBrusk. That could impact Kadri's availability going forward for the Leafs, as the series shifts back to Toronto for Game 3.
Takeaways
That's more like it
After the Maple Leafs' emphatic 4-1 victory in Game 1, Brad Marchand admitted the Bruins had expected the outing to be "a little easier" on them than it ultimately was. Toronto knew Boston would come back desperate, but from the opening puck drop the Leafs had no response for their hosts' intensity.
The Bruins corrected for their biggest Game 1 mistake early, challenging the Leafs' speed attack with relentless forechecking and smothering physicality. They pounced on loose pucks and ferociously hit back with an early 9-1 edge in shots on goal and 16-2 advantage in shot attempts, with big hits on Nazem Kadri and Jake Gardiner setting a tone.
The game plan rattled Toronto, and Charlie Coyle quickly tallied the game's opening goal. While Nikita Zaitsev and John Tavares were trapped behind their own net, David Backes sent a pass into the slot, Jake Muzzin misplayed it and Coyle fooled Frederik Andersen with a far side shot.
It was the second straight game where Boston has scored first, and marked the Bruins' first even-strength goal of the postseason.
Marchand padded his team's lead before the frame was over, finishing off a two-on-one play beside David Pastrnak with a shot that beat Andersen cleanly.
At the end of the first, Toronto was down 2-0, being outshot 14-7, trailing 24-10 in shot attempts and owned only 22 per cent possession.
The Leafs simply couldn't find any semblance of a rhythm on their one-and-done efforts in the offensive zone, with no one able to sustain pressure on or generate second looks against Tuukka Rask. Toronto didn't even register its 10th shot on goal until well into the second half of the middle frame.
Boston had no such trouble capitalizing in the Leafs' end, and when William Nylander carelessly lost track of the puck next to Andersen, Danton Heinen had the Bruins up 3-0.
Mike Babcock had seen enough of his offensive lines by the start of the third period, blending his forwards to move Auston Matthews between Zach Hyman and Mitch Marner and sliding John Tavares between Kasperi Kapanen and Trevor Moore.
Kadri's line with Patrick Marleau and Nylander stayed the same, and he finally put Toronto on the board midway through the third with a tipped shot past Rask, cutting Boston's lead to 3-1 with 9:16 to play.
The hole Toronto had dug itself was too deep to overcome, though, despite an impressive pushback following Kadri's goal. He would then be thrown out of Saturday's contest late in the third for cross-checking DeBrusk, and Patrice Bergeron sealed the Bruins' 4-1 victory with his second power play goal of the series.

Kadri's history on repeat?
In last season's first-round playoff series against the Bruins, Kadri was suspended three games for an unnecessarily bruising hit on Tommy Wingels. The Leafs' centreman has found himself in hot water again this time around, jettisoned from Saturday's game with a five-minute major and a game misconduct for cross-checking DeBrusk. The NHL's Department of Player Safety announced early Sunday morning that Kadri had been offered an in-person hearing pertaining to the cross-check, date and time to be determined.
Kadri's issues with DeBrusk started in Game 1, when the two foes went at it physically on the ice and with some colourful exchanges from the benches. Game 2 delivered more of the same between them, but the officials were far more hesitant to make any calls, which allowed tensions to escalate.
The Leafs' issues with that no-call trend started early on, when Kadri was sent to the box for roughing in the first period after a tussle with DeBrusk, even when he didn't retaliate against the Bruins' forward peppering him with punches (DeBrusk also got the gate for roughing).
In the second period, Kadri was sent to the box again for a hooking call against Marchand while the Bruins were shorthanded. When Kadri came out, full of steam, he entered the attacking zone only to take a knee-on-knee hit from DeBrusk that sent him to the dressing room late in the frame. He skated off under his own power, and would return for the third.
There was no call on DeBrusk for the hit, but the officials were allowing both sides to get away with more physical play as well. And when Marleau was laid out with a big hit by DeBrusk late in the third, Kadri foolishly retaliated with a hit targeting DeBrusk's head, and was sent out of the game.
Given Kadri's history, which includes seven other fines or suspensions, he will almost certainly be given supplemental discipline. And when that happens, it will remove one of the Leafs' greatest strengths in this first-round series - their centre depth. Having Tavares, Auston Matthews and Kadri down the middle was a huge advantage for Toronto, and it will fall on Marleau or Nylander to pick up the slack there if (or when) Kadri has to miss time.

Not-so-starry night
In Game 1, it was Tavares' unit with Hyman and Marner that ran wild, scoring three of the Leafs' four goals and dominating whenever they took the ice. Boston pledged to make adjustments for Game 2, and succeeded in turning Tavares and company into a non-factor.
When the third period began on Saturday, that line had a combined three shots on goal, with Hyman sitting at zero per cent possession, Marner at 11.5 per cent and Tavares at 16. They were broken up for the final 20 minutes after failing to find any measure of success against Bergeron's unit with Marchand and Pastrnak, an all-around disappointing follow-up to a terrific opening outing for the Leafs' top line.
And then in the Game 2 there was Nylander, who had put together one of his best performances of the season in Game 1 and told the media it felt like his "mojo" was all the way back in the wake of a difficult (and late-starting) regular season. But it didn't take long for him to lose that mojo all over again.
The Leafs were careless in their execution all over the ice throughout Game 2, but arguably no one was as repeat an offender as Nylander. The Leafs' winger was lazy with and without the puck, and it cost Toronto when he turned the disc over to Heinen beside the Leafs' net, distractedly looking ahead for a play to make instead of simply clearing the zone.
It was an unacceptable error to make at the best of times, but even more so in a playoff game the Leafs were trailing in by a pair of goals. Even before that, Nylander looked out of his depth against the Bruins' physicality and forechecking, trying to avoid hits by making soft plays on the puck. He finished the game with two shots goal but never matched the level he proved capable of in Game 1.

Andersen answers the bell
If there were questions about Andersen's ability to bounce back from a difficult end to his regular season, the Leafs' starter answered for that with a sensational 37-save performance in Game 1. His teammates gave Andersen a lot of help in that contest, boxing out well in front of him and not allowing many odd-man rushes to materialize.
Andersen started Saturday's game well, too, but the rest of the Leafs didn't give their goaltender the same support as two nights earlier.
The goalie's first big stop came on an opportunistic Pastrnak charging at the net after Morgan Rielly turned the puck over deep in the Leafs' zone. All the confidence Andersen displayed in Game 1 had stayed fully intact, even following Coyle's opening goal that was misread by Andersen as a shortside strike that Coyle sent wide to the goaltender's left side.
Andersen didn't let either Coyle or Marchand's scores in the first rattle him, opening the second frame with a big stop on Jake DeBrusk's breakaway chance.
When Nylander fumbled the puck in his crease before Heinen's goal, Andersen was completely caught off guard, having anticipated his teammate either advancing the puck or taking it around the back of the net and out.
Despite the eventual four goals-against and being hung out to dry on several occasions, Andersen remained the Leafs' best player until the very end, doing his part to keep their hopes of a comeback alive. For all the struggles Toronto exhibited throughout Game 2, their goaltending has been about as consistent as they could have asked for. Andersen turned aside 37 shots again on Saturday, for a .902 save percentage.

Top-pairing's luck runs out
In the aftermath of Toronto's Game 1 victory, Muzzin and Zaitsev were praised for their tight-checking performances against the Bergeron line, helping to hold the Bruins' top scorers to zero even-strength points.
Game 2 didn't play out so well for either defenceman, especially Muzzin. When Backes fired a shot from behind the Leafs' net early in the first period, Muzzin was between Backes and Coyle, but he blatantly fumbled the puck, letting Coyle pot the game's opening marker.
Before the Bruins' second goal, Muzzin tried to glove an aerial pass at the Leafs' blueline and send play back the other way, but he flubbed that too, and then was out of position as Pastrnak and Marchand broke in on a two-on-one play that ended in Marchand's first goal of the postseason.
By the third period, Babcock had separated Muzzin and Zaitsev after they were on the ice for all three of Boston's goals, placing them with Dermott and Gardiner respectively. Whether it was the Bruins' adjustments after the series' opener or just an ineffective night for the pairing, Muzzin and Zaitsev both looked outclassed against the Bruins' top gunners, which doesn't bode well for the Leafs' prospects in the series if they can't make adjustments of their own before Game 3.
Muzzin finished minus-three in 18:49 time on ice, while Zaitsev was minus-three while playing 17:40.

Blue and White Trending
Tracking Leafs' trends all season long
Including regular season and playoffs, the Leafs haven't won consecutive games since March 2-4.

Next game
Toronto comes home for Game 3 against Boston on Monday.