Leafs' 'father figure' on D focuses on reaching next level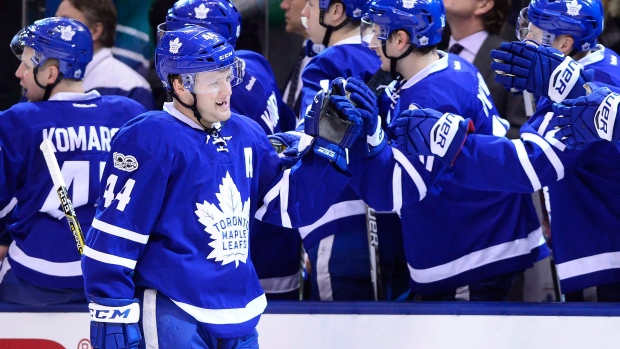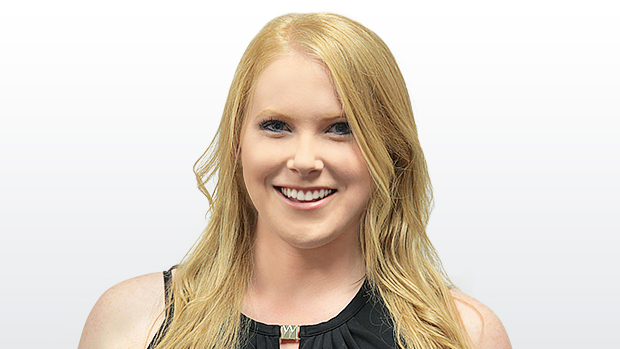 At just 23, Toronto Maple Leafs defenceman Morgan Rielly is already one of the club's longest-tenured members, a (jokingly) self-proclaimed "father figure" among an influx of unseasoned youths.
In reality, the four-year NHL veteran has simply cut his teeth on the lows (disappointing regular seasons, a 30th-place finish) and highs (last season's playoff berth) of a franchise that's been in transition. With those days seemingly behind them, Rielly and the Leafs are in search of their next levels.
Toronto started the hunt in July by punctuating a relatively quiet off-season with the talked-about signing of soon-to-be 38-year-old forward Patrick Marleau to a three-year, $18.75 million contract. His acquisition dwarfed Toronto's only other free agent signings so far: centre Dominic Moore (one year, $1 million) and defenceman Ron Hainsey (two years, $6 million). But as a whole the new additions are just one reason why, with one month to go until training camp opens, Rielly is in some happily uncharted territory.
"Just the mentality, that feeling amongst the guys going into a year, it's extremely different than in any other that I've been a part of," Rielly told TSN.ca recently. "Those were very strong moves. They send a clear message to our players and the rest of the league that we feel we've got a team that can compete. When you look at Marleau as an example of a great guy who wants to compete for a championship later in his career, to come to our team, that speaks volumes."
Being a contender takes a whole team effort and, to that end, head coach Mike Babcock told NHL.com last week the Leafs brought Hainsey in to pair with Rielly to help him reach the "upper echelon" he's capable of. The 36-year-old Hainsey has averaged 21 minutes a night over 907 career games, and brings shot blocking and penalty-killing abilities. With his age and skill set, having him in the Leafs' top-four is fine, if not exactly optimal. But what he offers Rielly, who was paired with rookie Nikita Zaitsev for much of 2016-17, is an experienced right-hand man who could allow him to get more involved offensively.
"When you hear your coach make comments like that, it definitely makes you want to be better. Maybe it might add a little pressure on me to play well and live up to that," Rielly said of Babcock's public vote of confidence. "Going into camp you want to be in the best shape you can be and prove them right, so I'm looking forward to doing that. If I do wind up playing with Hainsey I think we'll be able to complement each other very well and hopefully make each other better."
Rielly said he and Hainsey have spoken already via text ahead of training camp, to which Rielly is counting down the days. He's spent the bulk of the off-season in his hometown of West Vancouver, able to train at 100 per cent with no residual issues from a high-ankle sprain suffered in January. Even with the injury, Rielly led all Leafs skaters in ice time, averaging 22:10 per game, and added six goals and 21 assists in 76 games. This year, unlike last fall, Rielly will have an entire training camp to work with Hainsey and the Leafs staff to prepare without a distraction like the World Cup of Hockey.
The Leafs will be banking almost solely on growth from within if they continue to stand pat on defence before October, although they have made an effort to upgrade, most notably going deep into trade talks with the New York Islanders for Travis Hamonic. Toronto did lure Swedish defencemen Calle Rosen and Andreas Borgman across the pond in May, but also lost Matt Hunwick who departed in free agency to the Pittsburgh Penguins and Roman Polak remains a UFA as he recovers from a knee injury suffered in the postseason against Washington. The Leafs also placed Alexey Marchenko on unconditional waivers Monday to terminate his contact and allow him to return to the KHL.
With the top four defensive spots seemingly spoken for by Rielly, Hainsey, Jake Gardiner and Zaitsev, that leaves Martin Marincin (who has failed to take hold of a regular spot despite Babcock's chances) and Connor Carrick (whose ice time by the postseason dwindled dramatically) as the most likely options to round out the opening night roster – but not before they beat out the competition, including Leafs' top prospect Travis Dermott. At 20, he's something of a wild card going into camp. Dermott posted 24 points with the AHL Marlies last season while establishing himself as the club's best blueliner. Praising Dermott as a "talented, mobile young defenceman," Rielly has seen him this off-season in Toronto's gym working hard to make the jump. If he can, Dermott (or the quick emergence of Rosen or Borgman) could well be the (non) trade pieces the Leafs end up calling upon.
"Going into a new year with the guys we had last year, we know one another, we know what each other likes to do," Rielly said. "I think when you look at the strides we were able to make last year, they're only going to get bigger and become more important next year. For myself, for [Carrick], for [Gardiner], we're all pretty young guys and we're all really motivated to get better. Having that playoff experience gave us a taste of what that's like and to look around the room and see how much each guy cared about it, it was a cool feeling. I'm really looking forward to the growth of our team and the growth of our young guys."
Still, potentially starting five of six defenders who were part of an oft-maligned group from a season ago wouldn't come without some risk. Toronto gave up 2.85 goals per game last season – the most by any team that made the playoffs – and made a habit of blowing third-period leads. If not for their remarkable health (Rielly's six-game absence with his ankle sprain was the most significant among defencemen, while only 10 games were lost to injury among top-12 forwards), the Leafs could easily have been on the outside looking in at the postseason.
Already determined to see his team avoid that fate this spring, Rielly is focused on what he himself can control – and that's being at his best.
"It's important during the off-season that you take a step back to look at where you were playing very well and how you can repeat that," Rielly said. "But then you also have to look at the other side of the coin and where you weren't really happy with what you were able to do and you have to ask yourself, 'what can I do to not let that happen again?' There's lots [I can do better]. My job is to be the best I can be and that's knowing what those [issues] are and putting in the time to improve on them. I think I've really been able to do that."