Leafs hope third line about to break through
Connor Brown's goal against Vegas on Tuesday broke a lengthy dry spell for Toronto's bottom-six forwards, Kristen Shilton writes. With scoring depth an issue, the team is hoping it's a sign of things to come.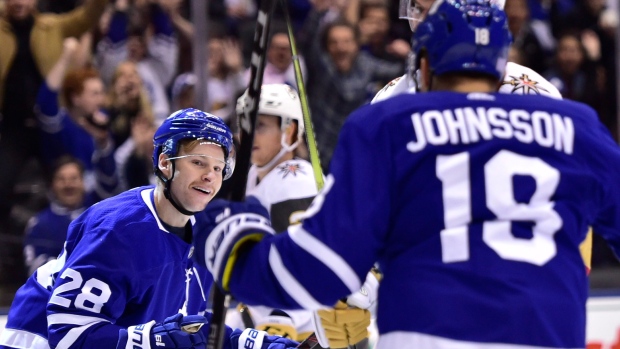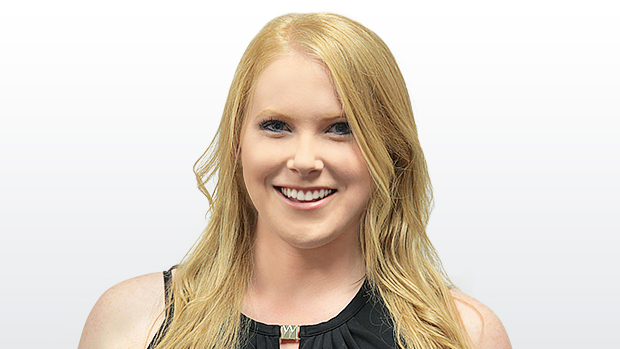 TORONTO – Connor Brown knew the Maple Leafs' third line had more to give offensively, if only he, Par Lindholm and Andreas Johnsson could stay confident through failing to produce an even-strength point in their first three games together.
So when he scored Toronto's opening goal on Tuesday against Vegas, it was proof positive to Brown that the unit's hard work was starting to pay off.​
"In our bad games, I don't think we've played so bad, but I don't know if we've been able to sustain offence as much as we want," said Brown after the Leafs' optional morning skate on Friday.
"Confidence is a big part of it. We had done a lot of good things, but hadn't been able to get on the board. It's important for our team to get more production [from secondary scorers] and it's important for our line to create some chances, not get discouraged."
That would have been an easy trap for the trio to fall into, given that all three were struggling offensively even before a shoulder injury to Auston Matthews on Oct. 27 led to the formation of the line. At that point, Brown had four points, Lindholm had three and Johnsson one.
The group has been sound defensively since coming together with zero goals against, but with zero even-strength points produced and less than 50 per cent possession, they were average everywhere else.
That was until Brown outworked a pair of defenders in front of Vegas goalie Marc-Andre Fleury to bury a marker that showed the line could contribute at both ends of the ice.
"There are times where you go through stretches of the season where you have tons of confidence and stretches where there's not much confidence there," Brown said. "We were relentless in recovering pucks and we were able to stay on it. We've been working on holding onto the puck down low and not being one-and-done."
Mike Babcock could sense a breakthrough outing for his third line coming even before Brown's goal, and has since singled them out as being "our best line doing everything right."
"I thought the last two games, their line was really good," Babcock said. "We'd still like them to spend more time in the offensive zone, but they did everything right last game. We'd like them to get heavier and spend more time in the offensive zone, but it's just a matter of time."
The Leafs will count on that being the case since the third line's middle-of-the-pack numbers haven't helped solve the team's secondary scoring woes. Brown's goal this week was the first by the Leafs' third or fourth line since Oct. 24 and only his second goal of the season, while Lindholm has added one and Johnsson has none.​
In total, the Leafs bottom six (comprised of Brown, Lindholm, Johnsson, Tyler Ennis, Josh Leivo and Frederik Gauthier) has produced nine points (three goals, six assists) at even strength through 15 games, compared to 67 points (26 goals, 41 assists) at 5-on-5 from their top two lines.
But Toronto's third unit hopes Brown's goal will ignite more production going forward.
"I still don't think I'm there quite yet [offensively]," admitted Lindholm. "But we've talked about it, and even though my focus is on the defensive side, it feels way better now. I know Brown and Johnsson are good offensive players, so I think if we all keep improving, we're going to be dangerous."
"Our intensity has been our biggest weapon," added Johnsson. "We're winning pucks back. Last game we got a goal because of it. It felt good to work and get a goal for it. Our confidence is going up and we're playing with a lot of speed so right now we're more successful."
​Johnsson's lack of offence so far might be the biggest surprise of the Leafs' season. After producing three goals and two assists in 15 games with Toronto last season, Johnsson earned American Hockey League MVP honours as he led the Toronto Marlies to their first-ever Calder Cup championship with 24 points in 16 games.
Johnsson has only one power-play assist to his credit this year. He had been a healthy scratch five times before Matthews got hurt while splitting time with Ennis on the Leafs' fourth line.​
Lindholm, who played with Johnsson briefly on that line, said the 23-year-old has come a long way from the start of the year.
"The last couple of weeks he's been for sure way better," said Lindholm. "He has more confidence, he's skating more. You can see compared to how it was previously that he's getting there. We talk to each other quite a bit. When you get to know each other, it's easier to work hard together."
Babcock also observed that Johnsson is "starting to get going" too, and believes it will give the Leafs' offence much-needed depth when he does.
For that to happen, the Leafs' entire third line will be counted upon to their newfound momentum alive.
"All three of us are on the same page," Johnsson said. "We're similar players, too, so all three of us can be on the net or have the puck or be the first fore-checker. I feel like that we can read each other well in that sense and that's when we work."
Maple Leafs' projected lineup vs. New Jersey:
Forwards
Hyman-Tavares-Marner
Marleau-Kadri-Kapanen
Johnsson-Lindholm-Brown
Ennis-Gauthier-Leivo
Defence
Rielly-Hainsey
Gardiner-Zaitsev
Dermott-Ozhiganov
Goaltenders
Andersen starts
Sparks​