Leafs' Matthews to make preseason debut against Canadiens
First overall draft pick Auston Matthews is expected to make his preseason debut for the Toronto Maple Leafs Sunday against the Montreal Canadiens.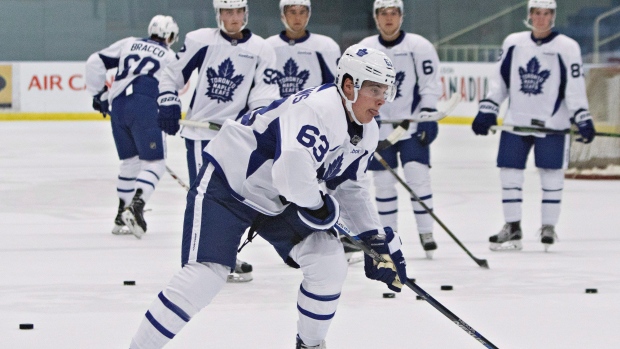 First overall draft pick Auston Matthews is expected to make his preseason debut for the Toronto Maple Leafs Sunday against the Montreal Canadiens.
TSN's Mark Masters reports Matthews is part of a group of 14 forwards, that also includes World Cup of Hockey participants Leo Komarov and Milan Michalek, that are expected to suit up in the Blue and White for the first time this preseason.
Morgan Rielly is also expected to make his preseason debut Sunday night.
Matthews' preseason debut was delayed because he played for Team North America in the World Cup of Hockey.
Matthews had two goals and an assist in three games in the preseason tournament.
Leafs Practice Notes from TSN's Mark Masters
- Auston Matthews will make his long-awaited Leafs debut as the centre on a line with Zach Hyman and William Nylander. While Matthews excelled at the World Cup, head coach Mike Babcock noted that the No. 1 overall pick lined up as a winger alongside Connor McDavid and as such "didn't have to play down low in his own zone."
The coach will be looking to see how Matthews adjusts to that responsibility. The coach also noted that Nylander may see some time down the middle of the ice as well. "They're both good young players," Babcock said. "They both think they're the best players so let's find out who is and they can compete all the time there.
One can take right-hand face-offs, one can take left-hand face-offs, they both can play down low in their zone. Good players like to play with good players, I think it's a good fit there and then Hyman's just a worker so if either one of them can work as hard as Hyman, I'll be pumped." When asked about playing wing instead of centre, Nylander said not much changes when it comes to offence, but on the defensive side he needs to make some adjustments.
- Babcock said he wants Matthews to use the pre-season games and the rest of training camp to get adjusted to the Leafs system and create some chemistry with his new teammates. "First real game with the Leafs, it's going to be pretty special to put on the jersey and get out there," Matthews said. In the dressing room, Matthews' stall is between James van Riemsdyk and Matt Martin.
- The Leafs dressing room underwent some renovations in the off-season. Instead of the stick rack, the opening of the room features the franchise's sweaters from over the years behind glass cases. The goalies now sit at the opposite end from last season (now closer to the door) and a new slogan is emblazoned on both walls: "Heart and drive lives here".
- Mitch Marner has recorded four assists in two pre-season games so far. "He has the puck lots, which is real positive," said Babcock. "I've enjoyed watching him. He's been effective." Marner will skate on a line with Tyler Bozak and JVR tonight. "The whole key is, as you go on they're going to end up in some games against NHL d-men and you learn more in those situations," Babcock noted.
- Babcock was asked to elaborate on the confident comments he made about the Leafs situation at the end of his World Cup news conference on Thursday evening. "I never said it was going to happen tomorrow," Babcock explained. "We're a work in progress. I just think we should get used to winning around here instead of (being) used to losing." And Babcock does see signs of improvement already. "We're obviously a lot more talented than last year. Last year we could check the puck back, but when we got the puck we didn't know what to do with it so I'm hoping, over time, with the skill level we have, we'll be good offensively as well."
- Projected lineup for tonight's game:
Michalek-Kadri-Komarov
JVR-Bozak-Marner
Hyman-Matthews-Nylander
Martin-Gauthier-Brown
Marincin-Rielly
Hunwick-Zaitsev
Valiev-Polak
Enroth
Sparks
PP units:
Bozak-Marner-JVR-Komarov
Rielly
Matthews-Nylander-Brown-Michalek
Zaitsev
Scratches: Laich, Moore, Gardiner, Carrick